Another day, another massive shift among the top building materials and construction distributors.
Dallas-based Builders FirstSource Inc. on Thursday announced it would acquire Raleigh, North Carolina-based BMC Stock Holdings Inc. in an all-stock merger transaction valued at $2.5 billion.
The new company, which is keeping the Builders FirstSource name, will have a market value of $11.2 billion and should compete with ABC Supply Co. for the top spot in next year's MDM Building & Construction Market Leaders list.
In the 2020 list just released (based on 2019 figures), Builders FirstSource ranked No. 2 with $7.3 billion in annual revenue, while BMC Stock Holdings ranked No. 5 with $3.6 billion in annual revenue. ABC Supply was again No. 1 with sales of $11.6 billion.
The shifting of top building materials distributors has been a consistent theme over the years, and both Builders FirstSource and BMC Stock Holdings have their place in the latest rankings thanks to market-shifting acquisitions that took place in 2015.
That year, BMC Select and Stock Building Supply merged to create BMC Stock Holdings. And Builders FirstSource jumped to the top of the building materials list by acquiring ProBuild — of course, the company later would be leapfrogged by ABC Supply, which itself has been acquisitive.
The building materials and construction sector has seen so much consolidation, in fact, that half of the companies on our 2010 Market Leaders list no longer exist in the same form because of the rampant M&A taking place in that category.
The Least You Need to Know
A deal of this scale is hard to comprehend until the integration is well underway and we start to see exactly how the synergies play out. But here are a few nuggets from the companies' press release on what the new-look juggernaut will resemble.
After a 90-day transition period following the completion of the merger, Chad Crow, current CEO of Builders FirstSource, will retire as previously announced and will be succeeded as CEO of the combined company by David Flitman, current CEO of BMC.
Following the transaction closing, the combined company will operate under the name Builders FirstSource Inc. (Nasdaq: BLDR) and will be headquartered in Dallas while maintaining "key functional corporate centers of excellence" in both Raleigh, North Carolina, and Denver, Colorado.
The combined company will have sales above $11 billion and approximately 26,000 employees. It will operate a network of 550 distribution and manufacturing locations in 42 states, including 44 of the 50 largest metropolitan statistical areas, covering most of the nation's fastest-growing regions.
The companies said, "BMC's distinct millwork capability, Ready-Frame offerings and other manufactured products will complement Builders FirstSource's strengths in trusses and manufactured components, among other offerings, to enable further penetration of key segments through the delivery of value-enhancing efficiencies to customers and superior solutions across a broader platform."
The combined company's "increased geographic reach and diversity will provide a wider set of opportunities and deeper resources for organic and inorganic growth to meet the needs of more customers in the highly fragmented professional building materials industry nationwide." In other words, look for the newly scaled Builders FirstSource to target additional assets.
In addition to expanded revenue-generating opportunities, "the combination is expected to generate approximately $130 million to $150 million in annual run-rate cost savings within three years. Key drivers of these synergies include procurement, SG&A savings and expanded operational excellence through the adoption of best practices from each company. The transaction is expected to be accretive to adjusted earnings per share in the first year after closing."
The deal already has been unanimously approved by the boards of directors of both companies. According to the press release, "BMC shareholders will receive a fixed exchange ratio of 1.3125 shares of Builders FirstSource common stock for each share of BMC common stock. Upon completion of the merger, existing Builders FirstSource shareholders will own approximately 57% and existing BMC shareholders will own approximately 43% of the combined company on a fully diluted basis. The merger is expected to be tax-free for U.S. federal income tax purposes."
Both companies' shares popped on Thursday. At market close, shares of Builders FirstSource had improved $2.33, or 8.4%, to $30.24, while shares of BMC Stock Holdings had spiked $7.20, or 22.4%, to $39.42.
For more on this deal, click here to view the investor presentation. And see below for more color on what this transaction means for the building materials sector.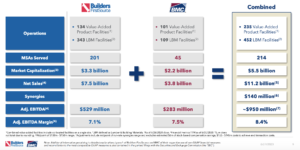 The Other Big Market Move in August
This deal follows the big news from a few weeks ago that HD Supply Holdings Inc. is selling its Construction & Industrial – White Cap business to an affiliate of New York-based private equity firm Clayton, Dubilier & Rice for $2.9 billion.
CD&R said that once the transaction is complete, John Stegeman, White Cap's current CEO, and Alan Sollenberger, White Cap's current president, are expected to continue to lead the Construction and Industrial business, which will include the White Cap, Home Improvement Solutions and Brafasco businesses.
CD& spelled out what it has in store for its latest asset. The firm plans to combine White Cap with Construction Supply Group — and its 17 nameplates. In this ownership arrangement, CD&R will hold 65% of the resulting entity and Sterling Group, owner of Construction Supply, will hold the remaining 35%.
According to CD&R, the new company is a "North American distributor of a diverse mix of concrete accessories and specialty construction and safety products with more than $4 billion in annual revenue. White Cap operates 270 branches with approximately 5,500 employees and offers more than 400,000 SKUs to 200,000 customers. With 130 branches and approximately 2,000 employees, CSG has a highly complementary footprint to White Cap in terms of product offering and geography, offering more than 60,000 SKUs to 65,000 customers."
HD Supply had been No. 9 on the 2020 Building & Construction list (based on its White Cap sales), but the newly formed company with Construction Supply Group should jump into the Top 5.
In other words, based on the two monumental deals over the last two weeks, look for a revamped Top 10 Building & Construction list in 2021.
And, of course, building materials isn't the only sector to see giant players join forces. One of the biggest deals ever in wholesale distribution occurred earlier this summer in the electrical space when WESCO International Inc. closed on its $4.5 billion acquisition of Anixter International Inc. Click here for more about that deal, including how it will resonate beyond electrical and datacomm verticals.