Editor's Note: This is the second of a two-part series of articles from Redwood Advisors. Find the preview version of Part 1 here, and the Premium version of Part 1 here. This is a preview of the Premium version of Part 2.
Most distributors have a significant opportunity to drive top and bottom-line growth by optimizing their go-to-market (GTM) strategy and approach, particularly their outside and inside sales forces. Many distributors have invested in an expensive sales force, but it's not optimized — and that puts senior management at risk. In this second article by Redwood Advisors, learn about the final two key steps to getting this right: mapping your accounts to the right sales channel and the right sales rep.
Dial-in your account to channel mapping
The first step to channel mapping is figuring out what customers should be "self-serve" and not mapped to the outside or inside sales channels. In general (although certainly not always), customers below a certain size can be mapped to this category. The specific threshold may vary by distributor but can be determined based on comparing an overall cost-to-serve estimate and estimated gross margin. Conversely, customers above a certain threshold can be mapped to the outside sales channel as a thoughtful starting point.
Customers between the two thresholds – the self-serve and outside-sales thresholds — can then be serviced by your inside sales force. In general, these customers generate real margin and offer some upside to personalized sales engagement but not enough to warrant the expense of an outside sales rep.
All these thresholds can be thoughtfully set by taking into consideration the estimated impact of serving a customer with a given sales channel and cost-to-serve (or sell). For example, if the fully-loaded cost of an outside sales rep (OSR) is ~$200K and they can serve ~100-120 customers per OSR, you would want to assume that serving those customers with an OSR generates an additional ~$2K of gross margin per customer (minimum).
Other dimensions can help meaningfully improve and enrich this customer to channel mapping. For example, distributors can make a mistake in only taking into consideration customer size (or value) and not taking into consideration customer purchasing pattern (i.e., how they buy whether online, in-person, etc.). For example, some customers may buy most or even almost all their purchases online. Self-serve or inside sales engagement often works better for these types of customers, depending on their overall size, etc. Another important cut we recommend is identifying what customers purchase products that may require or benefit from in-depth product knowledge, such as how to best install and use a large piece of capital equipment.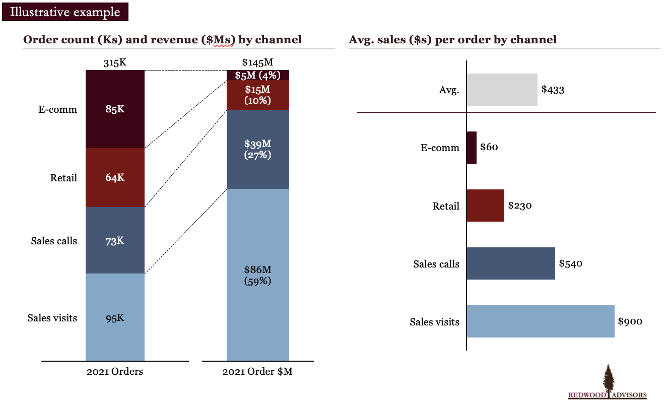 By making the most of your customer segmentation, you can effectively and intelligently map each of your customers and customer segments to the most optimal sales channel. In general, you want to focus your outside and inside sales force on customers that offer the highest return for this investment. This can be done effectively and thoughtfully with a well-crafted and designed customer segmentation model.
Once all customers have been assigned to a sales channel, the next and last major phase of work is mapping each customer to a specific sales rep, whether an outside or inside sales rep. In many cases, this can become a complicated task. And here again, there is no one-size-fits-all approach for different distributors. But there are some sound steps and principles that can serve as a good starting point.
Clearly map your customers to outside sales reps
To begin, you will want to design potential outside sales territories based on the location of outside sales customers. Each potential sales territory needs to include enough customers to warrant having a full-time (or near full-time) outside sales representative. The designed sales territory also needs to offer enough revenue and revenue upside to warrant assigning an outside sales rep.
Some outside sales customers may not fit in the geographic scope of a clearly defined outside sales territory. In other words, in some areas, there may not be enough customers clustered closely enough to warrant a single sales territory and outside sales rep. These situations tend to get complicated. In some cases, you can add some customers mapped to the inside sales channel to the potential territory to see if these added accounts help warrant outside sales coverage for the region. In other cases, it may just not make sense to service the area with a dedicated outside sales rep. In those cases, customers assigned to the outside sales channel based on size can be serviced by a proximate outside sales rep (who's been assigned a nearby territory) or by an inside sales representative.
After several iterations to fine-tune your geographic territories and assignments, you will have defined and laid out your future-state outside sales territories. From here, you can map your individual outside sales reps to individual territories. Ideally, your reps should be mapped based on their current sales territory or coverage, current customer base, and home location (to limit travel time and maximize the time available to spend with customers). Finally, reps with historically high performance should be prioritized for high-value territories. At the close of this exercise, you should have assigned each territory a well-chosen rep that can effectively service the customers in a given territory.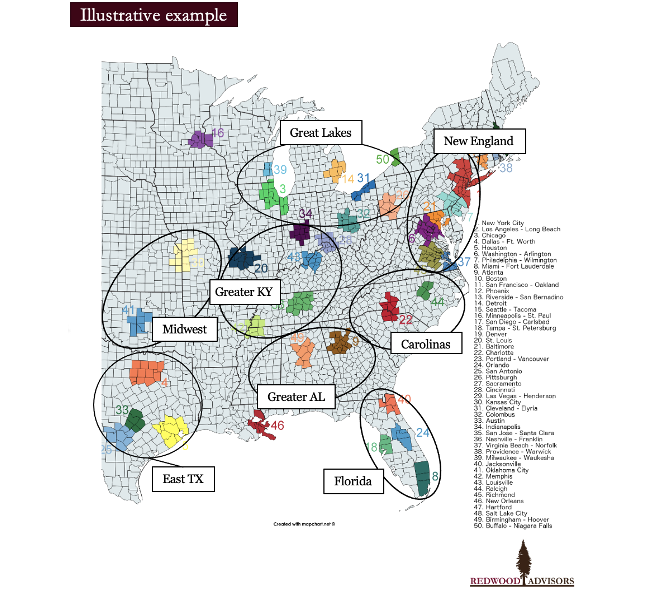 Clearly map your customers to inside sales reps
After finalizing your outside sales mapping, you can focus on assigning your inside sales customers to inside sales reps. Similar to outside sales reps, inside sales reps should be assigned a target number of customers to serve (i.e., capacity).
The best way to assign customers to individual inside sales reps will vary based on the distributor. In some cases, mapping customers based on geographic region makes the most sense, similar to outside sales reps. Although ISRs will not be conducting in-person visits, they may be more familiar with the culture of the region and the specific needs, expectations, and use cases of customers in that area. In other cases, it makes more sense to assign customers based on ISR effectiveness or seniority with larger, higher-potential customers going to more productive, effective ISRs. Customers can also be mapped to inside sales staff based on product knowledge or expertise. Similar to OSRs, you will want to make sure that each ISR has enough customers to warrant the cost of that ISR.
The Final Word
By the end of this exercise, your organization will have laid out best-practice outside sales territories and mapped individual customers (both inside and outside) to individual outside and inside sales reps. This type of thoughtful, comprehensive effort can help maximize the return on your sales force investment and help significantly accelerate top-line growth. In our experience, a well-designed and mapped salesforce supported with good technology and processes can increase top-line growth anywhere between 5%-20% over the subsequent three years as sales staff and senior management unlock new opportunities and increase share of wallet with better, smarter coverage models.
About the Authors
John Nantz has delivered over 75 projects as a management consultant over the last 10 years with a focus on growth strategy and commercial excellence for distributors, manufacturers, and other clients. Former clients include GranQuartz, Ares Private Equity, and McElroy Manufacturing among others. John started his career at McKinsey & Company's San Francisco office and earned a BA with distinction in Economics and an MS in Management Science & Engineering from Stanford University.
Sabrina Franco is an Associate Consultant at Redwood Advisors where her work focuses largely on growth strategy and commercial excellence for distributors, manufacturers, and other clients. Former clients include GranQuartz in the stone industry. Sabrina graduated cum laude from the Honors Program at Southern Methodist University with a BA in History and a BS in Applied Mathematics.