I keep hearing that digital has accelerated everything in the past 15 months. But that's one of those 100,000-foot throwaway comments that doesn't necessarily inform better decision-making or meaningful change in behavior. Here's why.
Halfway through 2021, the theme is recovery and stabilization with an asterisk. The term is relative. With major supply chain issues impacting nearly every sector along with economic rebound, distributors are getting pushed and pulled hard right now; it's hard to get products and it's tough to fill positions on the front lines. Many are feeling the old axiom of having a better problem than last year, but still a problem meeting customers' needs.
We're entering the strongest recessionary bounce-back cycle any of us have experienced in our careers. It goes deeper than just looking back to the beginning of the pandemic roughly 15 months ago. As we profiled through our weekly MDM LIVE programs in 2020, some distributors pivoted quickly and leveraged pandemic-induced opportunities to grow – not just revenues but to reset talent, teams, technology and business models.
The pandemic kickstarted a major inflection point (that digital had been driving for years) that accelerated the sort out of the winners and losers over the next 24-36 months. Some competitors created gaps by automating certain processes and resetting their value proposition and sales process quickly. They controlled costs while staying connected with customers and suppliers. They rebuilt the airplane while it was still flying.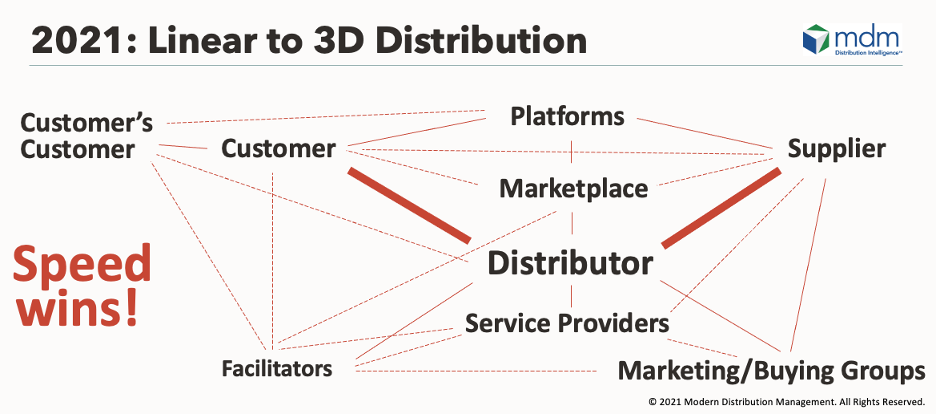 At a deeper level, this inflection point we're experiencing now is a fundamental shift in distribution business model from linear to a more three-dimensional role. Product still has to get from point A to B. But rather than the traditional supplier-distributor-customer sales channel driven on the engine of the outside sales process, there is a more complex set of networks and channels that has produced more transparency and efficiency for customers. In a few short years we've gone from single (or mostly single) to multi- to omni-channel. Amazon Business was the big bad disruptor that is now getting disrupted by a fast-growing range of new marketplace and platform disruptors.
A new ecosystem
Distributors have a very different set of digital enablement tools and weapons available today to compete effectively, defend and grow their customer relationships. Our 2021 Digital Distributor Summit we're holding tomorrow – and also offering as with 90-day, on-demand access as a training course – has 18 speakers and six-plus hours of presentation and panel discussion on what digital innovation means in 2021 and the change management required for distribution organizations to make this leap from a linear to more multi-dimensional mindset.
Here's an example. Many organizations are struggling with strengthening sales teams with more effective inbound and account-based marketing and killing traditional low-yield cold-call behavior. Or getting sales teams and customers incentivized to use more cost-effective self-service tools for ordering. We've got sessions covering all angles of these challenges. If you can't attend tomorrow, register and access each module on your own schedule. Here's the agenda/curriculum.
I'll go back to the comment I made at the beginning about digital as an accelerator. If you're only looking at enhancing the linear model that got you here, you may not be looking deep enough at core cost structures and exposures today. Or the ways you could make digital a deeper core competency. Those who figure out how to create value quickly in this new ecosystem pool of supply chain disruption and innovation will come out in front. And digital is the fuel to get your team there.