With more than 20 sub-verticals ranging from industrial supplies, medical supplies, metal, chemicals, lumber, agriculture and more, the B2B distribution industry is the largest industry in the United States, between $6-$8 trillion in size. The average order volume on Amazon Business, Amazon's marketplace for business customers, is exponentially greater than its AOV on its consumer-facing Amazon Marketplace.
For this reason and others, Amazon has made its Amazon Business marketplace initiative a top priority inside the secretive tech monopoly. In a recent call with analysts, the company disclosed that Amazon Business transacted more than $25 billion GMV in 2020, up from $10 billion in 2018. This progress puts Amazon Business on track to transact more than $75 billion in GMV by the end of 2023 – and it already makes Amazon Business a top five B2B distributor in 2020 volumes.
Fortunately for free enterprise, there is a relatively small, but growing, cohort of B2B marketplace startups. The team at Applico wants to draw a spotlight to the importance of these startups in an attempt to help B2B distributors who are worried about Amazon achieving yet another monopolistic hold in American commerce.
The top 50 B2B Marketplace ranking focuses exclusively on independent B2B product marketplaces that facilitate the exchange of goods between a business customer and a third party distributor and/or supplier. This ranking does not include service marketplaces and is focused on U.S. marketplace activity. For more information on the ranking methodology and research to support these listings, you can download the full report here.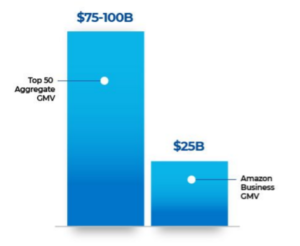 The top 50 B2B marketplaces are transacting between $75–$100 billion in GMV, as detailed in the report. Yet Amazon Business would still rank as the largest B2B marketplace compared to any of the companies in Applico's ranking of the top 50 independent B2B marketplaces. That said, there's still time for independent B2B marketplaces to beat Amazon Business at its own game – but they need scale and capital to pull off such a feat.
B2B distributors considering their digital future should strongly study this list of the top 50 B2B marketplaces. The more marketplaces compete with one another, the better for the customer and the suppliers. If a distributor is considering selling on Amazon Business, they should also consider selling on the independent B2B marketplaces as well. If a larger distributor is exploring more strategic ways to participate in a marketplace model, then this list should be of particular interest.
The List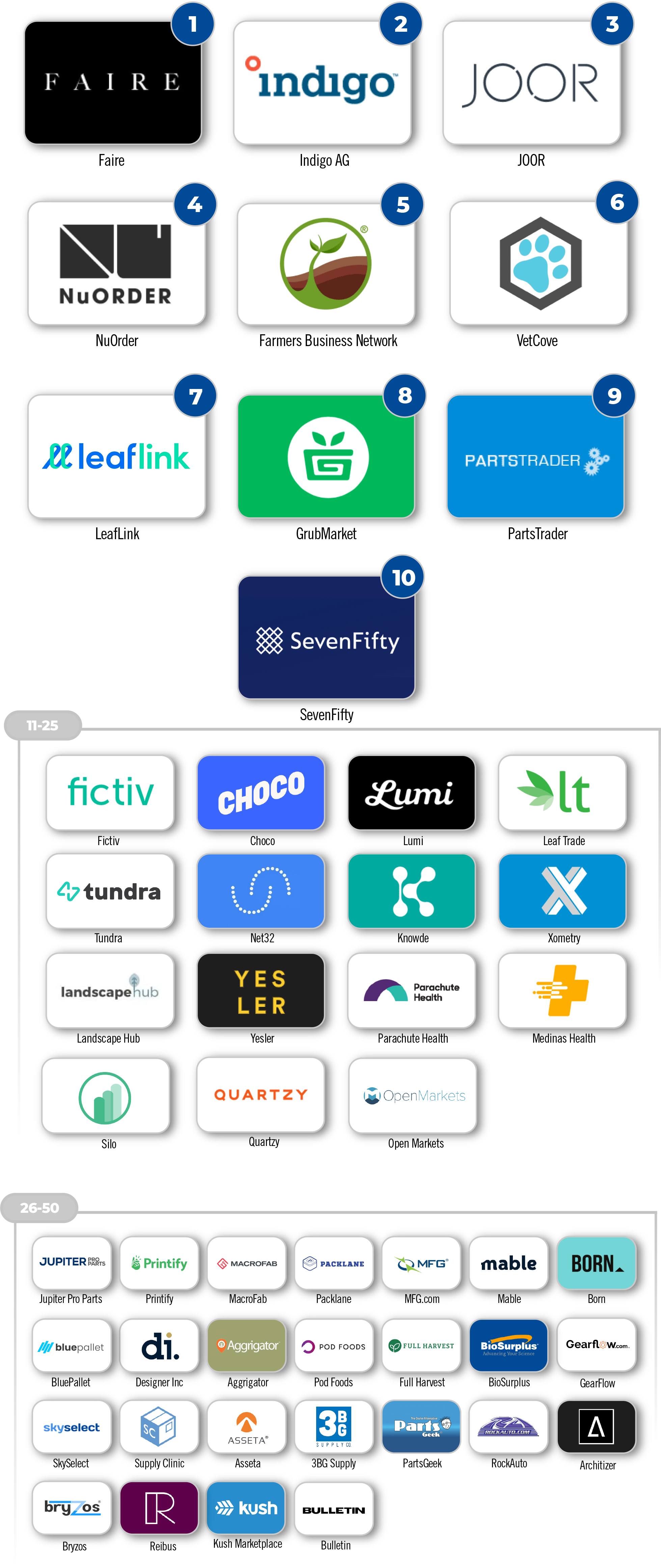 Faire
Indigo
JOOR
NuOrder
Farmers Business Network
VetCove
LeafLink
GrubMarket
PartsTrader
SevenFifty
Fictiv
Choco
Lumi
LeafTrade
Silo
Tundra
Net32
Knowde
Xometry
Quartzy
Landscape Hub
Yesler
Parachute Health
Medinas Health
Open Markets
Jupiter Pro Parts
Printify
MacroFab
Packlane
MFG.com
Mable
Kush Marketplace
Born
Bluepallet
Designer Inc.
Aggrigator
Pod Foods
Full Harvest
BioSurplus
Buletin
SkySelect
Supply Clinic
Asseta
3BG Supply
PartsGeek
RockAuto
Gear Flow
Architizer
Bryzos
Reibus
Editor's Note: For much more on B2B marketplaces and their impact on distribution's digital future, join us for MDM's Digital Distributor Summit, happening virtually on Tuesday, June 29. Find more information here.