Applico has just published its inaugural ranking of the top 25 B2B Marketplaces in Europe. This follows our Top 50 B2B Marketplace ranking in the United States for the past two years. The list of the top 10 in Europe are: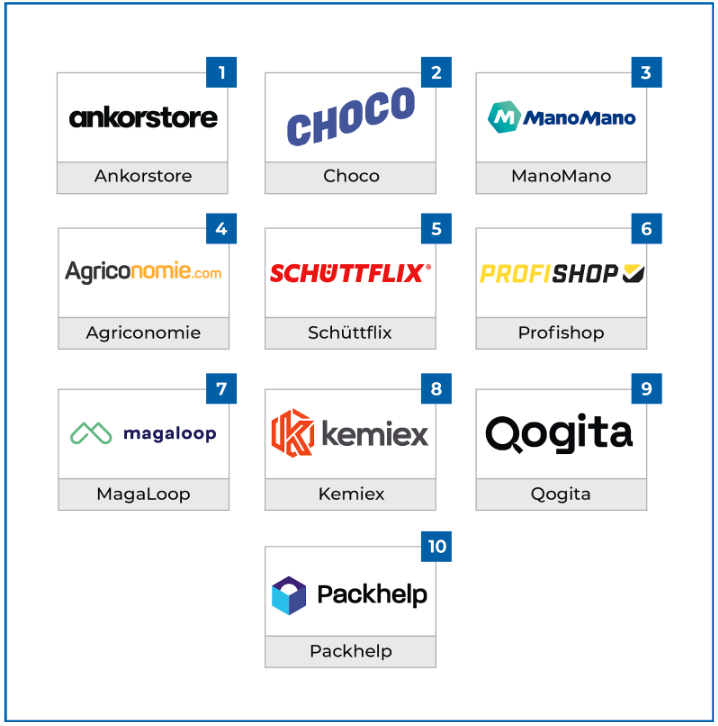 Following recent news of RenoRun, one of our top 50 B2B marketplaces in the US, closing its doors after raising over $100M in investor capital. We wanted to compare & contrast RenoRun with one of our top B2B marketplaces in Europe, ManoMano – who's also in the building material sector, but has a very different structure.
A Parallel with Rapid Grocery Delivery Unsustainability
Across industries, marketplaces and growth stage eCommerce companies compete for customers by offering better pricing, broader product catalogs, trust, quality, convenience and a variety of other factors. Certain value propositions have proven time and again to be too burdensome, leading to unsustainable business models and rapid destruction of shareholder value.
READ MORE FROM APPLICO: Amazon's Best Kept Secret: eProcurement Integrations
For example, the rapid grocery delivery business model, which blossomed in late 2020, saw an influx of invested capital from 2021 to 2022, with investors pouring over $8.6 billion into the sector. Almost equally as quickly, leading players were forced to exit key markets, with Gorillas selling to Getir, JOKR closing operations in NYC and over 10 companies shuttering operations, selling to rivals or canceling market expansion plans.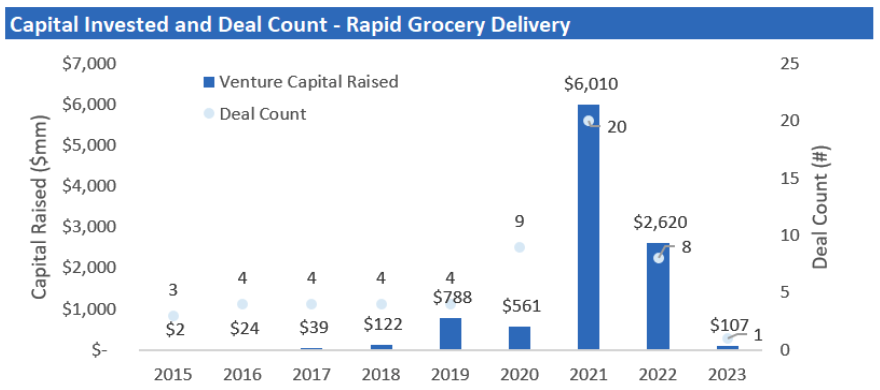 The rise and fall of rapid grocery delivery underpins a fundamental law of business: favorable unit economics and customer acquisition costs are imperative to sustainable growth and shareholder value creation.
In many cases, companies that prioritize rapid growth at the cost of a burdensome customer value proposition fall victim to unprofitable unit economics driven primarily by an unsustainable cost structure. In the case of rapid grocery delivery, companies prioritized extreme convenience and customer acquisition, but pricing and order sizes did not justify the costs associated with rapid delivery, paving the way for patient, profitable competitors to expand through strategic acquisitions.
WATCH: MDM Webcast: Distribution Platforms & Marketplaces – 2022 Snapshot & Strategies
In the building materials sector, we have seen a similar pattern unfold. RenoRun has promised DIY customers and trade contractors product deliveries in under 2 hours. The company's business model is similar to that of Instacart, whereby a RenoRun worker will drive to a local supplier, pick and pack orders, check out, and deliver the order to a job site. In Europe, ManoMano has taken a different approach, offering an online marketplace where customers can order a broad range of products for delivery through standard parcel shipment by the supplier. Unlike RenoRun, ManoMano relies on standard supply chain infrastructure, placing the burden of fulfillment on suppliers, and positioning itself not as a rapid delivery provider, but as a marketplace with a broad product catalog and favorable pricing.
To date, ManoMano has become the largest independent online marketplace in Europe while RenoRun has run into recent cash flow challenges, potentially forcing the company's hand.
Strategic Positioning and Business Model
RenoRun positions itself to customers as having both a broad product catalog and the ability to deliver products within 2 hours. In concept, RenoRun's value proposition is highly attractive to trade contractors and project managers, given project delays can be far more expensive than the markup paid for rapid delivery. However, to match pricing and order volume with the cost to support an entirely new logistics network (RenoRun's drivers), the company would need to charge a significant markup over retail pricing, as well as have a high enough order volume to make sure the fleet is properly utilized. RenoRun launched in a limited number of cities to build enough demand and maintain fleet utilization, but has still struggled to cover overhead related to the step it added in the supply chain.
ManoMano has taken a different strategic position, closer to that of Home Depot and Amazon in the United States. The company offers a broad catalog with thousands of brands and hundreds of thousands of products delivered at various quantities via either parcel shipment, or directly by the supplier. Notably, the company does not promise rapid delivery, but rather focuses on pricing and breadth of its product offering. This strategic positioning comes with far more sustainable operating requirements, given ManoMano allows for greater flexibility in fulfillment, while placing the actual burden of logistics and fulfillment on traditional supply chain stakeholders that specialize in these activities.
Both RenoRun and ManoMano charge a commission to suppliers, encouraging suppliers on the platform to markup base pricing to pass on a portion of the commission burden to customers. RenoRun does not publish its commission rate, but ManoMano charges a commission between 15% to 25% depending on the product category.
ManoMano has cited revenue of $1.2 billion, which implies between $5 and $8 billion in GMV.
Competitive Dynamics: U.S. vs. Europe
The competitive landscape in the building materials sector has played a significant role in ManoMano's success. For example, in the U.S., Amazon and Home Depot account for 52.1% and 20.2% of digital hardware and tool sales. Online sales of building materials is far more consolidated in the U.S. than in Europe, forcing new entrants in the U.S., such as RenoRun, to offer a unique value proposition.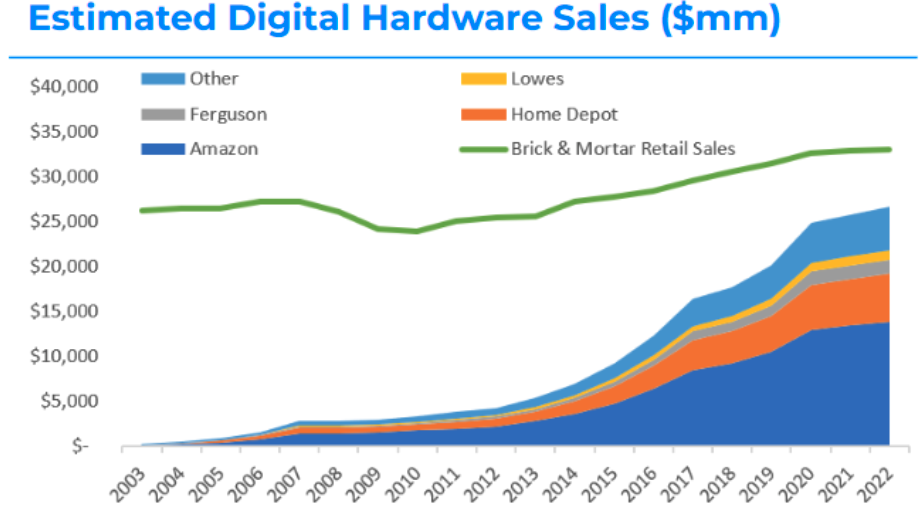 Conversely, digital sales of building materials and hardware in Europe is far less consolidated, allowing ManoMano to enter the market with a business model similar to that of Home Depot and Amazon in the U.S.
As Amazon expands its presence in Europe, we would expect ManoMano to evaluate alternative value propositions it can offer without putting too much strain on its cost structure. Alternatively, Amazon may view ManoMano as an attractive acquisition target to expand its market share in the European building materials sector.
Implications for Distributors
Efficient supply chains continue to exist at the edge of sustainable customer value and optimal cost structures. By removing inventory holding costs, enabling customers to purchase a broad set of products, and providing reliable fulfillment, distributors have set the standard for customer expectations and purchasing behavior across industries. New entrants that attempt to adjust customer behavior or offer a novel value proposition, such as rapid delivery, will face an uphill battle in finding a cost structure that remains competitive with status quo supply chains.
However, digital entrants that aggregate demand, facilitate price competition and aggregate supply to offer a broader range of products have proven an ability to charge commissions to suppliers, reducing supplier margins and driving down pricing.
In the long-run, these digital marketplaces, such as Amazon and ManoMano, ultimately aim to facilitate orders directly from manufacturers or through first-party inventory, further impacting distributor margins.