The differences between two surveys conducted by Alibaba.com, the B2B business unit of Alibaba Group, show small businesses continue to increase their efforts to digitize their business — particularly manufacturers. Alibaba first conducted the U.S. B2B Small and Medium Business (SMB) Survey in December of 2019, with a follow-up in September 2020 to assess the impact of the coronavirus pandemic.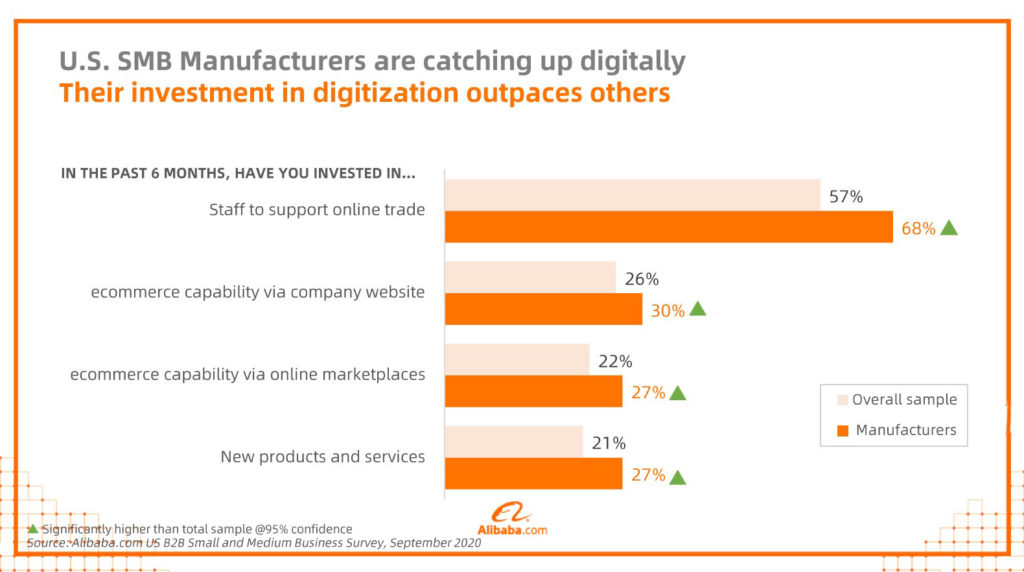 According to Alibaba, the second survey of 5,015 U.S. B2B small businesses found:
SMBs accelerated their pivot to digital: 93% of B2B companies are now conducting some portion of their business online, up from 90% in December, and 43% are utilizing e-commerce, an 8% increase over the same time period.
SMBs are finding opportunities internationally: Despite supply chain disruptions during the pandemic, 63% of B2B companies report conducting some amount of cross-border B2B trade, up from 59% in December.
SMB manufacturers surpassed other industries in digitization: Manufacturers' online B2B trade increased 8% — twice the rate of the overall 4% increase in all industries for the same period and tied with retail as the industries with the most digital growth. In December, U.S. manufacturers' online B2B trade volume lagged all other industries except construction but have now passed multiple industries in their pivot to digital.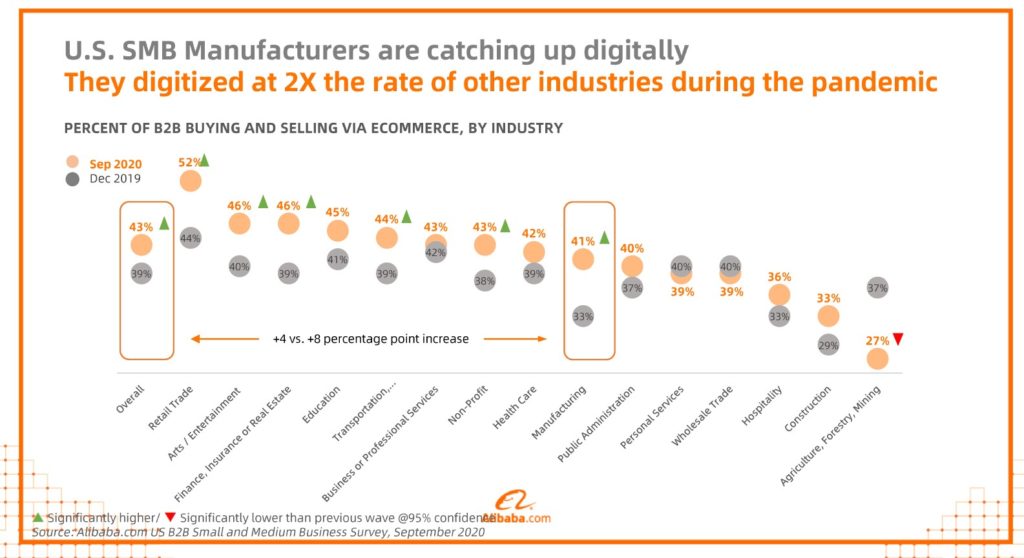 The research shows digitization is now "a must-have" for companies in all industries, said John Caplan, president of North America and Europe of Alibaba.com.
The survey also showed that majority of small businesses have an optimistic outlook, with 85% saying they are confident about the future of their business.
According to the September survey results:
56% hired and retained new staff to support their e-commerce operations since the start of the pandemic, and 79% plan to hire employees over the next year to support their increased online business.
42% of respondents saw increases in online B2B transactions in the past six months with more than three-quarters (75%) finding increased demand for e-commerce marketplaces.
86% of those doing business online expressing optimism in the future of their business compared with 68% of those who are not yet doing business online.
More than two-thirds (68%) of manufacturing businesses hired new staff to support online trade compared with 56% overall.
Digitization Sprint
To meet growing need, Alibaba.com also announced its Digitization Sprint for U.S. Manufacturers to help the industry — traditionally slower than others — to adopt online sourcing and selling tools. The program is designed to accelerate the digitization of these businesses' online marketing, selling and sourcing and ensure their long-term success, according to Alibaba. The program, free to qualified participants, is billed as a "four-week masterclass in getting digital and going global."
The program "will give manufacturers the curriculum, coaching and community they need to accelerate their digital skills and access the $23.9 trillion global B2B e-commerce opportunity," said Caplan.
With 75% of manufacturers employing fewer than 20 employees, "getting digital for us manufacturers is actually all about empowering and enabling U.S. small businesses to get digital, to go global," Caplan added.