It is a well-known fact that industrial suppliers tend to have a service base with a counter approach to conducting business. However, suppliers like us — full-line wholesale sealing supplier anyseals — are rapidly converting timeworn practices into modern solutions designed to more efficiently address the needs of the distributors they work with every day. Nudged along by the pandemic and a shortage of employees to adequately handle the increased demand for products and services, suppliers embrace the industry's shift to e-commerce and automation with a bit of trepidation because there are so many factors to consider. Processes, technology and people are top of the list.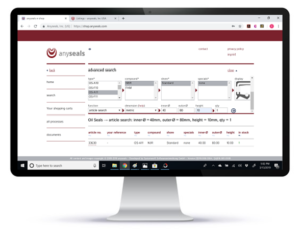 Here is how anyseals successfully navigated three of the most common challenges to conversion.
Challenge 1: evaluating and revamping processes
When evaluating and planning to implement an e-commerce platform, put yourself in the customer's shoes. As a supplier of specialized components purchased by distributors, this process at anyseals included reviewing everything from the customer's journey to find the company's products, to ease of navigation and the relevance of the platform's information.
On the technical side, bandwidth and the level of support required to sustain the platform needed attention. Carefully reviewing the technical aspects of an e-commerce approach should be skillfully balanced with a clear understanding of the customer's habits and requirements from the service desk environment to provide a comfortable self-service experience.
For example, complexity may distinguish an online B2C transaction from B2B. On a B2C website, a seller of blue jeans provides pictures of the garment with size options and prices. A supplier of O-rings, purchased by distributors, has several additional factors to think about, such as cost structure related to volume and the customer's need to search for products based on part numbers — both theirs and the supplier's.
Anyseals sells 400 million sealing products in more than 65,000 sizes, making O-rings just as competitive and the service experience as demanding as any other online transaction. The process timeline for all these critical factors depends heavily on analyzing many different parameters, so give yourself enough work time.
Technical execution turned out to be far less challenging for anyseals than determining the most relevant information and structuring its vast product offering. Due to unanticipated issues confronted with the latter, the entire process took much longer than initially planned. Anyseals discovered that its sales process was so desk-driven that it had to be overhauled for an e-commerce environment.
Since the company took the position from the start that the final solution had to be most advantageous and efficient for the customer, collecting and applying customer feedback along the way was crucial. It led to the development of an E-Shop platform the company launched more than a decade ago and continues to use today. E-Shop runs 24/7, processing thousands of sessions monthly on a scale across geographies and time zones in a manner that would be cost-prohibitive using a centralized, traditional call center model.
During the pandemic's hard lockdowns, when companies were forced into a hybrid work environment, E-Shop's value was amplified from the sales viewpoint due to limited team member availability. With a robust e-commerce platform already in place, essential businesses, like anyseals, were prepared for the heightened sense of urgency in product requests. They maintained continuity and customer interactions, albeit remotely, while facing supply chain disruptions.
The B2C experience has raised the bar on service expectations within the B2B environment. Distributors expect suppliers to leverage real-time data to ship and track products, manage lead times and make adjustments. Automation enables the transparency the customer requires, so committing to automation helps suppliers build credibility and trust. The other side of the coin is the just-in-time (JIT) inventory capability that enables suppliers to be as cost-efficient as possible.
Automation is the vehicle to achieve efficiencies to keep companies competitive in the marketplace. Suppliers acknowledge the end of the good old days when B2B companies were sheltered by product expertise within their niche. Today, every aspect of the supply chain is under very competitive cost pressure.
To achieve efficiency through automation, suppliers have evaluated and adapted these applications to functions like document scanning and goods-to-person warehouse management. As a global organization, anyseals has embraced automation with a multi-million-dollar investment to increase performance through process reduction, requiring continuous responsiveness.
Challenge 2: implementing new technologies
Since each supplier sells products differently, technologies designed to handle specificity are required. Anyseals intended to bridge standard back-end components with custom solutions on the front end but eventually realized none of the off-the-shelf technologies fit their needs. It was an expensive learning experience in two respects.
First, through working with a major technology company that was very efficient in its approach to the implementation process, anyseals realized it lacked the structured, clear strategy needed to meet the vendor's contract requirements. A new vendor specializing in full customization turned out to be a better option. However, as the anyseals team better understood what was needed strategically, they made many changes. This was not the most efficient route, but it provided a solid framework for continuous improvement and adaptation. The value for this kind of flexibility in the e-commerce environment is quite relevant today as AI tools are leveraged to meet customer needs more comprehensively.
Second, once a company commits to implementing new technologies, no matter the obstacles, there is no turning back. Pushing ahead is the only way forward. For anyseals, moving forward in its investment in e-commerce and automation technologies required a willingness to abandon legacy systems and methods to become a better business.
Challenge 3: having skilled people – the most valuable asset
The use of e-commerce and automation is transforming what was once considered mom-and-pop shops into highly stylized demand-efficient supply chain organizations on every scale. These critical business growth strategies are planned, implemented and sustained by people. From the front office to the warehouse, people who are comfortable with technology and technical devices are required more now than ever, making for more challenging jobs. Adaptable skills are also vital because technologies change rapidly.
An encouraging trend for the industrial supplier market is the emergence of career opportunities for technically oriented professionals from various backgrounds. The distribution management industry is becoming more relevant and vibrant by attracting a new group of skilled people. We can thank e-commerce and automation for their role in accelerating this development.
Finally, and most important, as the COVID-19 pandemic and natural disasters continue to impact the industry, e-commerce and automation help keep people safe. They also help mitigate disruptions that the business cannot control, resulting in delays in shipments and response times. This night and day shift from where we started at the service desk or on the warehouse floor has changed the way we work forever.
Toby Rose is president of Brecksville, Ohio-based anyseals, inc.