NetPlus Alliance, a North American industrial and contractor supplies buying group, hosted 500 distributor and supplier attendees at its sixth-annual meeting Oct. 5-8 in Dallas.
Over three days, more than 2,500 one-on-one booth meetings were held between NetPlus distributor members and preferred suppliers. Members also attended educational breakout sessions hosted by industry and subject-matter experts.
The theme of the annual meeting, "Trust Teamwork," represented the group's commitment to working together despite potential uncertainty in the market. "We are the most successful when we are engaged with each other," said Jennifer Murphy, NetPlus president, in her annual address. "Individually we are each our own company, but together we build relationships that evolve into the successful partnerships that drive the long-term growth and future success of this group."
She encouraged members to embrace their entrepreneurial and innovative sides to best respond to changes in the market and new opportunities that come their way.
Daryl "Moose" Johnston gave the keynote address, sharing stories from his time as a Super Bowl champion fullback for the Dallas Cowboys. He spoke about the NetPlus Alliance core values, including "Grow Together" and "Do the Right Things, Right" as two that rang true for him on the football field. "This company has all the same values as our three-time Super Bowl team," he said.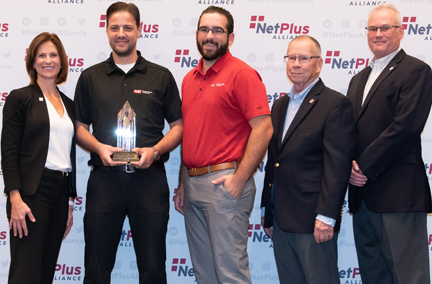 NetPlus president Jennifer Murphy, Nick Curley and Nick Fumarola of Northern Safety & Industrial, NetPlus founder Dan Judge and Paul Byrnes, VP of distributor development.
NetPlus Alliance also presented its annual member awards at the meeting:
The Growth Plus Best in Class sales planning award went to Posner Industries and two of its suppliers, JPW Industries and Protective Industrial Products. Posner and PIP achieved 115 percent growth together, and the Posner-JPW partnership yielded 388 percent growth. "The Annual Meeting was cited as a catalyst," Murphy said.
The Distributor Engagement Award was presented to BC Industrial Supply, Jacksonville, Florida, for its high conversion activity with NetPlus preferred suppliers. A NetPlus member since 2014, the company grew purchases 21 percent year over year.
The Supplier Engagement Award was presented to Brighton Best International, for participation in regional meetings and trainings, and targeted sales growth with NetPlus distributors.
The Marketing Excellence Award was given to Radians. The award is presented annually to a manufacturer that develops a strong marketing and brand partnership with NetPlus and achieves one of the highest levels of all-in sales growth for the year.
The Partnership Excellence Award is presented annually to a true advocate for NetPlus Alliance. This year it was awarded to Steve Salzman of Motion-General Tool Supply.
Milwaukee Tool was the 2018 Supplier of the Year. Milwaukee Tool achieved the highest results on three KPIs: total NetPlus purchases growth, count of new distributors and same-store purchases growth.
The 2018 Distributor of the Year was Northern Safety & Industrial. The Distributor of the Year must have the best score among criteria measured: new suppliers added, total NetPlus purchases growth, and same-stores purchases growth.
The Dan Judge Founder's Award was presented to Leslie Peterson, vice president of Industrial Sales for Boss Manufacturing. "She must have more frequent flyer miles than anyone else in the industry, and when you see her, she is always smiling because she is doing what she loves, serving her distributors and her customers," Murphy said.