Hamilton, Ohio-based Hamilton Caster & Mfg. Co. — a designer of stock and custom-engineered heavy-duty casters, wheels, carts and trailers — announced Feb. 14 that it named Mark Lippert as its new President.
The company also previously announced his new role in a Jan. 31 blog post. Mark Lippert succeeds his cousin, David R. Lippert, who retired in December. The company is now in its fourth generation of family leadership, according to a news release.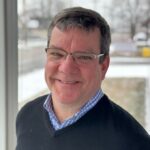 "It's a little surreal," Mark Lippert said in the company's blog post. "[Retiring leaders] Dave and Steve were such regular figureheads with the company for so long. It was pretty strange to see them packing up. They will be sorely missed. Thankfully though, the majority of our leadership team is intact and performing well. We've also brought in some great new talent in the marketing and human resources arena that I'm super excited about."
Mark Lippert joined Hamilton Caster in 1995 and lead marketing efforts "that have resulted in a brand that has been ranked No. 1 in brand perception studies for the industrial manufacturing market," the company said in its announcement. He also helped manage the business with three other family members: cousins Dave, Steve, and Jim Lippert.
"As we look to the future, we are confident that Mark possesses the qualifications and expertise to continue to grow our family business," said Board Member Ted Lippert. "Under his leadership, Hamilton Caster will continue to make a significant impact on the industrial market and our community."