On March 24, Illinois-based foodservice distributor US Foods announced that Andrew Iacobucci has been appointed Senior Executive Vice President, Field Operations and Chief Commercial Officer.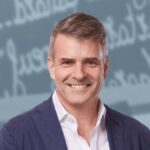 The company said Iacobucci will oversee its local sales, commercial excellence, merchandising, marketing, CHEF'STORE, US Foods Direct and MOXē teams. He also will have profit & loss responsibility for the company's broadline business.
Iacobucci will report to CEO Dave Flitman as a member of the company's Executive Leadership Team, US Foods said in a news release.
"I am thrilled that Andrew is taking on this important role as Senior Executive Vice President, Field Operations and Chief Commercial Officer," said Flitman. "Andrew is a talented, strong and respected executive, as he proved throughout his leadership as Interim CEO last year and most recently during my onboarding process. I look forward to partnering with Andrew in his new role to drive strong execution of our long-range plan."
Iacobucci began working at US Foods in 2017 and most recently served as Chief Transition Officer, advising and supporting Flitman as he onboarded. Flitman became US Foods' CEO in January.
Iacobucci served as Interim CEO of US Foods from May 2022 to January 2023. Prior to that, Iacobucci was Chief Commercial Officer, leading the company's merchandising, pricing and local sales functions. He also previously served as Chief Merchandising Officer.
US Foods on Feb. 16 said that 2022 fourth-quarter net sales increase 11.5% over the prior year to $8.5 billion. Gross profit for 4Q increased 17.1% to $1.5 billion. For 2022 overall, net sales increased 15.5% to $34.1 billion, while gross profit increased 18% to $5.5 billion.