The Independent Welders Distributors Cooperative (IWDC) recently announced the promotion of Keith Werkley to vice president of sales and vendor management, which was effective Sept. 1.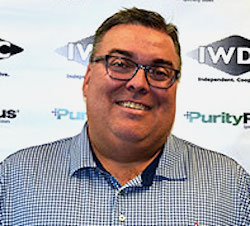 Werkley joined IWDC in 2016 and IWDC said he has played a key role in its growth over the past five years. As a member of the welding cooperative's  management team, Werkley has helped IWDC execute several strategic initiatives during his tenure: the launch of IWDC University – an online training platform; the design and launch of its Strategic Account Management program, which Werkley leads; and the build-out of its Weldmark product line.
He also helped with the expansion of IWDC's distribution center business, which included regional sales support, and with engaging vendor support of IWDC's Product Information Management program that launched earlier this year.
Werkley also assumed responsibility for IWDC's "asset" category, which includes cylinders and tanks. In that role, he will work closely with IWDC's gas program leadership to ensure continued growth with its vendor partners.
The IWDC was formed in 1994 to leverage the strength of its independent welding distributor members across North America. IWDC's member companies collectively represent over $2.9 billion in sales across a wide range of industries.