After the calendar anomaly of the preceding holiday week, most distributors have gone back in the red, according to the latest Indian River Consulting Group (IRCG) weekly Pandemic Revenue Index. The PRI for the work week of July 6-10 indicated a 7.4% revenue decrease compared with the same week a year ago.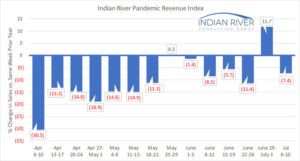 Source: IRCG
This decrease followed a rare improvement for the PRI — only the second period to post an increase during the last few months of the coronavirus crisis — although the week of June 29 to July 3 was up against a favorable comp from 2019 and its three-day holiday week.
"Last week aside, there appeared to be some stabilizing both of the index and of its component companies," said Mike Emerson, IRCG Partner. "The index seems to be settling in to declines in the mid-single digits. Most participating companies are also showing consistency from week-to-week and not the dramatic swings we saw back in April. Three participants posted gains this week, while only one posted a decline greater than 20%. Although the index is showing stability, the situation around the country is far from it as lockdowns are starting to remerge."
IRCG's distributor Pandemic Revenue Index gives distributors a weekly quantified view into how other distributors in the industry are faring as the global COVID-19 pandemic progresses.