Distributors finally caught a break, according to the latest Indian River Consulting Group (IRCG) weekly Pandemic Revenue Index. The PRI for the work week of June 29 to July 3 indicated a 11.7% revenue increase compared with the same week a year ago, but the spike could be the result of a calendar anomaly rather than marked improvement for the industry.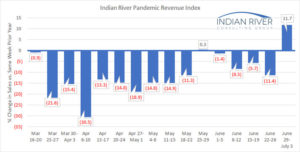 "This is a significant departure from what we've seen in previous weeks," said Mike Emerson, IRCG Partner. "The reason for the large increase is very likely due to Independence Day falling on Saturday this year versus a Thursday last year, with three selling days in the week last year and four this year."
This was only the second increase for the PRI and first one since a 0.3% bump in late May.
IRCG's distributor Pandemic Revenue Index gives distributors a weekly quantified view into how other distributors in the industry are faring as the global COVID-19 pandemic progresses.