Indian River Consulting Group's (IRCG) weekly Pandemic Revenue Index for the work week of June 15-19 indicated an 5.7% decrease compared with the same week a year ago.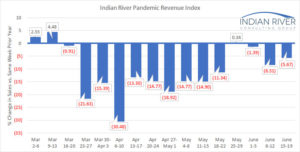 Source: IRCG.com
The index is still showing sales volatility among the distributors participating in the index, though the decline moderated from the previous week.
"It appears that the index may be settling into a new phase, after bottoming out at the beginning of April. "The index finally got back into the black (barely) at the end of May," said Mike Emerson, IRCG Partner. "Now, we appear to be settling into a period of sales declines in the mid-single digits. Of course, the situation is relatively dynamic but let's hope the worst is behind us."
IRCG's distributor Pandemic Revenue Index gives distributors a weekly quantified view into how other distributors in the industry are faring as the global COVID-19 pandemic progresses.