On Sept. 1, Heating, Air-conditioning & Refrigeration Distributors International (HARDI) released its monthly TRENDS report, showing the average sales performance by HARDI distributors was an increase of 16.8% percent during this past July. The average annual sales growth for the 12 months through July is 24.3% percent.
"July 2022 had one less billing day and a difficult weather comp for most regions but continues to benefit from the aggressive price increases that have been passed through," HARDI market research & benchmarking analyst Brian Loftus said.  "What goes up must slow down and this cycle has clearly peaked.  The average annual sales growth by participants has been in the 24% to 25% range since January."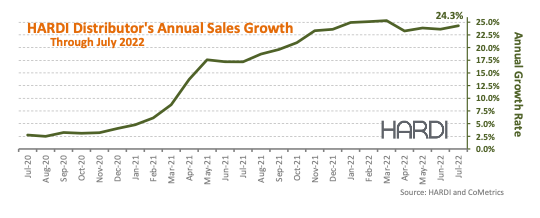 The Days Sales Outstanding, a measure of how quickly customers pay their bills, was 40 days at the end of June 2022.
"The June 2022 DSO is comparable to June 2020 and 2021," Loftus said.  "The pre-COVID DSO for June was closer to 45 days."
HARDI noted that the job market is strong. but other leading indicators for the HVACR industry like consumer sentiment, housing permits and existing home sales are not as encouraging.
"Inflation has been in the news and in our industry also," Loftus added.  "The annual increase for the HVACR primary products price index has been near 25% since April and helping to support distributor's sales growth."