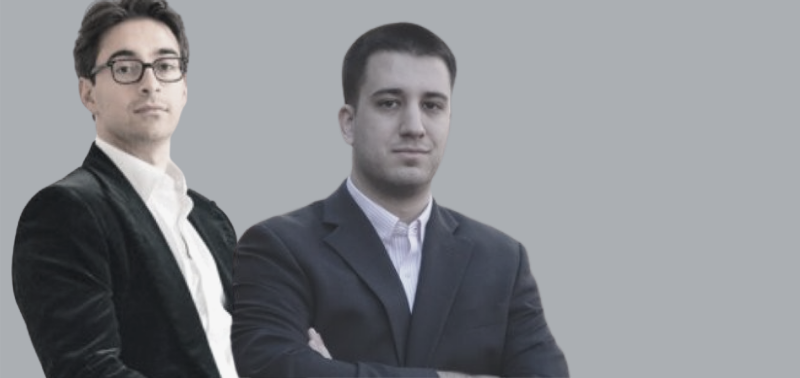 Summary
Hundreds of e-commerce marketplaces have popped up in the last few years. How can a distributor distinguish those that are more likely to last? Digital platform consultancy Applico's CEO Alex Moazed and Managing Director Nick Johnson address the details behind their company's top marketplaces ranking and how they see distributors using such platforms to compete with Amazon and other online giants.
Transcript
MDM: This episode is brought to you by MDM's Sales GPS conference. MDM's annual Sales GPS conference is the only event that brings together sales leaders, experts and wholesale distribution executives. We examine how leading distributors are transitioning to data and management-based sales models, go-to-market strategies, as well as industry innovations and disruptors. We focus on how to handle what's happening now — and what's coming up next. To learn more, visit salesgps.mdm.com. Now, please enjoy this episode.
Hello, and welcome to today's MDM podcast. I'm Elizabeth Galentine, editor in chief at MDM. And with me today is Alex Moazed, CEO of digital platform consultancy Applico, to talk all things B2B marketplaces.
Thanks for joining us, Alex.
Moazed: Thanks for having me.
MDM: So, recently, you shared with MDM Applico's ranking of the top 50 B2B marketplaces. Can you give us some background on the creation of the list and the factors that went into the ranking?
Moazed: Sure. And I'm also joined by Nick Johnson, managing director here at Applico and also co-author with me on the book, Modern Monopolies.
MDM: Welcome, Nick.
Johnson: Thanks, Elizabeth. Great to be here.
Moazed: So, the background for the B2B marketplace ranking was that there are a lot of rankings of marketplaces that are consumer oriented. Those consumer marketplaces are generally much larger than the B2B because that's just natural for these digital trends to originate with the consumer, and then make their way to the business customer. But no one had built a methodology to rank and analyze and aggregate and benchmark all the B2B marketplaces.
So, we saw that as an area that we are intimately familiar with, because of our work on a day-to-day basis, and wanted to put forth such a listing because it's really important that everyone in the industry recognize who these marketplaces are.
And the more important component of this is that the bigger these marketplaces get, the better to ward off competition from tech monopolies, like Amazon Business. The stronger competition that you have amongst platforms and marketplaces collectively, as opposed to one marketplace really being the dominant winner-take-all marketplace — like we've seen Amazon do in the consumer market — that's a very bad future for B2B distribution. So, the more that we can support and work with and understand these private, independent B2B marketplaces, the better in having a more diverse and competitive environment in B2B than we do in B2C.
MDM: So, what were some of the factors that, you know, got the companies on the list?
Moazed: Nick, want to take that one?
Johnson: Yeah. We looked at a lot of things, including fundraising, traction, publicly disclosed numbers around GMV, which is gross merchandise volume. So, how much total throughput is the marketplace looking at? And then, we also looked at qualitative data, looking at essentially the business model of the marketplace: How well do they integrate with the transaction? Are they able to capture what's called the 'take rate?' So were they able to actually get a percentage of the transaction? Or are they just serving as kind of a lead-gen service?
I think the ideal for marketplaces in general is you want to own the transaction. And the best way to monetize that is to take a piece of that transaction. The marketplaces that are typically valued the highest and do the best long term, in terms of growth and profitability, tend to be the ones that are able to capture that transaction and charge a take rate.
So, for example, the No. 1 marketplace in our listing, Faire, they're a kind of wholesale, retail and fashion marketplace. There are others in that industry that claim to have somewhat more GMV. But Faire has the ability to take a pretty healthy take rate as well, because they go end to end on the transaction. So that was a big factor in why they were No. 1 on our listing is the strength of their marketplace business model.
MDM: So, when you think, when you're framing in terms of, you know, the strength of the marketplace, and how well that that company is going to do, are you thinking of it in terms of like approaching the idea of people being hesitant to kind of put their eggs into different baskets, not knowing how strong that marketplace is going to be?
Johnson: I think the question is, how much value is the marketplace ultimately adding? And if you're adding a lot of value as a marketplace, then you can typically charge a take rate and get a percentage of the transaction. If you have less value because of the structure of the market or you're not able to get enough, you know, suppliers on board, so you can't forego charging a take rate, then it becomes harder to monetize. And ultimately harder to scale.
The ones that are able to charge that take rate tend to be the ones that provide a lot of value to both sides of the ecosystem, are able to get lots of those suppliers on board, as well as the demand side. And then they're comfortable charging for that because they're providing a lot of value, not just typically referring business, but also making the transaction stickier, more successful, handling things like payment terms, returns. In some cases, logistics, insurance. They provide a lot of value-added services and value around that transaction. And they're not just doing the transaction — they're really integrating into their buyer and sellers' businesses in a much deeper way than in some cases you see on the B2C side.
MDM: Yeah, 'cause I think that's where some distributors have hesitations about, you know, getting into the marketplace environment. They don't, you know, want to deal with a company that's going to be a flash-in-the-pan kind of business.
Johnson: Yeah, I think that, I'd say, is a natural risk to be hesitant of when dealing with startups. I would say if you look at pretty much I'd say all the ones in our top 50 ranking — and certainly if you look at the top 10 — these are companies that are here to stay. They're doing hundreds of millions, in some cases, billions, of GMV. And they're, I'd say, already having a significant impact on the industry. And they're not going anywhere anytime soon.
So, I think if you look at our, the top of our list, certainly those are ones that I would say pretty confidently are ones that are certainly worth looking at as a channel, particularly if you're a smaller or mid-sized distributor, or if you're a larger distributor looking at something more strategic, whether that's we have a partnership or more, and understanding how you can play in this space. Because these marketplaces are quite large, growing very, very quickly. A number of them, even toward the top of the ranking, are talking about doubling GMV in the next 12 to 18 months, and we've seen the pandemic really be an accelerant for a lot of them. They've grown even faster than that.
So, these things aren't coming, they're here. And they're certainly not going anywhere anytime soon.
MDM: So, a large sector of our audience is in industrial and construction. And I've heard there's some new startups in that area. What have you all seen as far as that sector of the market?
Johnson: Yeah, I think that there's a number of interesting startups in the industrial space that do parts, that do on-demand manufacturing. So there's, for example, a company called I believe it's pronounced Xometry, x-o-m-e-t-r-y, which does kind of industrial parts on-demand manufacturing, connecting you with people that can make the parts. There's also on the building material side Yesler and LandscapeHub, which are in the top 25.
So, you've seen a number of these marketplaces, both in the industrial and building material spaces emerge and grow pretty quickly over the last few years. I think Xometry just went public in the last month or so and has been doing quite well. So, there's definitely some big players in the space.
MDM: When speaking with Alex — both of you, actually — in the past, you've talked about just this being a key way for distributors to compete with the Amazons of the world, you know, to put their face in these types of independent marketplaces. But what are some of those barriers to entry? And we touched on it a little bit ago, but you know, whether they're real or imagined, that you see keeping distributors from taking those first steps?
Moazed: Yeah, I think the common thread throughout all these marketplaces is they are addressing a product data challenge and a connectivity challenge. But really a product data challenge unlike any existing traditional distributor has seen before. And the reason why is because these marketplaces tend to start bottom up, not top down.
So you know, no large distributor, or large manufacturer, is going to be jumping with joy to join and be one of the early suppliers into one of these marketplaces; no one's going to do that. So as a result, these marketplaces thrive on very fragmented markets, not just fragmented customer-demand markets, but in particular fragmented supply markets. Which, just about every vertical of B2B distribution has a lot of fragmentation. Some of it in construction, or building materials or metal. Chemicals is much heavier, not as pack and ship, it's more hyper localized. But still, there's a lot of fragmentation, generally across all of B2B distribution.
Why that's relevant to the product data challenge is that means that these marketplaces look for smaller suppliers as their initial way to generate traction. And so, what they need to do is solve a product data challenge amongst thousands or tens of thousands, or possibly more, of small suppliers, right? Their respective data sets are arguably much worse off than the mid- to large-size distributors in an industry. They have had less resources to invest in data.
And as a result of that the marketplace typically takes on a function of helping to solve for product data in a centralized manner, but piecing together and making sense and organizing a very convoluted, fragmented web of smaller suppliers.
So, if they can solve that challenge, think about the ramifications for everything else that's to come into the industry, right? These are challenges that many of the what you would call kind-of incumbent large distributors have been working on for years. And so, you're really seeing that, you know, these marketplaces, in order for them to be successful, are much more than just like a 'Shopify site' that now you list products on from a bunch, you know, from 10 suppliers, and people can go buy it, right? That's not a marketplace.
There's much more technical savviness that they need to have embedded in the product and the offering. And each offering is unique for each vertical. Just like what Nick was talking about with Faire, and the model that they're able to deploy to take 20% take rate on these transactions.
So, you know, there's a lot more than just meets the eye to just say, 'It's e-commerce and marketplace,' right? There's got to be something that these marketplaces are doing in a unique way to provide value — what we call to subsidize value — with those early customers and early suppliers. Product data being a key common thread amongst all of them.
So anyway, why that's relevant to this conversation is that other distributors, it should be incumbent upon them to say, 'Hey, how can I, how can these businesses help me?' More so than just looking at the Amazon Businesses of the world and saying, 'Oh, I'll list some stuff on Amazon Business because it's easy.'
Why is it easy? Because Amazon has invested billions and billions of dollars in what? Product data. These other startups are working on it. And it should behoove everyone listening to this to say, 'If I'm going to entertain working with Amazon, I should entertain working with at least one, if not multiple, of the up-and-coming B2B marketplaces.' Right? Because you want to support more competition, not less.
Maybe their product data capability isn't as good as Amazon. Maybe it's better in certain verticals. But you shouldn't just go and work with one. You should really look to say how, if you are going to work with a marketplace, how do you embrace multiple? And how do you really support more competition rather than less?
MDM: Yeah, and you know, speaking of embracing multiple ones, I mean, how does that work? I was reading your interview with Faire — the No. 1 company you've been talking about from your list — about how they have their widget that they can place on, you know, the distributor's, be directly listed on the distributor's website. Is there, would you have multiple widgets? Like, how would that, what would that look like?
Moazed: So Faire's offering is pretty comprehensive because what they're offering is they're also, in addition to product data, and e-commerce demand, and fulfillment, they're also offering you a financing solution. They're saying, you can go buy their product, risk free for 60 days. And then if you want to return because you bought too much, it's not selling as well, right, you look at your first two months of sales data as, as a retailer, you can return it, no questions asked. And you know what, you actually haven't even made a payment until 60 days, because they're giving you net 60-day payment terms, right? So, you don't have to put the button on your website. But you can if you want, it's not exclusive. They don't require you to exclusively work with them. And we have no bone in the race to promote Faire or anyone else. But Faire has really developed an end-to-end solution that Nick was talking about, which is why they're able to take such a high take-rate at 20%.
It's a very sticky solution, right? Basically, very little-to-no risk for the first 60 days to get this inventory and see how well it sells. So, the other wholesale marketplaces don't go to that degree of kind of what I would call like value-added services to provide that kind of closed system, that end-to-end transaction that Faire does.
You can still work with all of them, to varying degrees. And that takes time. And distributors are very busy. You got a million things going on, especially with the past 16 months here. So how do you allocate the time to actually go and do the diligence and entertain working with multiple ones of these? And that's why we did the ranking, right, was to help kind of create a little cheat sheet to say, 'Hey, if are going to look at working with marketplaces — not just the big tech monopolies — look at these two or three, too. Because we've vetted them. And you know, here's your list of Top 50.' Because everyone's so busy. And this does take a lot of time.
MDM:  Yeah, for sure. How do you see, you know, things evolving? I mean, you kind of got the two models of the sector niches and the specific areas of business, versus that broader Amazon-type approach. Do you think it will continue to be those ways or kind of converge in the future?
Johnson: I think that's very much an open question. I think, an interesting analog, if you look at China, for example, there are one to two vertical-specific marketplaces alongside kind of the big generalist of Alibaba, which has its own B2B marketplace, in pretty much every vertical in B2B. So, we've seen this kind of play out there where there's a much more diverse ecosystem then you see, for example, with Amazon on the B2C side in the U.S. where they have 40 to 50% of marketplace volume here in the U.S.
So, I think it's an open question. And this is part of why we created the ranking. We think that the best outcome for distributors would be if there is not that kind of dominant, multi-category generalist that has 40 to 50% of online sales and B2B.
That's a bad scenario in terms of an outcome for most distributors because there's less competition.  The better scenario would be that scenario where, like China, where there's a bunch of these B2B marketplaces within each vertical that have been successful because when marketplaces compete, their users win.
If there's one big marketplace that kind of owns everything — as we've seen, as Amazon getting into trouble a little bit on the regulation side, but that'll move very slow — that marketplaces tend to start first by taking advantage of their sellers.
They up the rates. They will play games, as Amazon does, with selling its own products. They kind of harvest product data and all these kinds of things. So, if you don't have a lot of competition, you fall prey to being taken advantage of by the dominant marketplace. So that the ultimate future that if I'm a distributor, what I want is multiple marketplaces in my industry that are successful, and not just Amazon.
But that's very much an open question. And I think we're gonna see that decided in the next three-ish years here.
MDM: Yeah, that was gonna be my concluding question is, do you think that timeline, do you see the timeline being relatively quick?
Johnson: I think Amazon Business is doing $25 billion, which I think we've kind of correctly predicted. They're tracking over the last three years, before they announced $10 billion, we'd kind of said we think they're going to be doing that this year. What we're predicting or our estimates show is that they'll be doing about $75 billion within the next couple of years or next few years, in B2B distribution, I think that's by the end of 2023. And they're at $25 now. So, they're going to continue to grow very aggressively; they've clearly made this a priority.
B2B distribution is, as an industry, ultimately bigger than consumer retail. So, if Amazon can dominate this, to the degree they do retail, that is a huge multiplier for their business. So, I think Amazon's aspiration, certainly they're very strong in industrial supplies. We've also done a kind of product catalog look in the past at Amazon, so industrial supplies very strong. They're growing in auto parts. Growing in medical supplies, where they might have made a lot of inroads, certainly with PPE and the pandemic. So, they have pretty big aspirations. And I think you're gonna see, does Amazon reach that $75 billion in the next three years? And can they reach, you know, $100-billion plus? I think if they get there within the next few years, that's, I would say, danger signs flashing for distributors in terms of Amazon's dominance in the space.
If you instead see a bunch of these marketplaces in our top 50 really growing and reaching the billions and ultimately, tens of billions of GMV, that's a much healthier outcome for distributors. So, I think that it's very much an open question. But there's still an opportunity for distributors to, say, help tip the playing field in favor of these independent marketplaces over Amazon dominating.
MDM: Thanks so much, Nick. Alex, do you have any final thoughts?
Moazed: Yeah, I mean, Amazon's a monopoly. Doing business with them is, you know, you're making a deal with the devil. So you're going to get some incremental revenue in the short term, but the script has been played for 20-plus years. You shouldn't expect anything different than ultimately they're going to come for your margin. That's best-case scenario. Worst-case scenario is they cut you out of the transaction entirely. That's the script.
So you know, you can't kill one strategy without a good alternative. So, if you're, we're saying, well, don't work with Amazon or if you are going to work with Amazon, you know, we're not going to stop marketplaces. I think that's clear. Right? The industry is so fragmented that you can't stop marketplaces.
So now if you're saying well, if marketplaces are an inevitable future state, what is the ideal future state? Not what we're seeing in B2C, clearly. How do we change that? And that's, you know what I think Nick put rather eloquently. So how do we support these alternative up-and-coming tech companies?
This B2B marketplace list is not the only list. You know, there are other types of innovation and tech startups also in the space. We've covered SaaS providers that are providing marketplace solutions. We've covered MaaS — marketplace as a service — solutions that are bringing you both the SaaS marketplace solution and they're bringing new suppliers to a marketplace. We've covered kind of B2B2C-type tech startups, kind of like Shopify, but for a specific vertical. So there's a lot of things happening.
This marketplace ranking is most concretely kind of front and center. But there's a lot of different ways to think about marketplace, and new types of digital business models in B2B distribution. And it's incumbent upon all of us to really kind of lean in and spend some time.
MDM: Great, well thank you both.
Moazed: Thank you.