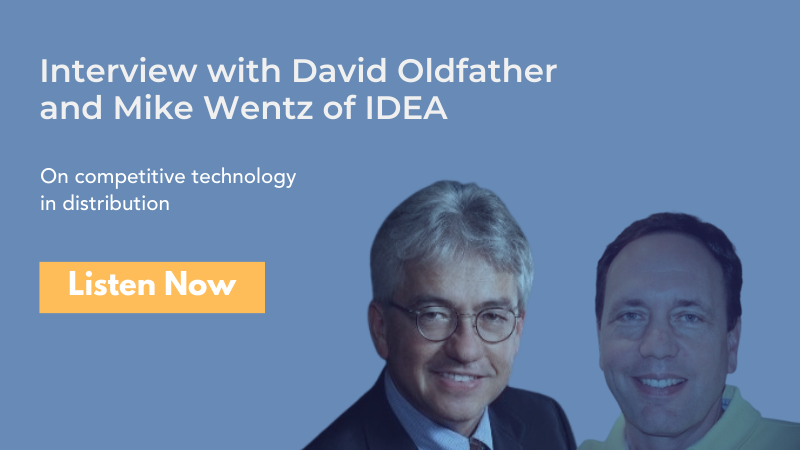 Summary
With decades of experience in distribution technology application between two of them, David Oldfather and Mike Wentz of the Industry Data Exchange Association discuss the importance of clean data in the future of distribution technology. Listen as the pair share how to handle the latest developments in areas such as 360-degree imaging, improved data standards and how technology can help with challenges like manpower shortages.
Transcript
MDM: This episode is brought to you by MDM's Sales GPS Conference. MDM's annual Sales GPS Conference is the only event that brings together sales leaders, experts and wholesale distribution executives. We examine how leading distributors are transitioning to data- and management-based sales models, go-to-market strategies, as well as industry innovations and disruptors. We focus on how to handle what's happening now and what's coming up next. To learn more, visit salesgps.mdm.com. Now, please enjoy this episode.
Hello, and welcome to the MDM podcast. I'm Editor in Chief Elizabeth Galentine and joining me today are David Oldfather and Mike Wentz of the Industry Data Exchange Association, better known as IDEA. We're going to discuss how distributors can use technology to be competitive in the future.
Welcome David and Mike. So, let's start with a little background. Can you each share a bit about yourselves and IDEA's mission? Let's start with David.
Oldfather: Sure. Yeah, I'm Dave Oldfather, president and CEO for IDEA. A little background, I started my career in the mid-'90s at Tri-State Electrical Supply Company. That's out of Hagerstown, Maryland. We sold to Hagemeyer in 19, around 1999, and then I oversaw their contractors and installers until 2003. And for those folks in the audience, remember Hagemeyer then sold both to Rexel and Sonepar later on.
When I left Hagemeyer, I went to Affiliated Distributors where I oversaw U.S. and Canadian electrical divisions, until roughly the spring of 2013. I then became a part owner of Jigsaw Systems, Inc, which was an information systems and technology company. I owned that with Mark McGready, who's now with NAED and SPARXiQ. And we sold to SBA, which is now SPARXiQ in '19.
So, quickly, before that, I taught at the college level and I worked in a couple of banks. And I started and sold a marketing company. So, I have a diversified background I guess. So that's me.
MDM: Mike?
Wentz: Yeah, good morning. You know, like Dave, I've spent a lot a lot of my career in the electrical industry. In fact, I started right out of college. So, this is my — hate to admit it — but my 41st year in the electrical industry. And I was hired on with a software company that was automating electrical distributors. So, I spent the first six months to a year actually going out and working with distributors that had manual processes and automated them to, you know, automated inventory, management and pricing and purchasing.
So, I learned a lot about the business, right from, you know, from the ground up, so to speak. And then, as I progressed with that software company, you know, eventually I moved into management. One of the notable things that we did during the dot-com era was we started one of the first industry exchanges, or hubs, marketplaces, that connected contractors with distributors. So, I got involved in e-commerce fairly early on. I think we developed our first e-commerce software site back before the year 2000. So, been, been involved in e-commerce for over 20 years.
And then, you know, worked with a couple — we were acquired and worked with Epicor. We, at the same time, had acquired the Eclipse platform, and were part of Prophet 21. And so, I had a lot of ERP background.
Came to IDEA about 12 or 13 years ago, and have been here working, you know, trying to help the industry move forward with data synchronization, digital integration. And you know, it, it's been, it's been a long run, but I really enjoy working in the electrical industry.
MDM: Fantastic. So that's a good segue into, you know, what you all are doing to help distributors succeed in today's marketplace.
Oldfather: Well, let me start. We, we basically, if you think back about 20 years, IDEA's inception, we've, we've evolved from in 1998, basically facilitating transactional data to facilitating the exchange of e-commerce product content, as well as transactional data. And our mission is to maintain really a leadership position in facilitating the exchange of high quality — I call it commercial grade —transactional and e-commerce product content, as well as serving as the industry standards body by setting and facilitating and monitoring data standards.
So, what we basically do is we're committed to working with our manufacturer customers, as well as our distributor customers, to exchange clean, structured data that can be used with as little handling or manipulation as possible. So, when we, if we provide that service properly and correctly, then we're actually facilitating sales, we're reducing costs, operating costs, and we're increasing visibility for all of our customers.
MDM: About a year ago, you all launched the IDEA Connector. Can, can you tell us more about the platform?
Oldfather: In a way, I'd like to also give a little background on that platform. So, if you recall, we, back in March of 2020, we were tasked with moving from the old platform, which was IDW, Industry Data Warehouse, to the Idea Connector. And we did it in the middle of a pandemic.
So, if you think about it, we really had three options back in the March/April timeframe of 2020. We could delay the project; we could run it parallel with the IDW or we could stay on schedule. And given the uncertainty about the length of the pandemic, we opted to stay on schedule, which led to three additional options. And that is, either we assemble the full team; we assemble a partial team onsite. But you know, if you assemble a team, whether it's full or partial, you're still, you have risks of transmitting the virus. So, we went live virtually. And none of our team had ever launched a product of this size virtually, but we were able to do it. We were able to do it with Bill Ferguson and his team. And we had the full support of the IDEA board to proceed.
So basically, the IDEA Connector is an upgrade of the IDW. And we're able to facilitate the exchange of an enormous amount of data. So, if you think about our platform, we can handle an unlimited number of SKUs, an unlimited number of attributes and fields. We can help exchange 360-degree images, multiple image sizes; we can do training and installation videos. We can do certifications. People are familiar with UL and the Canadian CSA. Clearly, California prop 65. We can also handle foreign languages, marketing blurbs and keywords.
So, we're really, the platform — and I'll let Mike expand on this a little further, if you'd like — but really, the platform is enabling our manufacturers to exchange an enormous amount of data with their trading partners. In this case, distributors, electrical distributors.
Did I miss something, Mike, that you'd like to add to that?
Wentz: Well, I would just emphasize a little bit that, you know, we were coming off of a rather dated platform that was originally developed for data syndication within the automotive parts industry. And it was modified to support the electrical channel. And it was really one of the first attempts for an industry to automate that whole process.
So, even from the beginning, a lot of the technology was based on machine-to-machine data exchange. And, of course, we've built on that. Dave mentioned a lot of the key functionality improvements, but the user interface is a modern interface. Today, we have mapping capabilities. So, it's really a state of the art, it's, it's a complete generational change from, from where we were. But it still emphasizes the fact that, you know, data quality is best achieved when there's no human intervention.
So, when you're exchanging data from a manufacturer's, you know, Product Information System directly to our system, to the Connector, and then on to the, to the distributor, there's really no opportunity for any data errors. And that's, you know, is a key part of what we provide is, you know, this content, at a high-quality level.
MDM: So, you have four long-term initiatives for the next 12 to 18 months that are designed to address some of the distributor pain points that you just talked about a little bit. Let's get into each of those and how you came to develop the initiatives. The first one is about improving data standards. Can you talk about the pain point behind that and, and how you're working to fix it?
Oldfather: Well, 'fix it,' that's an interesting term. So, if you think about it, we're exchanging — we have an enormous number of SKUs. I think it's 2.6 million SKUs in the Connector, and then you have all the related attributes and fields. And so, if you're exchanging an enormous volume of data from a manufacturer to a distributor, if the data isn't standardized and tight, you can have multiple entries for a single attribute and a distributor won't be able to decipher, because they might use 'V' for volts as opposed to 'voltage' or something of that nature. Or, you can go to colors, and they may not have the ivory. And so, that data becomes unavailable, because it hasn't been standardized.
So, we have, on top of that, there are multiple taxonomies that manufacturers have to work with. We've worked with a version of UNSPSC. But there's also ETIM. And there's also ECLASS. And so, manufacturers, they may want to work in UNSPSC, or our version of it, which is cast, but they have to transact or exchange data with someone that either has their own taxonomy, or they're using ETIM.
So we're, what we're doing right now is we're working on a pilot, a proof of concept has already been done, where we're going to attempt to create a harmonized data model. And that will enable our manufacturers to download using one taxonomy and we'll be able to transform it into another for the trading partner. So, if a trading partner prefers to use a different taxonomy, or their own customized taxonomy, we will be able to give them a feed.
And the goal is to make it as easy as possible for a manufacturer to load their data into the Connector and make it as easy as possible for a distributor to receive or extract that data without having, to Mike's point, without having to filter it or manipulate it, or manage, manage it in some way, which usually involves human beings. So, that's principally what we're attempting to do on the standards side.
We also support — and then I'll back off and let Mike join in — but we also support ETIMNA, and that's an initiative, it's a, it's an independent, nonprofit entity, Mary Shaw oversees it. DDS, one of our competitors supports it, as do we. And there we're trying to get more manufacturers and distributors in North America to recognize that ETIM is a standardized taxonomy that will enable them to share and exchange data more easily without intervention. So, Mike, anything you'd like to add?
Wentz: Well, again, I would just emphasize, you know, one of the values that we bring to the channel is that we do facilitate and promote the, the adoption of these data standards. And data standards within the electrical channel, you know, there's a long history of that, you know, going back to the early adoption of UPC codes in the electrical channel. You know, it's really allowed the electrical vertical to become, you know, more organized and, you know, and more efficient in, in not only in processing, you know, everyday orders, but in this data exchange world.
So, you know, IDEA has had this tradition of promoting standards and supporting them. And that's a big value that — you know, it's hard to sometimes keep everyone focused that, long term, you know, adoption of these standards is really the right thing to do for the channel.
MDM: So, your second initiative is about simplifying data loading, management and extraction. I imagine that's building on the first one.
Oldfather: It is. Go ahead, Mike.
Wentz: It is to a degree. You know, certainly with the modern interface that we have with the new Connector, data loading has never been any easier than, than it ever has been in the past. And in fact, you know, IDEA has been in the technology business for, you know, for over 20 years. But I think one of the truly most impressive innovations that we have produced is some new utilities that we're about to introduce to the market that will really simplify data loading for the manufacturer. And offload them. Because we're fully aware that manufacturers are asked to work with a lot of partners. And so, we feel our key to success is to, to offload them of that task. And to make it very easy for us to absorb all of their content into the Connector.
Oldfather: The application that Mike's referring to, I think we, we lovingly call it the IDEA activator. What it basically will enable us to do with the user interface is to take both structured and unstructured data, we'll then be able to stage it and map it for our manufacturers into the Connector, which will reduce the amount of effort it takes for a manufacturer to load their data, and we'll be able to put it into the Connector and then syndicate it on behalf of the manufacturer to distributor. In a format that's suitable for that distributor.
MDM: And your third initiative is to develop a comprehensive reporting dashboard, how's that going?
Oldfather: Well, that, we have two items that are, that we're working on. The first, we have a data integrity hub. And that's enabling our distributors, when they see data that's incomplete or an image that's blurry or hasn't been included, enables them, through the Connector, to reach out to that manufacturer and provide examples so that they can see exactly what the issue is, so that the manufacturer can correct either the image, they can resize the image, they can add completed data.
The second part of the question, the dashboard, we're in the process now of, we have a platform that we work with, with EnterWorks — we purchased the platform from them. And we're working now with a third party to develop dashboards that are meaningful to not only our distributors, but our manufacturers. And so, one of the components we'll be doing is going out to our manufacturers and distributors and making sure that we are building a dashboard that provides them with the data that they need to conduct their business more successfully.
MDM: And your fourth initiative — which I imagine will be ongoing in perpetuity — is to increase quantity of product content.
Oldfather: I'll start this but then I'm gonna let Mike talk because he has the better radio voice here. And in terms of content, first of all, we've changed our pricing approach. We used to, a year or so ago, a little over a year ago, we used to charge based on SKUs. Number of SKUs for manufacturers. And number of locations for distributors. And it was counterproductive.
If you think about it, if I'm a manufacturer and I see that it costs this amount to do, let's say, 10,000 SKUs, and it costs this much to do 20, I'm gonna look at my budget and determine how many SKUs I want to provide. Well, we want all of the product content. So, we've changed our pricing matrix for manufacturers. It now is just based on annual electrical revenue. So, now, we can accommodate all of their SKUs and they don't have to worry about paying more or less based on SKU count.
For distributors, we used to charge based on number of locations. And, again, if you think about it from a distributor's side, if you're a commercial-oriented or construction-oriented distributor, you've probably got a lot of branches, you're a hub and spoke. But if you're industrial, you need fewer brick and mortar locations. So, it was inherently unfair. So, we changed that as well, to revenue-based.
So, that enables us to now go to manufacturers, and say, 'Give us all your data.' And because of the IDEA activator that Mike talked about, we're saying, 'Give us all your data, whether it's structured or unstructured, just give it to us. Anything that's on your website, or in your systems that you think would help promote your product, and would be valuable to a distributor, just give it to us.' And we'll make sure that it gets into the IDEA Connector in the appropriate format.
So, we have an ongoing campaign, not only to increase the number of SKUs. But we're also concerned with the kind of information that we're gathering. So, we recently reached out to NAED, and the NAED board. And we'll be adding attributes such as weights and measures. So that distributors will be able to take that information, whether it's in each, you know, a package, a carton or a pallet, and they'll be able to cube-out their trucks and cube-out their warehouses more effectively, because they'll know what everything weighs on all of those sizes, or what the dimensions are.
And I don't want to steal too much from Mike. But I'll start Mike out by saying, in addition, distributors want to use the weights to help expedite shipping. And I'll let, Mike, you jump in there, because I've talked quite a bit.
Wentz: Yeah, that's an exciting initiative, because distributors are facing, you know, manpower shortages. And so, warehouse automation is becoming more and more important. And certainly with all the e-commerce work that's being done, you know, they want to be able to provide shipping cost online, you know, in real time, so they need to have this information.
One of the most interesting aspects of a use-case that I've heard about is that some distributors want to actually print a pick ticket, have a warehouse worker pick all those products, then come back to the shipping station and actually weigh it. And if the weight matches what the system would calculate, then they know that's another really good quality check that the, that the order was picked correctly.
And, you know, it's similar to, I used to live in a community that had a lot of pharmaceuticals. And, you know, one of my neighbors said, 'You know, do you know how they know how many pills are in a bottle?' And I said, 'Well, they probably count them.' And they told me, 'No, they weigh them.'
So it's interesting that, you know, it's not necessarily the metric you would expect. But it, it's very effective, and the demand is growing. And, you know, and back to David's comments about the commercial agreements that we have with our distributors and manufacturers, that's a really good example of how we've evolved. I mean, when IDEA was started, you know, all the focus was on transactional data. Obviously, there was not a lot being done on the web. There weren't e-catalogs. And so, you know, the company and the industry has, has evolved, and therefore, you know, our pricing and our metrics, the way we measure usage, has evolved.
So, you know, those, what we adopted early on, wasn't working. So, these changes we've made have been really effective to increase usage. And, you know, I think it's a good example of how IDEA doesn't remain static. But, you know, we're growing with the industry, as, you know, the digital revolution continues to move on.
MDM: You know, and just to wrap things up, I'd love to get your perspective on that larger digital revolution. Especially you know, with you all working day in and day out from, from the data angle, which is so critical to digital transformation. You know, just like to hear your thoughts kind of from, from the higher level on what it means for a distributor to integrate digital technology into all areas of their business and kind of how they can start that transformation. I assume it starts with the data.
Oldfather: It does. And it, it starts with quality data, which we've talked about. If you don't have high-quality data, then you can't do the analysis and the analytics that you need in order to run your business or conduct your business efficiently and effectively.
So, if you think about technology, and in the future, in the marketplace, everything is, can be touched by data. If you think about, let's take electrical distributors and manufacturers. You have special pricing agreements. If you have enough information about them, enough data, you can do the analysis to determine what should be on an SPA, what shouldn't be on an SPA and what price should be earned based on the volume of that SPA?
If you go to inventory management, you can not only, you can not only describe what inventory you have, but you can predict what inventory will be needed at what location and you can actually give a probability of the likelihood that it will be sold, with the proper data.
If you look at rebates and incentives, it's all data. It's, it's how do you, when you make a purchase, what rebate should you get? And if it's an incentive program, what percentage of the incentive should you get as a distributor, or should a manufacturer pay?
Mike's already covered weights and measures, which is more data for warehouses. So, from a manufacturer and a distributor's point of view, digitalization, which yields the data — which was your point when you asked the question — data is, I've heard it said it's, it's the next black oil. But it is really valuable. And so, anything and everything that we can do to help our distributors, our manufacturers, gather and exchange data is what we're all about.
Wentz: Yeah, and I would just add, Elizabeth, that, you know, digital integration, what we're seeing is, is so much more than just selling products online. That seems to be what gets the headlines, especially, you know, after we've gone through, or still, maybe are going through a pandemic, and more and more people are moving online. But it's really — and Dave touched on this — it's growing tighter relationships with your customers and your vendors by becoming more digitally integrated, and automating more manual processes; making you more efficient and your customer and your vendor more efficient.
Because, at the end of the day, we're all being challenged to do more with less. And you know, the digital integration process is all about that. And we're seeing more and more distributors that are selling products online. But more and more distributors are automating other internal processes and, and, and growing tighter links, developing tighter links with their customers and their vendors these days.
MDM: Well, thank you both. It's been a pleasure speaking with you today.
Oldfather: Well, thank you.