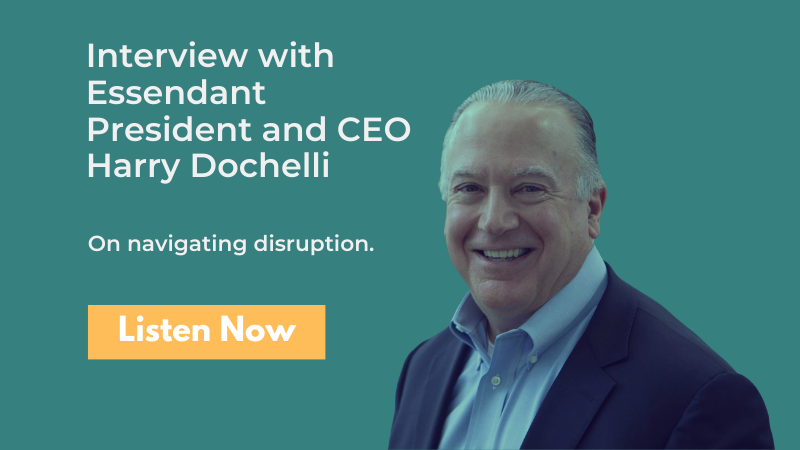 Summary
Harry Dochelli has both experienced and orchestrated plenty of change at Essendant, the Deerfield, Illinois-based wholesaler of office products, furniture, breakroom, JanSan and Safety product categories. In addition to navigating the disruption of the last 18 months, Dochelli has guided the company through new ownership and other organizational shifts in recent years. In this MDM Podcast, Dochelli discusses lessons learned during COVID-19 and how Essendant is well-positioned for the post-pandemic economy.
This episode is brought to you by:
Bloomreach and Infor
Transcript
MDM: Welcome to this episode of the MDM podcast. This episode is brought to you by Infor. Infor is a global enterprise leader in business cloud software and a strategic technology partner for more than 67,000 enterprise and SMB companies. Enterprise software solutions that are built for the cloud, built for your industry. From distribution to manufacturing to retail and fashion, Infor covers all industries and has ERP end-to-end solutions that are brought together by artificial intelligence technology. To learn more, visit infor.com. That's I-N-F-O-R.com.  
This episode is also made possible by Bloomreach. Bloomreach is the leader in commerce experience, empowering brands to deliver customer journeys so personalized, they feel like magic. Bloomreach is the only platform that combines the power of unified customer and product data with the speed and scale of AI optimization, enabling measurable digital commerce experiences that drive real results. To learn more, visit bloomreach.com. Now, please enjoy this episode. 
My name is Eric Smith, senior editor for Modern Distribution Management. And our guest today is Harry Dochelli, president and CEO of Essendant, a wholesaler of office products, furniture, break room, JanSan and safety product categories.  
Essendant has gone through several transformations over the past 15 years, including a name change in 2015, multiple acquisitions, products category diversification and ultimately going private, refocusing on its core sectors after being acquired by Sycamore Partners.  
To set the table for our conversation today let me provide a little timeline, as I'm sure we'll touch on some of these milestones in the company's history. Until it went private in the Sycamore Partners deal two years ago, Essendant — which changed its name in 2015 from United Stationers — was publicly traded since 1981 as an office supplies wholesaler.  
In the late 1990s, it pursued a strategy of diversification, as Amazon and other competitors drove consolidation in the office products distribution sectors. It acquired JanSan wholesaler Lagasse Brothers in 1996, followed by Sweet Paper and Peerless Paper to form Lagasse Sweet.  
The company entered the industrial markets with the acquisition of ORS Nasco in 2009 and then added the welding products wholesaler OKI Supply in 2012. In 2014, it strengthened its industrial business with the acquisition of MEDCO, an automotive aftermarket products wholesaler, and Nestor, along with an online retail platform, CPO.  
Essendant then pursued longtime competitor S.P. Richards, the office products business of Genuine Parts. And in April 2018, there was a merger agreement in place when Staples, owned by Sycamore Partners, came along in October of that year with a billion-dollar deal.  
In January 2019, Sycamore Partners acquired Essendant, making it a private company. Most recently, in November 2019, Sycamore Partners spun off the industrial businesses, ORS and MEDCO, and Nestor, to a private equity firm.  
With that quick background, Harry, thank you so much for joining us today. And again, welcome to the MDM podcast. With that quick background I gave of Essendant, you know, wondering if you could give us an overview of what the company looks like today, in terms of size, number of employees, products, etc.? 
Dochelli: Sure, yeah. I'd be happy to, Eric, and thanks for having me today. I look forward to our conversation. You know, Essendant has evolved over the years. But we remain a pretty large factor in the marketplace today. You know, I'll just give you some rough numbers to give sizing, Eric, if that, if that's helpful for you.  
We have over 30 distribution centers across the United States with 9 million-plus in square feet and roughly 10,000-plus customers. We're 4,200 associates strong. We got 50,000 SKUs that we have in our warehouses across seven different product categories. But we're well above that in terms of what we have available to our customers through our content that we syndicate out.  
And really, we think about ourselves from a value-prop standpoint is providing really a seamless way to move product around through world-class fulfillment, with a full suite of advanced sales, marketing and digital tools. I mean, that's how we think about ourselves. From those numbers, Eric, hopefully you can get to size and scale of the company.  
MDM: Thanks for sharing that profile of what Essendant looks like today. You know, Harry, you've got a diverse career experience, both office products, industrial distribution markets. Tell us a little bit about your background, both with Essendant and prior to Essendant. 
Dochelli: Sure, sure, I'd be happy to, Eric. And you and I have known each other for a number of years now, so you're well versed in this, but I came to Essendant back in 2012. And I came in to run our largest sales channel, which is the independent dealer channel. Prior to that, for 25-plus years, I was in sales, marketing and operations. In the distribution industry only. I've never been outside the distribution industry. And during my time at Essendant I've moved around a little bit to take on additional responsibility, leading up to when Sycamore acquired us about two and a half years ago, to take over the president and CEO role within Essendant.  
Prior to joining Essendant, I was with Lawson Products. I was the EVP and Chief Operating Officer there, responsible for day-to-day operations, sales, marketing, customer service, ops, supply chain management, IT and HR. And then previous to that I was more than 20 years in various management positions at Boise Cascade Corporation, which is now known as Office Depot OfficeMax. And my last position there I was the EVP of North American contract sales. So that's a little bit about my background there. 
MDM: Yeah, certainly. And you and I, as you mentioned, have known each other for a number of years, when you went from Lawson to what was then United Stationers and now Essendant. So, thanks for sharing that with us, Harry. We're, you know, almost a month into the third quarter. And, you know, as we emerge from the impacts the pandemic has had over the past, you know, 17, 18 months or so, you know, how did Essendant navigate the challenges as an organization? And what steps did you take just to make sure that the company stayed on track? 
Dochelli: Yeah, sure. Well, I'm not sure we've fully emerged yet, Eric. So let's just, I think the supply chain for sure. I think everybody listening to this is probably agreeing and shaking their heads that through the supply chain, we've not totally emerged yet. But, you know, I think we did probably things similar to what other companies did.  
First and foremost, the safety of our associates was top of mind for us. And so, we quickly worked on keeping our distribution centers up and running and keeping our people safe. So, we implemented a whole bunch of new safety protocols within our distribution centers. And, I'm really proud of the team there, they just, you know, they worked — you talked about frontline workers, I mean, these are the guys that go in every day and have to deal with the challenges and they took it head on and remained focused on our customers.  
Two, I would say, we really upped our communication, Eric, both internally and externally. We were, as a leadership team, meeting five days a week to stay on top of things. We increased the number of internal town halls and communications that we were putting out, both written and virtual town halls that we were doing. And then we did the same with our customer base. We followed the same lead; we were doing virtual customer town halls with 1,000 people on them. Sending out written communications on updates.  
You know, I think we were really wanted to stay ahead of everything, and try to make sure that even though we're all faced with unique challenges, that at least nobody was surprised with what we had to say and we're well informed so they can manage either their businesses or their personal lives, whatever was in the case of our own associates.  
And then finally, I would say two things. We stayed focused on the customer, Eric, I mean, I think as a team — and this is kind of our foundation and culture of our company — is stay focused on the customer. And that was really our mantra through this whole pandemic was stay focused on the customer. And at the same time, I think we learned to be more agile, Eric. I mean, we had to make decisions fast. We made some mistakes. And that's OK. When you're agile, you're going to make some mistakes, but we moved way faster than we did pre-pandemic and we're trying to hang on to that new skill that we've learned post-pandemic here. 
MDM: Well, yeah, Harry, you really hit on some important points there. And absolutely we have not yet emerged from the pandemic, we're still coming out of it. Hopefully we're eyeing the end of that sometime this year, but certainly there are still some impacts that we're seeing. It's a great point.  
The other one, talking to a lot of different distribution leaders, that over-communication that you brought up, I think is so important. And we've heard that from a lot of people that the companies that over-communicated with their customers and their employees, you know, really, with all their value chain partners, are the ones that came through better than others. That agility also. Thanks for sharing that with me.  
You know, wanted to talk specifically about how the company shifted, if the company shifted its sales process in response to the pandemic, and those changing needs of customers that you addressed in that last question? 
Dochelli: Yeah, no, we absolutely did. I think first, Eric, we quickly implemented Teams as our virtual tool that we're using throughout the company. Following that, we then took our sales organization through a series of training sessions on, to gear them up for virtual selling. You know, they found themselves in their homes, talking to their customers, but still just as important to talk to their customers. And so, we took them through how to handle a Teams sales call and presentation to be effective. And our team really embraced that virtual selling process. And I think our customers did, too.  
I mean, I think we all adapted to what we had to adapt to. But we also are in the middle of this, and you can say this is kind of a crazy time to do it, we felt it was a good time, because we knew things were going to be different post-pandemic. So we took the time to re-segment our customers. And then also reorganize our sales and care team to reflect that new segmentation model. And aligned up our, the right resources against the right opportunities to support our customers better. So, we came out this spring with a whole new sales organization design and care organization design as a result of that work that we started in August of 2020. 
MDM: Wow, we could probably have an entire podcast just on that.  
Dochelli: You can actually, Eric, yes.  
MDM: We'll have to follow up and do a deeper dive on that. But since you did mention customer segments, I did want to just talk a little bit more — and you'd mentioned this earlier in the conversation — but I don't know if you can share a little bit more about Essendant's value proposition today to its variety of stakeholders? 
Dochelli: Sure, yeah. You know, our value proposition really centers around three different areas, which is, one, our distribution and fulfillment capabilities. Two, the breadth of products that we bring to market. And then, three, around our digital capabilities that we support our customers with.  
You know what? We did some research through the pandemic, it was another thing that we were working on, Eric. Because you can't stand still, Eric. I mean, just because we were, a lot of us were working virtually, and we had different challenges, we just wanted to stay ahead of the curve to come out of the pandemic positioned well. So we did some research with our customers. And the one thing we heard back from our customers, Eric, was that we are the essential link of commerce between suppliers, resellers and end users. And that the most important thing we do is move goods and services around in addition to providing a flow of data. It was really great feedback from our customers, and we're actually fine-tuning our value proposition as a result of that feedback.  
MDM: Yeah, that's great. Great, great answer. Great, great stuff there. Harry, you know, wanted to talk specifically about the office product sector and how it was obviously impacted by visual disruptors, you know, over the last 20 years. How did Essendant evolve its value proposition in response to the commoditization of office supplies and now expanded across many other B2B sectors? 
Dochelli: Right. And you know, Eric, we've got a broad section of customers, but our primary set of customers are a bunch of independent businesses. And if — I used the word agile earlier — if you want to see the definition of agile, go through one of these independent businesses and see how they can pivot their business very quickly. They're really good at it. And in support of that, we did a few things. One, we introduced some new categories, right? I think everybody was running after where the demand was on PPE and other items. We did the same thing in support of our customers. Two, we upped our ante on e-commerce, because that's the way people were placing orders. So, we enhanced our content.  
And, as we brought these new investments in inventory in, you know, in many cases, Eric, there was no content attached to any of these things. So, we really focused on building out that content so that if an end user was finding this product, if they actually knew what it was, and it had the attributes in order for them to click and order that, and then we've been working on a project called Market ADOT that we launched late last year and now are fully capable. We call it Market ADOT. And this is our ability to attach our network system to the Staples network system. So, it basically doubles the size of our square footage across the United States, and more than doubles the inventory investment that we have. And so, if we don't have the product available to us, it will look inside the Staples network, and come through seamlessly to our customers. They don't actually even know where it came from. But it raises our fill rates, it offers a bigger breadth of product to our customers. And we've had great reception from doing this, Eric, and our customers are really pleased with it. 
MDM: Well, and you'd mentioned digital, Harry. And so you know, I wanted to talk about some of some of the digital tools that Essendant has developed. I don't know if you can talk about some of those, and really just how they support the company's overall strategy of, you know, further engaging with your customers and providing more options for them, whether that's in sales and marketing, operational support? 
Dochelli: Sure, yeah. You know, I think the whole world during a pandemic, Eric, this shift to e-commerce just exploded, and we don't really see that slowing down. So, for our resellers, we need to keep them competitive in that landscape. And, you know, it can't be the big guys are the only ones with the tools. So, a couple of investments for us, SEO, and UX. So, we've brought on some new services to help our resellers, as a consultant, in their capabilities around SEO and the UX experience. And we've got a lot of resellers signing up to for these consulting services. Two, enhancing our marketing collateral to tell their brand story. As I said, we have a lot of independent resellers here. But they've got a great story to tell, and we just got to help them get that story out into the marketplace.  
And then finally, we did a bunch of enhancements to our content. And we're just about to make another investment in a new PIM system, Eric, to raise our bar up again on our content so that we can stay ahead of the game. Content is king, Eric, and you got to stay ahead of it. And we're about to make a pretty significant investment in that area to stay ahead of that game. 
MDM: Well, that's at least the second story, then, Harry, that I'd like to follow up with you on. Some more, some more news out there in MDM for our readers about all the cool things happening at Essendant. As I mentioned, you know, in my introduction of the program, and of this podcast, and the introduction of you, Harry, Essendant has gone through some major transformations in your nine years with the company. Going through acquisition, going from public to private ownership, spin offs, and of course, you know, the last 17,18 months of the pandemic. What do you think has been the secret sauce to keeping the company successful throughout these transitions? And, you know, I wanted to talk specifically about the role that culture played in this whole, you know, the past decade for you there? 
Dochelli: Yeah. And I think the secret sauce is culture, Eric, without a doubt. And if you spend time within our company, I hope that within, you know, in a very short period of time inside of our organization, you quickly see the focus on the customer is core to who we are. And I think that glue, Eric, is what, is really helped us through. We had some challenging times — a lot of change, as you said, and people can get distracted and lose focus, but I believe our common theme is 'focus on the customer' has kept us together.  
We're very active with Net Promoter Score, utilizing that tool to give us constant feedback on a weekly basis on how we're doing with our customers. And, you know, it's kind of the, it's kind of the cornerstone of what everybody looks at, on a weekly basis to say, how are we doing? Irrespective of al,l everything else going on around you, are we taking care of our customers the right way? 
MDM: Well, you know, and as we talked about, you guys have been through a lot of transformation. Does culture become that much more difficult to maintain, to both build and maintain, as you guys are going through ownership changes and acquisitions and spin offs and rebranding? Or is the culture core to the company throughout all those different changes over the years? 
Dochelli: Yeah, I think our core focus on the customer has been pretty consistent and has really helped us through it. But as you know, culture has to evolve with time. And, you know, so I would say like, now, the need to move with the speed that you need to move with, developing those new elements of your culture, I think as you have distractions and changes within your business, it does get harder to make those changes and embed them into your organization, so.  
But it is the foundation, Eric, really, of how any company really operates. It's all around their culture. That's what makes you go. I mean, you know, the strategies, the technology investments, all those things, they don't work if you don't have the right culture set into place. So, you know, in fact, just the other day, we spent a number of hours talking about our values, again, to ensure that, do we have the right values? Do we need to switch these? You know, all those kind of messages to your associates really, really matter. 
MDM: And it goes back to the point that, you know, that you made earlier about that over communication, right? Communicating those values to your customers, to your employees, and I'm  sure that's, that's part of it as well, it sounds like.  
Dochelli: Without a doubt. We tie it into our performance reviews. It's just reinforcing, this is the behaviors we expect to see out of our associates. And they embrace them, Eric, to be honest with you. 
MDM: Well, as we shift into the end of the podcast here, I wanted to talk about the future of Essendant. And, you know, we seem to be in this ever-increasing battle of pricing commoditization. We've touched on previously, you know, what are some key differentiators, Harry, for Essendant over the next few years? What does the vision for the future look like? And, you know, is it about maintaining that culture? Is it about expanding into new categories? You know, how do you see Essendant evolving, as we come into what's probably going to be a new business cycle, you know, post-pandemic, down the road?  
Dochelli: Yeah, it's a great question. And we've been giving a lot of thought to it, Eric, as you can imagine. You know, I think our core strengths of our distribution and fulfillment capabilities, the breadth of product we bring on board, and our digital experience that we bring to our customers, still remains true. And we need to continue to enhance and improve in all those areas.  
But I will tell you that this whole concept around moving goods around quickly, and the data that flows with those goods, so as you as you can think about the e-commerce world and all that data that's flowing through, all that's really critical to our customers and to our suppliers.  
So I will tell you where we're headed, and we've started this process — we've been doing it for a number of years now — is a new offering to our suppliers called Fulfillment Services. As you know, the supply chain, as we mentioned earlier, with the pandemic and everything, it's been turned upside down, and everybody's struggling with supply chain today. And we find ourselves in a position to really help our suppliers in unique ways that they never thought about us before, to become really their logistics arm for their company.  
And we just started this, you know, a few years ago, Eric, and we didn't pursue it hard. We've been looking at it and analyzing it. This year we're going out at hard, Eric. And I can tell you, we got a really great pipeline with our best strategic partners, suppliers, where we're becoming their 3PL for their companies. And it's been a great energizing event internally at Essendant. And I think it's going to be a great future for us as we go forward, for us and our suppliers and for their customers that they're trying to service through this 3PL Fulfillment Services opportunity. 
MDM: Fantastic. Well, you know Harry as Essendant continues to evolve and grow I look forward to following the company's success. I look forward to following your success, and I look forward to touching base again. Hopefully in person. You mentioned Teams earlier in the call. Of course, we're doing this this podcast over Teams. I'm looking forward to getting together in person, maybe at a conference here in the next six months or a year and catching up in person. But great to catch up today, virtually, and thank you again for taking some time to share your thoughts with us today. 
Dochelli: Well, thanks for the opportunity, Eric. It's been great and always, always enjoy reading and listening to your podcasts. I appreciate the opportunity to be part of it and look forward to seeing you in person for sure. 
MDM: Awesome, thanks again. That was Harry Dochelli, president and CEO of Essendant on today's MDM podcast.