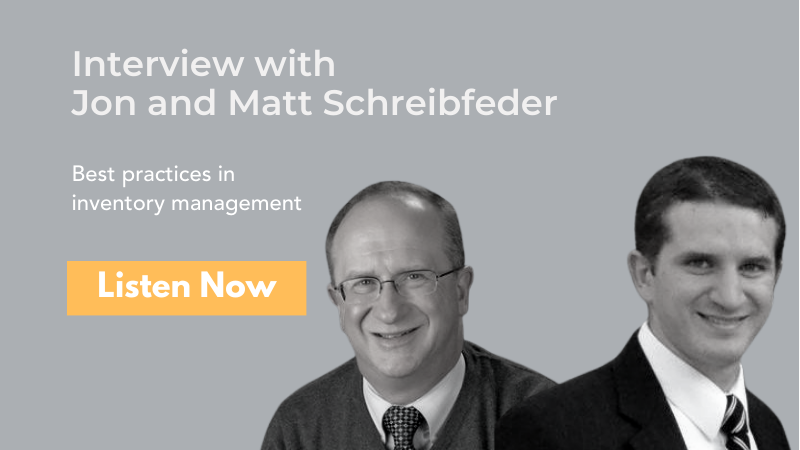 Summary
Jon Schreibfeder has received more calls in the last six months from distributors looking for inventory management consulting than at any other time in his 40+ years in the field. Listen in as the Schreibfeders share their insider tips on practical, data-based solutions to handle today's supply chain disruptions.
Transcript
MDM: This episode is brought to you by MDM's Sales GPS Conference. MDM's annual Sales GPS Conference is the only event that brings together sales leaders, experts and wholesale distribution executives. We examine how leading distributors are transitioning to data- and management-based sales models, go-to-market strategies, as well as industry innovations and disruptors. We focus on how to handle what's happening now and what's coming up next. To learn more, visit salesgps.mdm.com. Now, please enjoy this episode.
Hello and welcome to the MDM podcast. I'm Editor in Chief Elizabeth Galentine. Joining me today are two experts in the field of inventory management: Father and son duo Jon and Matt Schreibfeder of Effective Inventory Management.
Over the past 40 years, Jon has helped more than 2,500 organizations improve their productivity and profitability through better inventory management. He is president of EIM and the author of numerous articles and a series of books on effective inventory management. In addition, he has designed and developed the inventory related features for many of the popular ERP systems marketed throughout the world.
Matt is vice president of analytics for EIM. He joined the company after extensive experience as a project analyst at Exxon Mobil, and previously served as a nuclear submarine officer in the U.S. Navy. He has a master's in engineering, which I think probably comes quite in handy when we're talking about inventory management.
Thank you both for joining us today.
Jon Schreibfeder: Well, thank you very much, Elizabeth, and we're glad to be here.
Matt Schreibfeder: Definitely.
Jon Schreibfeder: We're here to discuss a very interesting subject.
MDM: Yeah, not much to say on inventory management, is there?
Jon Schreibfeder: Oh, not at all. We've had more inquiries in the past six months than I've had in 40 years. It is incredible, the disruptions that we see in the supply chain. And while we can't help you solve the disruptions, we can help you deal with them most effectively. And that is effectively to achieve a goal of effective inventory management.
We always start our presentations with our goal. And that is to meet or exceed your customers' expectations of product availability. That's the primary goal. And it's challenging to do today. But at the same time, we meet or exceed your customers' expectations, we want to maximize your profitability.
Now, we've never seen anything like what's going on today. Demand for some products is skyrocketing. While demand for other products is plummeting. You've seen that. Replenishment is in turmoil. Vendors can't deliver what they previously supplied in a timely manner. Transportation, we're seeing delays in receiving replenishment shipments like we've never seen before.
Now, how can you cope with this? We're going to look at some answers.
Well, we're going to want to first suggest that you monitor your demand of products, what customers are buying, what they're not buying. We want you to work with data. Don't rely on feelings and gut instincts. They're going to lead you astray. Start with data. You might massage what the data is telling you based on your market knowledge. But don't make snap decisions without looking at your data.
Now, you should have an ERP system. Hopefully you do. It's going to help you forecast future demand. And the best ERP systems have a special history that is maintained for forecasting purposes. It's called usage. And I want to emphasize this should be a special history maintained for forecasting purposes only.
When a particular transaction is posted, we should ask how it should affect usage. I always ask the question, do we want to replenish inventory with this quantity, of this item, in this location, to meet our customers' future needs? Especially today, we have to massage usage history. It will be different from actual reality, so that you can best prepare for the future. Why? Because sales of some items are down because of lack of availability. But you're going to plan on selling those items in the future. Buyers are searching — I'm sorry, Matt, go ahead.
Matt Schreibfeder: Oh, no, and that lack of availability, we're also seeing could drive usage and sales to you that you normally wouldn't see, especially if it's an item that has a lot of scarcity in it, you might have people walking in off the street and buying very large items, or very large quantities of items. And you might put yourself in a lot of trouble if you start restocking to take advantage of all these customers that probably aren't going to come back once things start to straighten themselves out.
Jon Schreibfeder: Absolutely. Very good point. And we've seen, buyers are searching for alternatives of their core product offerings; their primary vendor can't supply a product. So, they're searching for alternatives to offer their customers. And in this process, we want to record usage for what they would have sold of the primary item.
So, if they get an alternate, if they get a substitute that they really don't want to sell in the future, they'd rather sell their primary vendor's product, you want to record all usage for the alternatives, for the substitutes, under the primary vendor's product number so that you can best forecast demand for that item in the future.
And while we're at it, be sure to record usage when a customer wanted a product, not when you could supply it. You may notice if you're out of stock, you have zero usage. But it's soon as you get some in, there's a spike. That's not a true representation of how customers wanted the product. You should be recording usage based on the promise stated to the customer.
At the same time, if you supply a customer from a different branch than they normally deal with, usage should be recorded in the branch that they normally deal with, because that's who you want to replenish inventory in the future.
Now, we have seen a ton of knee-jerk reactions. Only way to put it. If you look back at The Wall Street Journal logistics report. And by the way, I suggest all of you subscribe to The Wall Street Journal logistics report, comes out every morning, gives you a great update on what's happening in the supply chain. But on May 21st, I was amazed because there were two articles. The first was an interview with the CEO of a major distributor. And he said, 'We're trying to buy as much high-volume inventory as we think we can sell.' Didn't give a timeframe. He was trying to corner the mark on his high-volume inventory.
Why? He had a lot of demand. As Matt said, some of this demand might be temporary. He didn't consider what the spike in purchasing would do to his profitability. The ability to sell other products because he wouldn't have funds available to invest in them. He didn't look at his true forecasts.
You might say, 'I want to get a hold of all I can right now of my fast-moving items.' While the article underneath that was entitled, America is Awash in Hand Sanitizer. Why? Because a year ago, March, when COVID hit, everybody wanted to buy hand sanitizer as much as they could. We were seeing just a spike in the market. People were hoarding hand sanitizer. This month, we've seen several distributors having to throw out pallet upon pallet of hand sanitizer because it expired. They restocked far beyond what the market would want.
Now, how do we monitor demand? Well, we look at spikes and troughs in your usage. Typically, we do this every month. If you sell a lot more or a lot less than you normally would, we have to identify those situations and determine the reason why.
And this is a great opportunity for you to bring your salespeople into the process. They should be closest to the customer. They should understand if unusual usage is related to COVID-19 or its recovery, which means it's a temporary situation. Whether activity that is either far higher or far lower than normal usage, was due to an activity, a project that's totally not related to COVID-19. Or if that spike or trough in usage is the start of a new trend not related to COVID-19.
You need to look at spikes and troughs. Examine, why did they occur? If you see one customer buying a large quantity of a product, involve the salesperson. They should contact the customer and say, 'Is this the start of a new trend? Why did you buy so much?'
If you have unusually high sales, and you see a lot of normal quantity, typical quantity transactions sold primarily to your current customer base, that's probably a new sales trend. This product is becoming more popular. But at the same time, you see a lot of normal transaction quantities sold to unfamiliar customers, people who don't normally do business with you. That points to, as Matt was talking about, a temporary shortage of the product in the market caused by something like COVID-19. And you're not going to capture this high usage consistently in the future, as Matt said.
And if you see an unusually large number of transactions sold to unfamiliar customers. They're just buying gobs and gobs in huge quantities. This is a market disruption. It's not going to last. I almost guarantee it. Similar to the hand sanitizer. Or, as we saw last year, masks. Or best example I can give you, digital thermometers.
In March, April, May 2020, we had a run on digital thermometers. Everybody was buying them. But by June and July, everybody who wanted them had bought them and demand plummeted because once you have one, you don't need to buy another one.
Understand this. See temporary drops in usage due to stock outs caused by supply disruptions. You need to plan based on what you would normally sell. OK?
Now, suggestion: Examine items where total demand is somewhere between three and five times the forecast for the item. One of those situations we just described may have occurred. On the other hand, to take care of those troughs, examine items where total demand was less than 50% of the forecast. Adjust that usage, that special history maintained only for forecasting purposes, to what you would have sold under normal circumstances, you're going to be well stocked in the future.
Secondary, that we've been seeing a lot of destruction, that I'm sure you have this is with lead times. Understanding your lead time is one of the most important elements in calculating your minimum quantities, your order points, your reorder points. That stock level that tells you it's time to replenish your inventory of an item.
Replenish parameters are based on the lead time maintained in your ERP system. It's not based on the vendor's acknowledgement date. This is very important for determining not the average lead time but the anticipated lead time for an item.
Average lead times were great when we had consistent deliveries. Now, you might have inconsistent deliveries. You might have an item where lead times went from 13 to 14 days, then to 43 days for our last stock receipt. Thirteen to 14, up to 42 days. You take an average, you're gonna get an average of 23 days, that probably isn't representative of the lead time associated with the next replenishment shipment.
Matt, you have a great term. You refer to not averaging a lead time for the future, but forecasting a lead time for the future. How do you do that, Matt?
Matt Schreibfeder: Well, as Jon said, we've seen a lot of issues with lead time for pretty much all of our clients. And each one's a little bit different, because everybody's facing different challenges, different reliability, different constraints in their specific industry, for their, from their specific vendors.
So really, what we've started to do is go back and look at probably starting at the last six months of all stock receipts. And then we'll start breaking them down based on were those orders showing up on time, late, very late, compared to the lead time in the ERP system? And then from there, we can start to group items together, either by vendor, by item type, even all the way down to the specific item.
And when Jon said that we're looking at forecasting them, if we can start to group items together, we can start to pull more information than we could with just looking at what the average lead time was in the ERP system.
So for example, if you're importing an item from China, and you haven't ordered this item within the last year. So before all of this logistics issues came in. And the ERP system is saying lead time is 60 days, but every other order you've received from that vendor over the last year, lead times are averaging somewhere in the neighborhood of 90 to 120 days. We recommend adding in that longest normally anticipated lead time — which Jon talks about a lot — of 120 days, because that's what we're anticipating it's going to take to get this item in. And we don't want to run into a problem of we're having to tell clients that, 'Yeah, we've got it on order. But it's not going to be here for another 30 days. And unfortunately, there's nothing we can do until that material shows up.'
We did a study, or we did analysis, I should say, for one of our clients. We found over the previous three months, we're finding that we're having to really shorten that concentrated for the last two to three months, using lead time in their system, 43.8% of stock receipts, just under half of their stock receipts were late. This was putting pressure on their lead times. We looked at this, we looked at trends within vendors, specific items within those vendor lines. We corrected for that. And now, it's amazing. They're down to under 10% of their shipments — actually closer to 3% of their shipments being late, based on the longest normally anticipated lead time.
That's what we're using right now. writing tasks ranging from — oh, I'm sorry, go ahead.
Matt Schreibfeder: No, go ahead, Jon.
Jon Schreibfeder: Oh, wait times go from three to four weeks. Set the lead time, you could have four weeks, 28 days, six to seven weeks, 49 days, seven weeks — you're going to find you can have more control.
Did you want to add something, Matt?
Matt Schreibfeder: Yeah. And as we talked about unusual spikes in usage, we're also seeing, you know, those unusual spikes in lead time, where something very specific goes terribly wrong. And, you know, if you're averaging somewhere around 45-day lead time, you have one stock receipt that's 150, that's going to affect your average lead time in your ERP system quite a bit.
And the question that Jon and I also ask is, do we want to be stocked to handle those, like random, sporadic or erratic lead times of 150 days for a specific item? Because, you know, unfortunately, everything's a balancing act. As we get more conservative with lead times, we're adding inventory dollars.
So yeah, there are, like Jon mentioned, those 10% on the clients that he was referring to, that are still showing up late, but we wouldn't necessarily recommend you carry enough inventory to handle the freak issues that occur in some stock receipts.
Jon Schreibfeder: And, Matt, that's a great segue into the next thing I wanted to discuss, which is safety stock. OK. Safety stock is your reserve inventory. You keep that in case you sell more than you had forecast, or there's a delay in getting a replenishment shipment. And distributors tend to maintain safety stock using the same rules for a lot of items. OK?
They take a paint roller approach. I want you, Matt wants you, it's best practice, to dab safety stock with a fine-tipped artist brush exactly where it's needed. Identify your critical items. What my original mentor Buddy Silver called painful backorder items, those items that you are embarrassed to be out of. Selectively increase the safety stock on those items, especially if you're dealing with a vendor who's not that reliable.
You don't want to, as Matt said, say to your customer, 'You know our problem is we have an unreliable supplier.' Your customer will probably respond, 'That's a coincidence. We have an unreliable supplier as well, and you're it.'
We have to do whatever we can to service our customers. We have to get creative, identify those products that are most important to customer service and evaluate alternate sources of supply. Is it better to buy from a foreign vendor that's less reliable than a domestic one, when that foreign vendor has a lower price?
Well, because that foreign vendor is less reliable, you need additional safety stock, that reserve inventory, to ensure you achieve your desired level of customer service. Understand the cost of maintaining that additional safety stock dealing with that less reliable vendor. You might find that you were far better off dealing with a more expensive but more reliable supplier.
Matt, you did an evaluation for a customer just a few weeks ago doing that, didn't you?
Matt Schreibfeder: Yes, we did.
Jon Schreibfeder: And they found they were better off buying domestically.
Matt Schreibfeder: And a portion of all of those analyses is, you know, a subjective kind of gut feeling. It's like, how reliable is this vendor? And we can produce all the data that we want to with that, but at the end of the day, it's you know, kind of comes down to our client going, 'I'm willing to accept, accept the amount of risk associated with this vendor just not living up to the expectations that we have for them.' And we do our best to put numbers to that.
Because then it's like, we have to ask the question of OK, if we don't feel that they're going to live up to the, their lead times or their product availability, how much cushion do we need to build into the system to account for that? And those are always questions that have to kind of be answered on a one-by-one basis.
Jon Schreibfeder: Absolutely. And there's a cost associated with it.
Matt Schreibfeder: There's a cost associated with everything.
Jon Schreibfeder: Absolutely.
So, looks like we're getting to be out of time. And we could go on for hours on this. But in summary, make sure your forecasts are accurate and reflect the effects of the COVID-19 virus. OK? You're selling alternate substitute products. Combine that usage and sales under the item you want to replenish. Do lead-time analysis, forecast lead times. Don't trust an average lead time. Don't consider a shipment late based on the vendor's acknowledgement date. The vendor's acknowledgement tape was not used to calculate your replenishment parameters. OK, wasn't used. Your system didn't use it.
Analyze stock-outs. Determine if anything could have been done to prevent the stock out. You want to improve customer service. This includes increasing safety stock on critical items and evaluating alternate sources of supply. All of this can be helpful, can lead you to achieve the goal of effective inventory management — meeting or exceeding your customers' expectations of product availability while maximizing your net profits.
You have questions, please let us know. I love talking to people. We can analyze your inventory. We can analyze your lead times. But you can do these things for yourself as well.
MDM: It sounds like what you're saying here, you know, where this is great advice and you're really talking about before you make any, any rash decisions or, you know, try to really mix things up with a new approach, a new vendor and maybe nearshoring and things like that, to really analyze the data and see what you're dealing with before you make those changes. It sounds like that's what you're saying.
Jon Schreibfeder: Absolutely. Absolutely. But see what's available. Look at all possible suppliers, all possible modes of transportation. We have people importing through new ports of entry because their current ports of entry are clogged up.
MDM: Well, thank you so much. Appreciate you both joining us today about this very important topic of inventory management.
Jon Schreibfeder: Thank you, Elizabeth, and have a good day.
Matt Schreibfeder: Thank you.