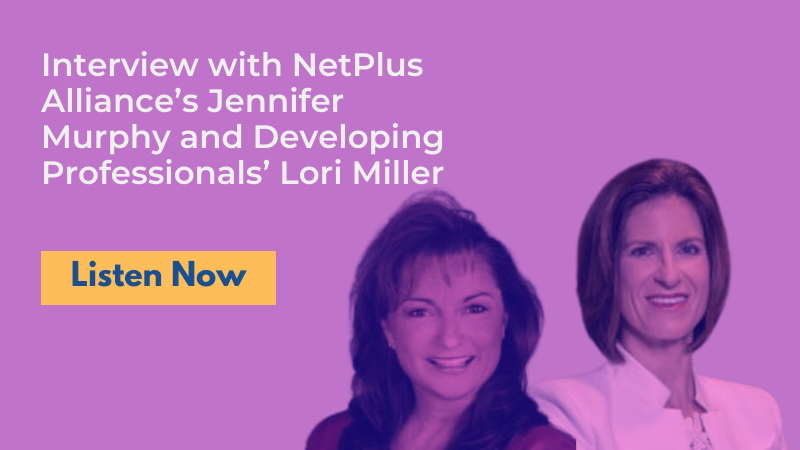 Summary
Intentional organizational development that includes a company restructure is often discussed but rarely followed through. Along with the help of her business coach Lori Miller of Developing Professionals, NetPlus Alliance President and Owner Jennifer Murphy pulled off the task with satisfying results. Listen to the pair discuss the change process and provide tips on how to make it happen for you.
Transcript
MDM: This episode is brought to you by distributor data solutions. DDS. The wholesale industry's leading e-commerce product content provider, DDS works with more than 500 top manufacturers representing over 1,200 brands across more than a dozen industries to facilitate faster, simpler delivery of next-generation product content that power distributors' e-commerce websites.
Developed by industry veterans, DDS offers the most robust product and marketing information and the most intelligent content delivery system available in the marketplace. For more information, visit distributordatasolutions.com. Again, check out distributordatasolutions.com. Now, please enjoy this episode.
Hello, and welcome to the MDM podcast. I'm Editor in Chief Elizabeth Galentine. And with me today are Jennifer Murphy, president and owner of buying group NetPlus Alliance, and Lori Miller, president and owner of training and development company Developing Professionals. We're going to talk about the benefits of intentional organizational development.
Welcome to you both.
Murphy: Thank you, Elizabeth.
Miller: Yes, thank you. Glad to be here.
MDM: So, let's start with a bit of background. Jennifer, we'll have you go first. Can you just tell us a bit about yourselves and then share how you became connected professionally?
Murphy: Sure. So, I'm Jennifer Murphy. I'm the president and owner of NetPlus Alliance. We are a buying group for industrial and construction supplies, distributors, manufacturers and wholesalers. We're located in Lockport, New York. I've been the president of the company since 2013. And I'm proud to be the fifth-generation president and first woman president in our family history, and recently became the full owner, January 1st of this past year.
I am a mom and married to my husband, Tom, and have three children. Elena, who is going to be a senior at Northeastern University in Boston, and Sam, who will be a sophomore at Stone Hill and hopefully get in his football season this year. And my son Henry is going to be a junior in high school at St. Joseph's Collegiate Institute.
MDM: Great. And Lori?
Miller: OK, I'll give you my background. So, I'm Lori Miller, owner and president of Developing Professionals training and development company. I actually started my company 17 years ago. Before that, I was an executive for UPS and I worked in the corporate arena for many years. And I decided that I really wanted to be a business owner, and really kind of shaped what I could do for training and development for both the private and the public sector.
So basically, what my company does is I've got three areas that I usually serve individuals and organizations with. One, of course, training solutions. So, I have about 50 different training programs that I offer. And with COVID, of course, I've had a pivot. I offer these trainings in both a classroom-led format, as well as a web-based platform.
I mostly focus on the soft skills training, so management, development, leadership development, human resources, communication, team building and customer service. So that's a portion of my business.
Then the other portion is, of course, consulting. I have a master's degree in organizational communication development. I really focus on the human capital of organizations and help them with performance management and organizational development principles.
And then the third part of my business is — actually how I met Jennifer — is executive coaching. So, what I'll do is I'll work with organizations, working with individuals, whether they're business owners, or they're young professionals, and I help them reach the best version of themselves. And how Jennifer and I got connected is one of my clients is University of Buffalo. And I have done a ton of work with them over the last 15 or so years.
And one of the programs that they have under the School of Management is called mastery forum. And mastery forum is a collective of very successful business owners. And there's 12 business owners in a group that meet monthly and you have a facilitator and with that facilitator we actually talk about organizational challenges, business challenges, personal challenges, and we collaborate, we talk, we discuss best practices. And then along with that they get one-on-one coaching with that individual who's the facilitator.
So, Jennifer and I happened to meet about a year and a half ago as I'm the facilitator for mastery forum, and she's part of the group and that's how we connected and we have been partners ever since. Right, Jennifer?
Murphy: Yes, that is true.
MDM: That's fantastic. Now, I wanted to talk to you about just to get started with that question to kind of give the background as we dive into, you know, this neat project that you've embarked on in the last year and a half, Jennifer. You know, I understand that you took the opportunity during the pandemic environment and the unique opportunity that that presented to make some major structural and cultural changes at NetPlus. So, can you walk us through your goals for the restructure?
Murphy: Sure, that's a good question. And I think there are probably a lot of business owners out there who took the time during the pandemic to really take a step back from their businesses and kind of evaluate how they were doing things. Because on most days, you're putting out fires and dealing with a lot of situations that come up. And you're also traveling often, which you know, became nonexistent during the pandemic.
So, I kind of have to start by saying that my team is really pretty amazing. They are an incredible group of young people and older people who've been in the industry for quite some time. And I hear things from, you know, that range from, 'Your team looks like they have such a great time together' to a quote that I still have hanging next to my desk from one of our suppliers that says, 'Your team is honest, hardworking, and has a heartfelt desire to serve your membership.'
That being said, there wasn't anything that was broken, but we did need to evolve. And my goal really was to ensure that we were able to continue to provide that excellent service that we had provided to our membership. And also kind of look at the gaps in terms of where we really weren't meeting the needs of our distributors and our manufacturer partners in the buying group.
So, when you're a small business, I'm sure a lot of people can relate to this, everyone wears a lot of hats on our team. And what happens is you continue to grow, people keep piling on more hats and taking on more responsibilities. And so, you know, when I was home during the pandemic, like I said, I had a chance to kind of step back and really look at all the job functions in our team. I started with using Post-It notes, which are one of my most essential business tools that I use every day. And I started writing all the current job functions that I knew of within our organization.
And the ones that I knew we already had, I put those on green Post-Its, and then all of the ones that I wanted, all of the things that I wanted to be doing, in addition to what we were doing, I put on blue Post-Its. If I kind of put those together and kind of could step back and take a look at them as I put them all over my walls in my office at home, I got to understand a sense of where we needed to kind of reorganize people, and how I needed to utilize people's best talents in order to be able to kind of, you know, execute these changes.
So, I referred back to the job descriptions that I had had for our team and also some of those primary job functions and added to that as well. And then I took my Post-It wall, took pictures of it, and I translated that into a spreadsheet, so I could kind of move things around accordingly.
I know one of the best practices of doing a functional org chart, as they call it, is really looking at functions first before you start thinking about people. But my people on my team really have strong characteristics that help support a lot of the different areas of our business. And so that kind of became the next stage of reorganizing all of those jobs.
And then I asked my managers for their input. I wanted them to take a look at what I had organized and what I had had, and maybe what they thought was missing. And they pulled in some other primary job functions. And they also pulled in some wishes and wants that they had as well. And then once we got to that point, then we rewrote people's job descriptions.
So that's kind of where Lori came in. You know, being a part of the mastery forum that I'm in through the University of Buffalo, it's always a nice opportunity to sit and meet with other people who are business owners, because you really get a sense of how they run their business and different best practices that they have. And Lori provides us with a lot of guidance and a lot of tools in that regard.
She helped along in this process to be sure that I was, you know, kind of following a method to be able to approach the team and be sure that people understood that the reason that we were doing this was to, you know, be sure that the right jobs were in the right buckets. I think as I mentioned, when you wear a lot of hats on a team and people they keep piling up, all of a sudden there are jobs that people are doing that don't even really belong with them anymore. Either they had owned it in the past or it got given to them because you know, someone else wasn't doing it anymore. And those things kind of pile up without you noticing when you're busy running a company every day.
So as we sort of separated and sorted those things, we created a new department that was called Member Services and Success, which that's overseen by Shirley Weiland, who really kind of took that to a whole new level by being able to provide better service to our membership overall as a whole. And then, I took a person who is younger, who I wanted to really kind of work underneath her in a succession role to learn from her and also take on some of her own projects as well.
And then in our development team, I wanted to be sure that we had a lot of strategic leadership in that group, and again, promoted people, and then created a better focus to align our initiatives that we're doing for both our distributors and suppliers.
So, it gave me the chance to be able to promote some people who were younger, who had the ability to be able to step up and do some bigger things. But it also helped me to utilize some of the best skills of my team, specifically as well.
MDM: I love how it incorporated everybody. And I'm gonna ask you in a minute, you know, the results of these efforts that you found so far. But first, I wanted to ask Lori, you know, because oftentimes, these type of 'working on the business' rather than 'in the business' business initiatives can repeatedly get put on the backburner. I mean, particularly for what Jennifer was just talking about, as far as you know, there's a lot to do, especially in a small business. So, do you have some advice for how businesses can actually make this type of thing happen, especially now that we're, you know, fingers crossed, coming out of the pandemic?
Miller: Yeah, one word. Discipline. And I say that, jokingly, but not so much. So what happens is business owners, and just as any professional, you have so much stuff on your plate on any given day, and everything in life comes down to priorities, and you have to really clarify what your true priorities are. And so, I think within organizations, we have a couple things that help us stay focused in the right direction.
Um, we talked about culture, right? And with culture, I, how do you transform culture? Well, you have something called a brand DNA. And culture consists of your vision, mission, the promise to your customers, your core values, you know, how individuals see you within your industry, your position, and of course, your personality. And as Jennifer had talked about, you know, she had some time of course, through COVID, to sit back and self-reflect. OK, what are her key priorities, especially as all of us business owners had to pivot.
So, I tell individuals, what you need to do is really clarify what your priorities are. Once you have your priorities, then you can figure out what time and energy I need to invest on a daily, weekly and monthly basis to ensure these get all set and established.
As a business owner, as a manager within the organization, one of the most important things you need to have is a strategic plan, and a strategic initiative. And you have to carve out time and energy throughout your day to ensure you focus time on that strategic objective.
So as Jennifer did, she took a holistic approach to her current business model, really assess, found out where the gaps were, and then identifying, you know, what she needed to do to involve our people.
Myself, being in organizational development and working with her and some of the other business owners, I'm almost like the accountability coach, keeping them on track as far as what they need to do. No one really likes dealing with the HR, the performance management stuff, but it's so critical when your business is about people. What you need to do is you have to make sure you spend time and energy on some of these key objectives like what Jennifer did.
One, taking a look at my organizational chart, who do I have in what positions and moving us in the future for what we need to do to best serve our customers? Where are there gaps, or where we need to shift functions or responsibilities?
You create a new organizational chart. Then from there, you take a look at your human capital. Your people. What are their talents, what are their strengths, who can serve in what area? And then you take a look at updating the job descriptions. And from there, you take a look at your performance management process, which I worked on Jennifer and her team with. What are the specific goals we have for moving forward training people on these goals, and then holding them accountable.
So those are all the things that you need to do as a business owner, and you have to spend time and energy doing it. And it's not a destination, it's a journey. So that's something you should take a look at every single year is part of your business management processes. And you can't do it all as a business owner. So what you need to learn, not only having the discipline, the other 'D' is you got to delegate, you got to delegate stuff to your staff, even though you've probably done it for a period of time, delegate to the members of your team that actually have the talent to do that, that will free you up to do the high-level stuff that you need to do as a business owner.
MDM: I want to talk a little bit about some of the fun part. You know, as you just said, Lori, it's obviously an ongoing effort. It's not something that starts and stops. But, you know, Jennifer, you're over a year into this effort. What have been some of the results that you've seen on your end?
Murphy: Well, I mean, I have to kind of also give some kudos to Lori because I will give a shout out to business coaches to say that that's one of the best things about working with one because they do hold you accountable. So from month to month, when we get together as mastery group, it's good to be able to tell these other people that you're also kind of holding yourselves accountable, self-accountable to what you've done from last month to this month. So that's one of the best attributes of being involved in that is that we continued to move this forward every month until it was finished.
So the next component of what we had done was, as Lori had mentioned, we put together our strategic plan for the year. And then we took the objectives and the goals that we had for the company and involved with the departments and the teams into creating the objectives that they wanted to do, the tactics that they wanted to execute in order to help us achieve our goals. And they all weighed in on how they wanted to do that. We tied that all into their performance reviews as well. So they also have that accountability to how we're going to grow together as a company.
And I would say the results have been incredible. Our team is more focused and more engaged with each other than we've ever been. As a team and as an organization, NetPlus, I set three tiers of goals for 2021. Because at the beginning of the year, towards the end of last year, nobody kind of really knew how things were going to go. And it's still been pretty tumultuous through this year. So far, I think actually, this year has been more challenging than last year.
We set a conservative and moderate and an aggressive growth goal growth goal for 2021. And I have to say, we're hitting our tier three aggressive goals. So it's nice to see how engaged and involved they are in wanting us to continue to be successful as a company, and then be creative in terms of how we're doing it.
So, you know, one of the outcomes of this that's been really positive is our group and our members and our advisory council, our distributors and supplier advisory council, had been suggesting to us that we have a person within our organization that focuses on conversions and focuses on really working to grow the organic growth that's within the group. And part of the restructuring that we did was putting Todd Washburn in that role.
He had come with a whole, you know, background of distribution experience from working in the companies that he had been in prior to coming to NetPlus. And then he had spent the last 10 years working with our suppliers. So, he was a natural person to transition into that role to working as a consultant between our distributors and suppliers.
And I think one of the things that's, that's a little bit maybe scary, I'll say, in doing this process is that you, you have to get people to trust you that you know that they're going to be successful in this role, and that you believe in the change because they have all of the strengths to be able to do that job really well.
And there was another person in our organization also that I kind of moved from one department to another. And I really had to say to her, you have all these great skills to step into this role in serving our members in the Member Services Department and, and it took some convincing and I think that I'm appreciative and grateful that my team has trusted me with that. And really just love sitting back and watching everyone really go in their new roles.
And so it's like, talking about the fun part, that's really been the fun part for me. And we were lucky as a team we just recently got together for the first time since December of 2019. Our whole team was together just a couple of weeks ago. And we did StrengthsFinder, the CliftonStrengthsFinder exercise where you kind of evaluate and learn your strengths. And for us as a team, it was so nice to be able to reconnect doing that activity, because we got to really see each other for all of the different things that we bring to the table. And that builds so much respect and excitement across your culture, which is really important as well.
MDM: Yeah, that sounds so satisfying. You know, you talked about some of those peaks and valleys. And so I wanted to ask Lori in particular, you know, I'm sure you have plenty of experience with this on, on how companies can continue to find the motivation and discipline to sustain and grow these types of initiatives, you know, especially once you get past that first kind of exciting stage.
Miller: Yeah, and that's a great question. You know, and I think what we, Jennifer talked about having a strategic plan and having goals and most organizations what they do, starting the business calendar cycle, they have a strategic plan that they put forth, hopefully they get all their employees, their management team involved so that you have you got buy-in right from the beginning.
So, what you need to do is, as Jennifer mentioned, the tiers of goals that she has, you know, we have stretch goals and we also have realistic goals. And I think in order to stay motivated, and to keep your employees engaged, you have to have a process that's cascaded down. You've got your corporate level, your organizational goals, your department goals, and then you've got your employee goals.
What you need to do. And even though I'm a proponent for the annual review performance, where you do a yearly check in with your employees, you have to do that on a regular basis. I encourage our employees and managers to meet with their individuals as frequently as possible, at a minimum quarterly, check in with them, see how they're doing, see where they need support, and celebrate successes. Because if you don't do that, people will get disengaged, and they don't really see how their efforts are moving the goals forward.
In order to stay motivated, or stay engaged, we have to have regular check in meetings, we have to celebrate those successes. And then of course, take a time to pause and really enjoy those successes. And then that also gives us the time to pause and reflect and then move on to the next goal. And then focus on that.
So I really think that really is the key to keep people motivated, keeping them engaged. And also, Jennifer mentioned the StrengthsFinder 2.0. I do a lot of assessments and a lot of tools with my individuals, my organizations. People are engaged and they're motivated when they're working from a place of a strength, not from a weakness. And truly high-performing organizations have figured out a way to align people with their individual strengths to where the needs are in the organization.
When you're working from a place of strength, you're energized, you're motivated, and you're engaged. So that's another area of best practices for organizations. Really understand how their people are wired, and put them in those positions where they feel energized by doing the things that they really love to do.
MDM: Jennifer, do you have any final thoughts just on, you know, this experience so far? Anything you'd wanted to share?
Murphy: Sure, I think, you know, just kind of continuing the thought that Lori had started, it's, to me, it's really important that we create succession in organizations, because not only does it kind of help protect your company and its future as it moves forward but it also shows younger people the path of where they're going in the future, and gives them an idea of where they're going to go and what kind of opportunities they can have moving forward.
So, I'm always in that mindset of succession, and how am I building and who's coming up underneath, and who are they going to work up to, and who are they going to learn from? And then putting some other additional development components into that is important as well.
Doing something like CliftonStrengths is a great exercise to do with your whole team. And when we executed that, the moderator that helped us facilitate that, she put all of our assessments as a team in one spreadsheet, so you could look down and across all the strengths of our team and she paid us a great compliment and said how rare it is to see a team that has such a complimentary array of strengths.
You know, I know that I bring a lot of — my key strengths are, you know, futuristic, and strategic and ideation. I'm always kind of thinking and looking into the future and wanting to know how I can do more. But then the person who sits next to me, which is Kerry Atlas, who's my VP of Finance, you know, she brings a lot of analytical and data-driven decision making into every conversation that we have.
So we really do complement each other in our roles and how we function together as a team and then I think bringing those things to light and really, you know, helping different generations kind of understand what, what different abilities people bring to the table and how unique those abilities are to that person. And that's what really kind of drives the core success of our organization, and I think many successful organizations.
MDM: Thank you both so much for joining us today.
Murphy: Thank you, Elizabeth. I appreciate the opportunity. I look forward to listening to more podcasts from MDM. Thanks for all the great content you provide.
Miller: Yes, and thank you Elizabeth. It was a pleasure to talk with both Jennifer and you today. And we wish all the successful business owners out there, you know, a great 2021 and beyond. And, you know, just keep on their path doing what you're doing. Be the best version of yourself every single day.