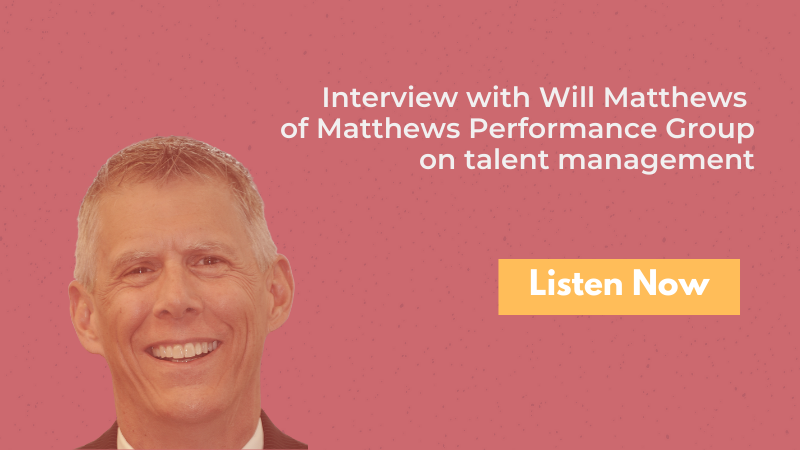 Summary
There are many elements in life and business that we cannot control. But when it comes to tackling talent management challenges like recruiting and retention, board-certified coach Will Matthews explains how we can adjust our behavior in order to play to the strengths of our best employees and recruits. Matthews shares simple ways for distributors to create a rapport that builds on working relationships and increases job satisfaction on all sides.
Transcript
MDM: Hello and welcome to the MDM podcast. I'm Editor in Chief Elizabeth Galentine and with me today is Will Matthews, founder of Matthews Performance Group, a professional development firm focused on building high performance teams and excellent organizations. 
Some background on Will, he's the author of the best-selling book, You've Got This: The Five Self-Coaching Keys You Need to Live Boldly and Accomplish Anything. He is a keynote speaker and board-certified coach with over 25 years of real-world corporate leadership and management experience in both energy and information technology. Will now trains and speaks nationally to executive groups and associations on the topics of self-leadership, developing emerging leaders and team excellence. 
He has been called on by Tony Robbins, Marcus Buckingham and other leadership educators to bring his unique results-producing coaching and training to clients around the world. His clients include Twitter, Facebook, PwC, Charles Schwab, Microsoft, Vail Resorts, Johnson & Johnson and ISEC. 
In his work and presentations, Will blends what he has learned as an Iron Man triathlete, business executive and professional development expert to help others breakthrough to the results and fulfillment they really want, with warrior-like determination and skill. I love that. Please help me welcome Will Matthews. Thank you, Will.
Matthews: Hey, Elizabeth, great to be with you. Great to be with you today. 
MDM: So, you know, as we can tell from your impressive bio, you work with leaders in sales and other elements of business, you've got a long track record there. And I want to jump right into to a challenge that distributors have been facing and get your perspective on it. And that challenge is retaining the best people, you know, working with talent management. So, let's start there. What's been your particular experience with this challenge?
Matthews: Yeah, great question. You know, what I note is that people who are probably in your, listening to this podcast in your target group there, at one point they made the move from individual contributor to leader, or perhaps it was sales leader or running a whole company. And I know from my own experience that sometimes when I've made that move into leadership, I sometimes wonder, like, why the heck did I do that? It was so much easier just to have only responsibility for my results, and my, you know, intensity, and my work ethic and all those things, rather than now having to have responsibility for all of those things for a whole team of people. 
So, it's always super frustrating sometimes to move into that role. And yet, there's nothing more gratifying than being in a leadership position. So, in that area, Elizabeth, of how do you retain your best people — and by the way, maybe even, you know, attract your best, you know, new people to the team — I want to share that my thought is, look, just like that — I listened to your podcast a few weeks ago with Klaus Werner of Global Industrial. And what I found interesting about what he shared was like, he talked about branding, the corporate brand, changing the brand, seeing what happens when you change your brand. And as a leader, I'd like to have people focusing on your personal brand. 
Your personal brand. What do people think of when they think of you, as a leader? Let me repeat that. Your personal brand is clearly defined, in this case, as what do people think of when they think of you as a leader? 
And this is really one of the structural components of the work that I do with clients to help bring it all, all the chaos and noise, the friction, just the chaos of leading. Bring it back down to something that is really straightforward that you can focus on every day, amongst all those other things you're doing. And that is how you're being. Your personal brand is something that you actually control. And I often say, you know, when you are a business leader, you know, there's this huge group of things. There's: What do I, what can I control? What can I influence? And what can I neither influence nor control? 
And Elizabeth, that last bucket, what do I, what can I neither influence nor control, is a very, very big vessel. That's most of the things. The economy. You know, new competitors arriving on the scene. Market changes. You know, pandemic. You know, those kinds of things. There's a huge amount of things that we can't control. Frankly, that's almost everything you watch on the news, if you're still watching the news (I let that go about 10 years ago). But the reason is, I want to be focused on what can I control? And maybe a little bit, if I'm gonna bleed it out from there, to what can I influence? So as a leader, you can control — in fact, you're the only person who can control — what people think of when they think about you as a leader. Does that make any sense? 
MDM: Yeah, definitely. I think, I think that's spot on. 
Matthews: Yeah. So, for everyone out there listening, take a second. And just for fun, we're not going to ask you to share this, but for your own exercise, what is one word, one word that you feel describes you as a leader, right now? Not what you'd hope it could be, bit right now pick just one word. I know, it's kind of limiting, but it's one word. And we'll talk about that how you can use that in just a moment. But you know, leaders lead. 
So, here's the bottom line. If leaders lead, then you know, if you want more energy, more focus, more positive expectation, more loyalty from your team, then I encourage you to be thinking, how much energy, focus, positive expectation and loyalty am I bringing myself, day in and day out? 
That will start to give you an opportunity to think, wait a minute, this is not you know, sometimes we have a tendency as managers or leaders to think, oh, everything's happening to me. In reality, we have so much more control over the quality of the output of our teams than we might think we do. OK? 
But it starts with, how much are you bringing to the table? What do you, what are you really focusing on? And you know, I get it, you know, there, there are downward pressures on you. There are downward pressures — again, we talked about a couple of them — but you know, from, again, from the market, from the economy, there are downward pressures on, you know, from your customers, maybe your boss or your board. 
You know, we have a lot of pressures. And when we are under stress, what is inside of us is what starts to come out. And therefore, what, if that's true that what is inside of us comes to the surface when we are under stress, then it'd be a super good idea, wouldn't it, to be really proactive in making sure that what is inside you is what is coming out to the surface, especially in front of your teams. 
So back to you for just a second, Elizabeth, to see if there's any questions that popped up for you, or you think maybe the listeners might have at this point?
MDM: No, I mean, I think this is a great take on it. Because, you know, often when people think about, oh, you know, 'I don't want to lose people, what can I do to keep them?' You think about, you know, the external factors and their needs and their wants and their performance. But you know, you're so right that it really, a lot of it comes down to, I mean, you hear the statistics about people leaving their job because of their immediate supervisor being, often being a, one of the key reasons. So, I think this is a great perspective on it.
Matthews: Yeah, absolutely. That's a great, that's a great point, it's a very good, very accurate statistic that people don't leave their job because of the pressure or, you know, that they don't think that they can do the job, or they don't feel — when they just don't feel a bond. Right? To that person they report to, especially. So, you know, in that realm, how do we attract our best new, you know, talent? And how do we retain those great people that we probably spent some money to bring on board and train and develop, hopefully? 
By the way, you know, newer generation workers absolutely expect their employer to develop them. You know, absolutely expect that there's some opportunities for professional development, that are kind of maybe really tailored to what that person wants. If they don't have that sense that you're, that you're willing to help them develop professionally — which, by the way, means that they can also deliver more for you, right — but if you don't have that in place for them, they will find somebody else who will. They'll find another place to work, who will invest in their development. So, something really important to keep in mind. 
But, you know, as we think about retaining and attracting top talent, you know, back to, back to our first premise about, you know, who are you? How are you showing up? How are you proactively thinking about how you're getting, you are getting better and better at what you do as a leader? 
So, something I call in my book the concept of deliberate evolution, being deliberate about how you are evolving as a top-shelf leader. If you're going to be a leader, if you're gonna be the owner of the company, or an executive or sales executive, manager, you know, you might as well be the best one you can be, right? And, and you have it — trust me — you have it within you. And it starts off by getting that commitment to deliberately evolve, to see what, you know, see where your opportunities are to get better and better and better. 
You know, I know that, oh my gosh, you know, managing through times of change is one of those things that's really, really difficult because you know, when there are turbulent times, and I guess we don't have to look too far in the rearview mirror to see one of the biggest changes we've ever experienced in the workplace, which is the pandemic and working from home and managing virtual and remote teams and all those things. It is important to remember that you're under, you're under stress, trying to manage that change. And your team is looking to you as, to see what is our standard, what, who are we? What do we stand for? What won't we stand for? What will we tolerate? What won't we tolerate? 
So, the beautiful thing, back to this idea of recognizing you have more control over the quality of the output of your team than you might think, is that, something I say is that we train people how to treat us. We train people how to treat us. They're looking to you for what the standards are. And, you know, again, back to what, what are you tolerating? What won't you tolerate? What do you stand for? You are the tip of the spear, and they look to you to see what those standards really are. 
So, managing through times of change, one thing I really want everyone to have a chance to think about for a moment is that change is a very individual experience. So, more than anything I can think of, how you manage people on your team in being able to comfortably move forward in times of high uncertainty or high change is, is not a one-size-fits-all thing. And therefore, building your rapport and understanding of how people are wired. One of the things I say is, like, become masterful at understanding what makes them tick and what ticks them off. As individuals. OK? 
It might seem like a lot of upfront work, but the payoff is huge. Because you have that, you have that retention you're looking for. You know, it's, it's a painful thing when someone on your team leaves, or even in your customer or client base, you lose a client. And you look back, it's like, you know what, why did it happen? They just didn't feel that connection. They didn't feel that you cared. 
So, becoming masterful in this area of understanding rapport, and how to, how you can become great at understanding how other people are individually wired, opens the door for you to reduce that turnover. As you shared, Elizabeth, you know, people are leaving because of the experience with their boss. So, that's another great opportunity for each of us. 
MDM: What does that look like? I mean, how do you build that into a, you know, a distributor's typical work day? I could hear, I could just hear people listening thinking right now, 'I don't really have time to individually build rapport with each of my people who report to me.'
Matthews: Yeah, well, I understand that, right. And yet, tell me, let me, let me, just ask this rhetorical question. What's more important than that? Right? So, I do believe that it's important to be able to build this skill set without it being, you know, I call it actually — I'll take this from Tony Robbins' vernacular, — NET time, 'NET' standing for no extra time. 
How can you build this skill without you having to break away or leave the business for no big, long seminar, something like that, to learn it? And, and so that is a skill set that is available through this idea of understanding through maybe as an assessment that your company uses. If not, I really would recommend that you consider the DISC, D-I-S-C assessment to understand quickly. First off, everyone would take the assessment. And then you would be able to see how each person is quote, unquote, wired. 
So, what is their tolerance? Or maybe even the other side of that is tolerating change. But some people, have you ever noticed, Elizabeth, and sometimes some people are very reluctant and very hesitant to, to move forward in times of change? It's very unsettling. They want stability, predictability, they want to make sure that there's no surprises. That's how they're wired. Nothing, there's no right or wrong or better or worse, but someone else on the team, if there's not enough change, then they'll find change. So, we're individually wired differently in this area of change. 
So, how do you specifically make this happen? I would recommend an assessment tool that allows you to, you know, quickly see and chart and get a team report. So you quickly know what, how is each person wired? What is their, what are their primary fears that really drive their behavior? What are their ways of showing up when stress shows up? 
And by the way, it's also super valuable as a tool set. And once you have it, you can't ever forget this stuff; you can't ever not remember this, this very quick and easy way to determine someone else's style and what drives them, and then be able to tailor — not change who you are — but tailor your approach to make sure you're building rapport with each of those people. 
Let me give you an example. If you have somebody who is very, a hard-driving person, they're very comfortable with confrontation. In fact, they're very, sometimes very blunt, very direct, then, and you're more, more of a laid-back kind of person who doesn't really like the conflict, would rather kind of build, you know, have that connection. Talk about, you know, 'How's, how's your family, and how's everything going?' And then get into business. The other person is going to feel like, 'Why, why aren't they just telling me what they need?' You know, the way I like to do it is to say, 'Boy, I, you know, this is what I need, this is what I need from you.' But if somebody else is not responding in that same way, then it can be a very frustrating thing. And people, you can feel it and the other person can feel it. 
So, understanding how to just tailor your approach, the smallest of things, helps continually build rapport with each of those people on your team. So, that would be my recommendation, a way to learn the set of tools quickly. Have an assessment tool that you have to try to figure it out, you can know what each person on your team, what drives their behavior, and what their conflict style is, and how they, you know, what's their pace, what they like about pace. Are they more people focused or more task focused? We're all different, there's no better, no worse. That allows you the opportunity to be masterful at what I consider to be one of the most important leadership attributes. And that is being able to build rapport.
MDM: Yeah, that's a great point. And I've taken that DISC assessment before, too. And it's really helpful even just to learn about yourself.
Matthews: Absolutely, yeah, no kidding. It's, it is really a great way to go. And when we're talking about primarily people who are running businesses or running sales teams, you know, wow, it's a game changer when it comes to how you are, you know, able to understand, almost without even knowing your prospect or client, how you can start to understand how they're wired, just with some very basic observations. 
So, you don't have to know somebody well to understand what makes them tick. You can figure it out with just a couple of quick observations, which is one of the things that we talk about in some of the trainings that I do. 
MDM: Do you want to share what some of those observations are? 
Matthews: Yeah, yeah. So, if you identify that somebody is, prefers a very fast, go-go-go, multitasking, you know, lots of action, that's on one side of the spectrum, of the first observation. The second side of that spectrum is someone who prefers time to think it over. They prefer, you know, talking with other people to get their opinion. They want to make the right decision and for them, they feel that that can't be done in a hurry. So, do they prefer, you know, go-go-go fast action, let's make it happen? Or are they more, slow and steady? And they want that consistent, predictable, best answer. 
So, one observation is fast or slow? Are they fast paced? Or are they more, do they prefer more of a slow, steady pace? 
The second observation is, are they more task focused? 'Let's get across the goal line, let's get the job done.' Or are they more people focused? Like, 'How's the team? Are we all on board? Is everybody being heard?' Right? Remember, I'll say, I don't think I could say too much, there's no better or worse way to be in these categories. But it's important to know how each person on your team works. And know kind of where they land on that. 
Once you know that, there's a wealth of information. I've got a little quadrant sheet that I have developed that helps you look at that quickly and say, 'Oh, then this is what's going to most resonate for that person.' 
I'll give you one quick example. Somebody who is more slow and steady and they like that more consistent, predictable, 'Let me talk it over, let me think it over.' If you race into their office and say, 'OK, Elizabeth, here's what's going on. I need to, what do you want to do? I need to know right now.' They literally might not be able to give you the best answer because it's just not put together that way. OK? 
But if you know that as a manager, even though you're under time constraint, you're going to be better served to go in there and say, 'Look, I this is on a short leash, for sure. We got to get this decision made. But I know you're gonna want a little bit of time to think this over. Why don't you think it over and get back to me in 10 minutes?' And it will be the best 10 minutes you invested in. Again, because they're going to have time, not only to determine the best answer they can give you — now, they'd rather have a day — but giving them at least a little time allows them to be away from the heat of the moment. And to come up with a great answer for you. OK. 
And by the way, they're gonna feel like, 'You know what, wow, this person really understands me. They knew that I needed a little bit of time to think this over rather than pushing me, like so many other people do, to create an answer right now.' Is that, can you follow? Does that make sense? 
MDM: Yeah, definitely. 
Matthews: Yeah. So, there are four different styles, basically. And, you know, and DISC is a tremendous assessment. This, this just takes it to a whole new level. The approach that we've developed, allows you to really take that great information and really make it applicable. So I know, there's a lot of — I know you're involved in the CRM side of the business, too, and I really encourage people, once they understand this, to build it in, build a field into their CRM. What makes that, what is the core style of that person? So you don't have to remember it all the time. Right? 
Some people want to go right into business. Some people, if you, if you don't, if you go right into business, they're going to feel like, 'Wow, you know, can't he or she just take a minute or two to see how I'm doing?' It can make a big difference in how they feel about you as a provider, as a supplier, and as a leader, as well.
MDM: These are all some great thinking and action points, as far as, you know, existing relationships with, with your current employees and keeping them happy. And, you know, making yourself an effective leader. I want to shift gears a little bit and talk about one of the other major pain points for distributors when it comes to talent. And, you know, that's bringing in new people, finding people with the right set of skills, you know, as the market evolves, and distribution becomes more, more tech savvy and things like that. You know, there's a lot of struggle now to just find the right people who will, will come in and stay and perform. 
Matthews: Right? Yeah, no doubt. One of the verticals that I have ended up serving for quite a while now is the staffing, recruiting, executive search business. And, you know, and they're right in the forefront of that. As, as are, you know, leaders that are, that are on board with, with organizations. 
So, in my opinion, the most important thing to be thinking about when you are looking to attract new talent is, No.1, back to what we talked about, how do you understand what's going to be most important to them? Certainly, that's not a one-size-fits-all thing, right? So, the same tool set that we talked about, how to understand quickly how someone else is wired, and what's important to them, would be No. 1.
No. 2, is really kind of to, to figure out, you know, from a place of curiosity, if you're looking to fill a position, if you're in HR and that's part of your job, then that's one thing. If you're tasked with that, as a line manager or business owner, you know, it's, it's easy to imagine that, 'Oh, my gosh, I've got to do this, plus 1 million other things.' And, I would encourage you to look back on what's been most impressive to you, when you were in that, being recruited or being, you know, applying for jobs, what really made the most difference? What, what got you to a place where you said, 'Yes?' 
And I believe that you will find, pretty much universally, is the people who are truly curious, they approach the conversation from a place of curiosity. What, what, you know, what, what do you want? What are your long-term goals? What do you want to achieve? What about this job, you know, already appeals to you? What would it have to be for it to be, you know, a no-brainer for you? Right? 
So often, when, again, when we get under pressure, and really freaking out, with all the things on our plate, not really knowing how to fit it all in, we can get a little bit too much right to the point, trying to assess. And curiosity, the way you implement that, Elizabeth — and I haven't sent you probably know this already — is by using open-ended questions. So, you know, those are the questions that start with words like, 'what' or 'how,' or 'when,' or 'where.' 
A lot of times 'why' is included in that group of words, but I encourage you not to use 'why' because 'why' has a natural tendency to put people on the defensive. Like if I said, 'Why did you leave your last job?' people might feel a little bit, maybe, attacked or needing to justify their decision. And so, when someone's coming from a place of defense, being defensive or trying to defend their position, eh, it's not necessarily the best rapport-building approach. 
But, when-how-where-what questions allows your natural curiosity to be, to come forward in that conversation. You know, 'When, when you were, when were you most, you know, when were you most energized in your career? What was your biggest accomplishment? What are you most proud of?' Right? So, using that, that 'C' for curiosity, to really help, you know, help that person. 
You know, what do we all want? At the end of the day, we want to feel a connection. We want to feel a part of something bigger than just us. We want to feel that we can contribute and make a difference. And that we'll be, you know, taken care of and, and that someone's got our back as a result. So when, as a leader, you come to those conversations with curiosity, that opens the door for that person to feel those very things that you'd like them to feel.
MDM: Where do you find, like, where do you find the people, you know, to, to have that interview in the first place?
Matthews: Now, that's a great question, probably outside of my expertise. But you know, I know how difficult, depending on the, on the industry, how difficult it can be. And I think about the financial services industry, and you know, and it could well be in distribution, could be the same, very same thing. But in the financial services industry, I have a lot of clients in that, in that world, and oh my gosh, do they a lot of money, paying, you know, fees to have, you know, executive search people go out and find new team players for them. The recruiting process is very, very expensive. 
So, if I could kind of pivot for a moment to say, look, it's because of the, if not financial cost of finding great people to come in, then it's the cost of your time, the cost of your energy, the cost of, you know, the distraction of bringing om someone new, versus what you have on your plate, all the more reason to be thinking about, how do I make sure they stay? Right? 
And, and that's where I believe we talked a little bit about making sure there's some development in place for them. And, you know, and building your own skill, your own personal brand, Elizabeth, around, you know, you know, how do I make sure that they understand that I get where they are, I get where they are. And this is things like understanding, how to delegate. 
Well, you know, most people, most people who end up in management leadership, I find, because having worked for years in this business of personal or professional development, it's like, wow, delegation — there's so many reasons why people aren't good delegators, individual reasons. But there's nothing more important than being able to effectively, effectively delegate. And, and most people just aren't good at it. 
So, delegation. Having difficult conversations, understanding, as we've shared, how people are wired, so you can customize your approach. And believe me, you can get to the place where, even though it might seem daunting in the right now, you can get to the place where it's second nature. Just like riding a bicycle at one point was pretty daunting. But at this point, if you've ridden a bike for a while, you don't even think about it, you just do it. And that's where this rapport-building piece can come into play, too. 

So, you know, I'm not, I'm not probably your go-to expert on, on how to find the best people out there. But I am probably valuable, perhaps, in this area of when someone is in front of you, how do you make that count? How do you maximize that? And really walk away with a clear understanding of the pros, the pluses and minuses of that person. And then also, how do you build on that to make sure they stay? 
MDM: Yeah, those are definitely essential, and something that you can, you know, hold on to when, when you, there are those variabilities of, you know, where, where am I going to find people and when's it gonna happen?
Matthews: Exactly. Right. Right. No, we just don't want to be our, we don't want to be our own Achilles heel. And at some point, on the success continuum, in my experience, each of us finds a barrier that we created. So, imagine you're going down a road and all of a sudden there's this huge barrier that blocks the whole road. And it's a barrier that we created ourselves because we haven't found our way to develop that particular skill set. So, it's an attribute for us instead of a detriment. And, and so, you know, I'm, you know, the executive coaching, the work that I do, is always like, you know, where are the places where you stubbed your toe? And let's figure out what happened there so it's not something that you replicate.
MDM: Now, here's another twist on the same type of question. You know, what, what about with the older employees who are starting to retire, you know, preventing the brain drain that, that's going out with, with them leaving? How do you, as a manager, keep that transfer of knowledge flowing, if you will?
Matthews: Yeah. So important, right? You know, the number of people leaving business now and, and so therefore, we're having to — or maybe it's not having to, maybe getting to — promote people into leadership roles earlier and earlier in their career. Because there's just not a lot of people right underneath that baby boomer group to take those roles. 
So, what I, what I like to build into companies is, look, how can we, how can those people who are about to wrap up their career be excited and energized at the idea of mentoring someone new in the company? And truly, having a formal mentoring program is one of the great tools for, for making sure that that expertise, and that experience, you know, of those established leaders is transferred to those who are emerging leaders.
So that would be the first tip I'd probably come up with. If you don't have a formal mentoring program, then consider how you would put that into place. 
You know what, and how, each of those people who is leaving would be most inspired to really get involved in that. Again, it's an individual choice. You know, some people are going to be very driven by a need for significance. So, if you can help them feel that they're passing on their knowledge and experience to others, is something that's going to help them meet their need for significance, then, then that would be a powerful way for that person to become inspired. 
Other people are inspired more by connection than significance. Others by contribution. So figuring out —and we can always help people with this — but figuring out what is the driving force, what's the need that that person leaving is most driven by? So that if we can help them meet that need by mentoring, and, and really, you know, coaching and bringing along some of the more junior people, then they're going to be inspired to do that. 
So, but oftentimes what happens, you start to get toward the end of the career, and you kind of feel like it's, you know, you know, you're kind of you're, you're going to be moving on, and kind of pack up your desk long before you actually pack up your desk. So, we want to keep people engaged to that very last minute. A lot of times, that's by helping them meet their big needs of things like significance, or certainty, or connection, or contribution. They might even feel like it's meeting their own need for growth, by making sure that one of the last things they do in their careers to help, you know, pass the torch.
MDM: That's a really good point about kind of mentally leaving before actually leaving.
Williams: Right. Exactly, exactly. Yeah. So I think a mentoring program is one of the best ways to help, you know, invite people. Sometimes, you know, it's funny, because even though we know, typically, Elizabeth, that, that people are wired differently, in the heat of the battle, so to speak, we — even though we get it intellectually — we forget that and we kind of think that everybody would be inspired or motivated in the same way that we would. And it just couldn't be farther from this, from the truth. 
About, you know, 25% of people out there are wired like you. And would be motivated and inspired by the same thing, but that's 75% leftover who are going to look at things differently. So, we want to be spending some time thinking about not, not who is on the team, but, you know, who are the individuals on our team? What are they individually inspired by? And driven by?
MDM: You know, just to sort of wrap up our conversation here — because I know we could keep talking about this for forever — but what, what are some resources or you know, what can people do if they want more information on this important talent management topic? 
Williams: Yeah, well, I'll tell you what. I, you know, not to be overly self-serving. But in my book, You've Got This, this is really, this is what I really strove to deliver. You know, what are the self-coaching keys? Sometimes people have coaches. I'm a coach, I'm a board-certified coach, and I love the work, and, but what are the things you can do on your own to help you really deliver in a powerful way? 
So, quickly, the five concepts, the five chapters in the book. First is gratitude. To really, you know, look, there's so many books written on gratitude. It's like, oh my gosh. But I couldn't start a book with any other topic because I think it's so critical as the keystone to success across the board. 
So, in business, that, you know, coming from a place — if it's a morning ritual for you, whatever it happens to be — where you can really walk into the office, virtually or otherwise, with a, with an idea that you're grateful for those people on your team. You're grateful for your clients, right? Because it's easy, you know, we talked about the downward pressures before, and all those things around like, 'Oh, my gosh, this is crazy.' And we can forget, wow, it's these customers that allow us to keep our lights on; it's these customers that allow us to keep our business growing. So, gratitude, No.1.
No. 2 is be — I call it the warrior commandments. Be brave, bold and courageous. So, winning that battle of, of, you know, I always think of it as a tug of war between fear and strength, and finding a way to make sure that you are delivering from a place of strength routinely. OK? 
The third then is resiliency. Mastering resiliency, because oftentimes, people will — you'll trip, you'll fall, you'll have things you didn't count on. And we have to be able to get back up, dust ourselves off and move forward in a very effective way. 
Sometimes it's more than that. And so the fourth chapter is reinventing yourself. And this is when we talked about the personal brand that we started off our conversation with, you know, reinventing your personal brand. May or may not seem very easy, but it's super critical to be able to take intellectual approach. What do people think of when they think of me? What do I want them to think of, think of when they think of me? And how do I make that transfer? OK. 
And then the last one is to learn how to trust and let go. So, it's kind of a softer topic, but there are those points, as we talked about earlier, what can I actually control? What can I influence? And what can I neither influence nor control, and learning how to recognize that there are a lot of things you can't influence or control, yet we try to. And it's amazing how, when you when you let go of that, how other aspects seem to fall in line. And, and therefore, that's why I had to include it in the book, too. 
So, resources would be, you know, certainly, that that book, and probably others. I love the idea of Brené Brown's work on vulnerability through Daring Greatly and other books that she's written. 
In our work at Matthews Performance Group, we work with teams, we work with, one on one with executives and sales leaders. We also do leadership development training. And, you know, if people have kickoffs, or anything like that coming up, sales celebrations, operations, teams celebrations, association events, one of the things I do is provide for that same audience, one of my keynotes is called The Game You Must Win. 
And you could probably get a sense of kind of where that energy comes from from our talk today. But this is really a way to help people get refocused on what's possible. Future-focused and ready to go out there and take things to the next level. So that's a lot of fun, too. 
MDM: Well, excellent. Thank you so much, Will. 
Matthews: Absolutely. It's been great talking with you.