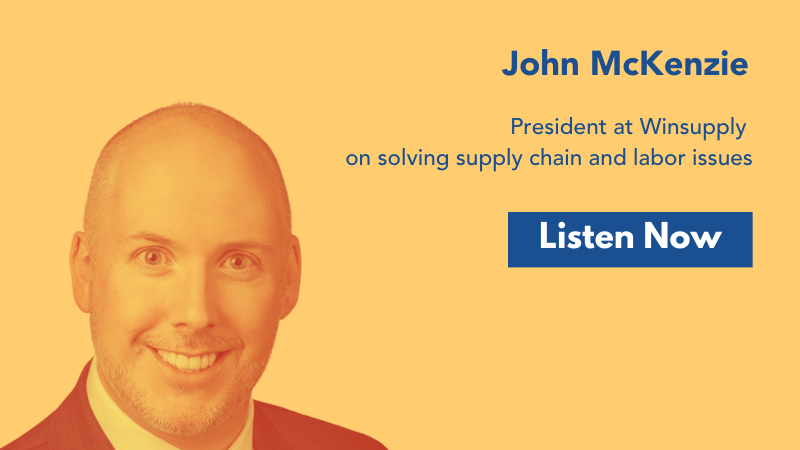 Summary
In this podcast, Winsupply President John McKenzie talks about how his company is addressing supply chain constraints, the labor shortage and hybrid training, as well as how Winsupply is driving more of its business to digital.
Transcript
MDM: This episode is brought to you by MDM's Sales GPS conference. MDM's annual Sales GPS Conference is the only event that brings together sales leaders, experts and wholesale distribution executives. We examine how leading distributors are transitioning to data- and management-based sales models, go-to-market strategies, as well as industry innovations and disruptors. We focus on how to handle what's happening now and what's coming up next. To learn more, visit salesgps.mdm.com. Now, please enjoy this episode.
Welcome to this edition of the MDM podcast. My name is Mike Robuck and I'm senior editor at MDM. My guest today is Winsupply President John McKenzie. Welcome, John.
McKenzie: Good morning, Mike. And everyone. How are you?
MDM: I'm doing well. So, I'm excited for this podcast. Because you and I have talked earlier in the summer and I think you have a lot of interesting items to discuss. But just to get us going, why don't you tell us a bit about yourself, your role at Winsupply, and maybe just a little bit about Winsupply as well?
McKenzie: Sure, I'll start out with Winsupply as an overview. Winsupply's been around for 60 some-odd years. And we are a collection of independent wholesalers bound together by a common belief system of shared ownership, high quality, low-cost centralized back-office services. And we tend to thrive in our markets because of local autonomy and ownership.
Winsupply, when I first started in 1996, was just over $600 million in collective revenue. This year, we'll surpass $5 billion. So, it's quite the growth trajectory. And it pleases us every day to see all of these entrepreneurs and owners setting their own success and highest levels of earnings potential. That's really what we're about.
As I said, I came back to the company in 1996, I answered a newspaper ad — if people remember what that means. And it was for a customer service position. And what intrigued me about Winsupply the most is the promise they made to me was the opportunity to succeed. And I was really captivated by that opportunity. And so, over the next 25 and a half years, I weaved my way through the organization.
As I tell people, I was sometimes 'volun-told' into opportunities. And I grew professionally and personally. And I'm proud today to be the president of the company. I feel humbled to serve alongside a great set of leadership whose sole responsibility is to help the hardworking, capable entrepreneur help him or herself. But my role specifically is more of a strategic role, more of a shareholder-relations role, community relations, and to really make sure that Winsupply is well positioned for the future so we can scale the company to $10, $20, $30 billion even.
MDM: OK, great. Thanks, John. I that's what I love about distribution, is stories like your own, where you're, either it's family owned, or somebody has started out in customer service and work their way to the top. OK, so we're rounding to the final quarter of 2021. What is your biggest takeaway today?
McKenzie: Well, sure, I'll give you two things that I don't think are a shock to anyone. There's really no shortage of business out there. But there is a great shortage of product and of talent. COVID continues to drive uncertainty. And again, I referenced our business model that allows our local owners to make micro economic decisions in their geography that best responds to any local or state mandates. I think that we have to get through that period of this virus and figure out what the new normal is.
I think the economy also offers opportunities with new infrastructure bills coming through Congress, and I think distributors will have a chance to have access to a number of large-scale projects over the next five to 10 years.
MDM: OK, great. So, Winsupply has been active on the M&A front, do you see that continuing and what do the new acquisitions bring to the table?
McKenzie: That's great question. I would answer that Winsupply is always in the acquisition business. We love to create entrepreneurial opportunities. So obviously, there are many independent distributors out there who have no real well-defined succession plan. Perhaps they're family owned, and there's no family members involved in the business. Perhaps it's just an estate planning strategy to exit the business. So, we're always looking for opportunities to bring entrepreneurs into the family of companies.
We don't want to buy a top-down company just for the sake of adding revenue. We really want to find entrepreneurial partners. In terms of what do they bring to the table? Well, obviously, they often fill white spaces geographically for the organization. They help us with our volume programs with our vendor partners. They help us by promoting the spirit of opportunity even more, and they allow us to reach customers and industries that we may otherwise not organically create ourselves.
MDM: OK, so I think given the success of distributors over the last year and a half, or even farther if you want to go back, but just definitely over the past year or so, do you see more M&A competition now from private equity firms or other entities?
McKenzie: From my experience alone, Mike, I would say most of the interest we see in terms of competing for an acquisition is most definitely from the private equity side of things. I would remind you, though, that unlike private equity, Winsupply wants to create a forever relationship with an acquired company. And private equity companies really have this desire to scoop up a company, drive up some efficiencies, drive out cost, and then turn it back out in three to five years to make a profit. That creates a lot of instability for a company when that happens. So yes, we see private equity, but I think that's a function of private equity having so many dollars available to them right now.
MDM: OK, good, good point on how they're in it to flip it, and you guys are in it for the long haul. So maybe turning to the technology side of things, what's on the digital technology roadmap for what we have left of this year and into next year?
McKenzie: We're always excited about our technology opportunities at Winsupply. We continue to drive more business toward digital. We think digital transactions are uniquely important to wholesalers because they're so low cost to serve. So we have programs, one is called eProRewards that gives customers, you know, those Cabela-type points for participating in digital transactions.
We've also come up with ways for local companies to earn some incentives from Winsupply Inc. for converting more business to digital. We think that it's not just table stakes, we think it's a part of the core business. We also are expanding beyond just the digital transaction or the digital sale. And we're thinking more and more today about, how do we create more of a vertical integration to our customers?
I mean, that takes us into the conversation about new solutions we're looking at in our roadmap with recently, our connection to Conexiom, our partnership that's ongoing with Payzer, what we've done with Service Titan, what we've done with punch outs and, and large institutions. These are ways that we want to work with our customers to provide solutions just as much — and just as importantly — as providing product.
MDM: Well, I did have a question about Conexiom further down, which you've pretty much answered. But your customers, you see them wanting more of, I guess the Amazon-like experience now? After going through the pandemic, when you couldn't have the face-to-face meetings?
McKenzie: You know, I've answered this question for a lot of people. And I think it's important to remember that all of our lives changed in 2020. And the Amazon effect of being able to remotely, virtually and without an interpersonal meeting to conduct large amounts of commerce has made a permanent footprint on us as consumers. And I think consumer behavior now bleeds into the business-to-business behavior state. Which is, B2B transactions want to be just like B2C in terms of ease and comprehensiveness.
So, to your point about does that Amazon effect have an importance? It does. I think I would encourage all of us, as distributors, to think about, how do we provide solutions to the customers and not product. Because if you look at Amazon and you look at Walmart, they've really created this behemoth of a distribution and supply chain channel that provides anything to anyone at any time. But if you look at what they're doing behind the scenes, they continue to look for ways to add service on top of that. And I think that wholesalers have a unique ability with their product knowledge, their solution mindset, their independent thinking to help contractors in a different way that stems beyond just the product.
So, in terms of the Amazon effect, I think it's something that causes us to re-evaluate our infrastructure, and in ways that we move product, but we should always be mindful about creating more solutions that vertically integrate the customer end-to-end back to the distributor or manufacturer.
MDM: Well, and the other thing that people bring up is that if I'm, if I'm your customer, and I have a problem, I can, I can go to you or somebody locally that represents Winsupply, and I can get the help that I need. And with Amazon, you know, you don't have that, you know, white glove approach, I guess.
McKenzie: I think it's interesting when you look at Amazon Business specifically, and its growth over the years, or you look at others who mimic them, they really have grown substantially in terms of sales, but when you look at the sales they've gone after, it's really that MRO business that doesn't need, let's call it 'technical proficiency' in order to complete the sale.
And I would say that all wholesalers should really put a lot of value behind their ability to solve those real problems for customers and think beyond the problem and create a holistic solution for the projects that the customers are working on.
MDM: OK, great. Thanks.
McKenzie: I mean, I really, Mike, I really believe that's an undervalued proposition of wholesalers, actually.
MDM: Well, I hear people talk about it more, but I would agree with you in that I don't think some of them are being proactive about it enough at this point.
McKenzie: Well, sometimes it, you know, if you're, if you're in a supply house, Mike, and you're working in it every day, it's easy to get caught up in the transactions that you have to complete every day. Because remember one thing, the supply house businesses usually you get one shot at the sale. So, you got to get the sale that day, fulfill it anyway. And then you kind of go on a rinse, repeat cycle.
But my, my encouragement to people to think about is, how can I find ways to drive out cost of non-direct revenue-generating activity in my company, so that I can then allocate more cost to direct revenue-generating activity up to and including new and unique solution-providing, solution sets for customers.
So let me give you an example of that. Does it make sense for any company to have a counter person who keys the same order for the same customer four times a week in a routine manner? Or would it make sense to consider giving that customer a 1% to 1.5% discount to key their own order, so that you can reallocate that counter person's activity to more growth-oriented opportunities — new products, new training, new customers, expanding existing customers with existing products?
I mean, there's a whole host of things that we could do if we could redirect talent who's doing more routine work that doesn't drive lots of value? I mean, that's looking at it from a very activity-based costing perspective. But I think that all wholesalers have to have that conversation with themselves.
MDM: Well, it's the promise of those digital tools that we're starting to embrace. And I think, as you mentioned, it's also getting the customer to embrace those as well.
McKenzie: Yeah, and sometimes carrots are, are really good to get behavior changes. I mean, if you think about, I don't think Winsupply is different from any other firm right now in that credit card fees, processing fees continue to go up. A lot of that is because customers want to use their credit cards to get their points. They love their loyalty programs, they love their, you know, whatever they get from Visa, MasterCard, Amex, you name it.
So, when you think about it that way, it does seem to reason that they are incentivized with a carrot versus a stick, so to speak. And so, why not create incentives to help a customer help themselves, still providing the high quality of service overall, but driving out some of the mundane transactional costs and letting the customer themselves enjoy some of the spoils of that?
MDM: OK. I'm kind of switching gears a little bit here. The two biggest trends this year are the supply chain constraints and the labor shortage, which Winsupply is addressing both. We previously spoke about Winsupply relying on local owner owners to help source products due to the supply chain constraints, do you see that continuing into next year?
McKenzie: I absolutely do. There's there is little doubt in my mind that the bottlenecks in the supply chain will continue into next year. You know, we've kind of gone past the hole, Houston had a freeze and a hurricane and the resin and chlorine plants are having issues, to, boy, now we really have to worry about the chip shortages. And what do we do with the, you know, HVAC equipment and high tech waterflow equipment?
We always will rely on the astute ability of a local owner to source product. But Winsupply is also trying to help by forward positioning even more inventory in our distribution centers. And that's one of the reasons, one of the many reasons we're building out in Oklahoma City and beyond is because we can and will provide safety stock. And we're working diligently with our vendor partners to make sure that the Winsupply DCs can access product at the rate it needs to. And so, we'll always rely on the local autonomy to fulfill customer needs. But nationally, if I can use that term, we are working to create regional pockets of safety stock.
MDM: OK, can you also give our listeners a rundown of Winsupply's new executive talent program?
McKenzie: Yes, this is actually my favorite question of all. You know, I'm always mesmerized by the opportunity that's provided by Winsupply for an entrepreneur to be an owner, a president and to set his or her own destiny. And I'd like to see hundreds and hundreds more come into the organization.
Now, like any company, we have baby boomers who are getting ready to retire. We have markets we wish to open up new Winsupply companies. We call those organic starts. And so, I challenged the leadership team and I said, well, for all of the years that I've been with Winsupply, there's been an opportunity for some sponsorship, that means that a local company who finds a new president may have an opportunity for a small piece of ownership in the new company. There's an opportunity for some finder's fees for locating new presidents. But what we've never done is said, 'Well, why doesn't Winsupply create a scholarship program that pays for the education of a president-in-training? And then when that president moves on to open up a company or to take over a company, he pays back half of his compensation that Winsupply's paid for over a period of five years.
So, think of it this way, Mike. It's kind of like a GI bill in reverse. We're giving them the money today and the training today and they pay back tomorrow. And I think it's — I am absolutely shocked with the reception we've gotten from the local companies and the desire of the local company presidents to participate. And in fact, we have over 37 incumbents into the program already for the first year.
MDM: That's great. I mean, when we spoke last I think you were just starting to implement this. So, it makes a lot of sense to me. And I think it's an innovative approach. You kind of touched on this earlier, but do you think with more family-owned distributors being sold, do you see a talent drain across the industry as a whole?
McKenzie: Yeah, I believe we've talked about talent drain in distribution for at least five to seven years that I can think of as a prominent issue. And what I can say is, I keep coming back to sometimes it's a better use of effort and money to build a person than to try to find them from a competitor, from a school, from a manufacturer.
So, I would encourage everyone to start looking at trade schools, look at community colleges. Go to any of your local universities who have business programs or technical plumbing HVAC trade programs. We even go to high schools and look for folks.
The final comment on that labor shortage, Mike, is don't be afraid to have too many summer interns from college because you might be surprised what you find. So, we're casting a wide net on youth, and hoping to build them into the organization. And we continue the traditional channels of recruiting. You know, millennials, and even Gen Xers and Gen Z. But we're very open minded on, well, let's find some people who know nothing and let's train him. I mean, that's exactly what happened with me, Mike. So I think I'm a good testimony that it works. So why not build people?
MDM: Yeah. That a great point. Since we're talking about new hires, what has Winsupply's approach been to, to training? I mean, do you have, like, kind of a hybrid model of online training and in person training or, or how has that evolved, I guess, since March of last year?
McKenzie: Well, certainly last year we were very much virtualized in our training. We currently deliver over 5,000 courses in our learning management system already. But we've amped up our virtual training events. And now we hold small classroom series. We're going back to an in-person national training event in September in Denver. And we have training tracks for just about every position in both the local companies and the support services campus positions defined now. So, anyone is able to self-pace and self-direct their learning for a position that they are in or interested in.
None of that replaces mentorship and good coaching. So, we still do a lot of that. And we really think that with adult learners, hands-on learning is the best kind of learning. So, it is a very blended approach. I mean, we have some professional management development programs, we call it MDTP, which is our managers, our upcoming employees at the local companies who have the potential to become presidents. We have something at the support services campus called Leadership Now which identifies service company leaders of the future and we put them through coursework. We have a management and training program that kind of coincides with the scholarship program that really trains people to be presidents.
And finally, we have something we call peer to peer groups, which is a self-driven. It's a group of presidents, usually new presidents, who band together, meet regularly and kind of coach one another. And there's usually a more seasoned president who acts as a facilitator involved. So that's how we're approaching training and development in this new bifurcated world that we're living in.
MDM: Well, that sounds really good, John. I mean, everybody wants the tools to succeed in their job. And that's a pretty holistic approach that you guys have come up with. So, just to kind of wrap things up here, looking into your crystal ball, what, what do you see about trends going into this next year for B2B distributors? Or is there any advice that you would, that you would give a distributor that maybe isn't as far along as you guys are in some of these areas?
McKenzie: I probably would give the same advice that I give to the local presidents, local Winsupply presidents every day. Embrace everything digital that you can. Get as close to your customer as you can. Make yourself uncomfortable with change so that you can thrive in the future. And really listen to what the contractors' needs are.
And sometimes it's pretty easy to understand what their needs are. But sometimes you have to understand what problems are really out there. Is it, is it VMI solutions with customer lockers like Amazon has? Or is it a vertically integrated solution that includes a payment application, and product sales from contractor to customer?
All those things are what I would advise on, is be open to the change that's coming and I, I'll give you one little tactical bit of advice, which is the past two years, your demand and usage of inventory has been extremely anomalous. Be mindful of that as you go into the next few years and create product availability for your customers. And that's going to be really hard for even the most seasoned inventory people because who knows what demand patterns really are at this point?
MDM: Well, I think you've hit a lot of good points there, John. That's gonna wrap up this MDM podcast. I want to thank John for taking the time to speak with us today. Really appreciate your insights, John.
McKenzie: Mike, thank you so much for the opportunity and I am open to questions or inquiries anytime so thank you for inviting me.
MDM: OK, great, so make sure you check back to MDM.com for more podcasts.