MDM Premium Extra: Business & Environmental Collaboration Fights Polarization in Shale Industry (Transcript)
This is an exclusive interview with Andrew Place, president of the Center for Sustainable Shale Development. In this Q&A, Business & Environmental Collaboration Fighting Polarization in the Shale Industry, Place explains how this partnership of business and environmental groups is working to remove the polarization from discussions around shale development to develop the energy resources both economically and environmentally.
This feature is an exclusive benefit for subscribers to MDM Premium. To access, login or subscribe today.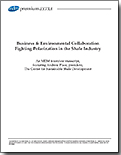 To continue reading this article you must be a paid subscriber.
Sign Up for the MDM Update Newsletter
The MDM update newsletter is your best source for news and trends in the wholesale distribution industry.