Outsell Your C

om

petitors in 2021
2020 delivered a gut punch to traditional outside sales models. For some, it was a wake-up call, but for those in the MDM Sales GPS Network, it validated the often difficult decisions they made before the pandemic hit to change the way they sold – building a more proactive inside sales team, changing comp plans, creating better-defined bizdev roles, strengthening digital sales support tools, customer experience and much more. 
For more than five years, we've been a trusted source of advice for distributors and their suppliers to build stronger sales models and organizations through research and a community dedicated to transforming traditional outside-sales generalist roles to more effective integrated sales models. In partnership with Indian River Consulting Group, we've hosted four annual Sales GPS conferences, conducted extensive research into innovative selling models, and hosted monthly roundtables during 2020 to bring together the latest market intelligence on how distributors were navigating the crisis and pivoting their sales teams to be more productive.  
To give you a sense of the thought leadership and meaningful conversations within the Sales GPS Network community, we'd like to share with you the following insights on sales transformation from Mike Marks of Indian River Consulting Group, and Colleen Stanley, founder of SalesLeadership, Inc. from their presentations at our 2020 Sales GPS conference: 
Indian River Consulting Group's Mike Marks argues that sales transformation cannot happen for a distributor without releasing these long-held beliefs.
To win business and retain it, a distributor's sales team cannot act alone. Instead, it takes a sales "village," according to Colleen Stanley, founder of SalesLeadership, Inc. As Stanley told attendees during her presentation at MDM's 4th annual Sales GPS conference, creating the village starts by getting marketing and sales to break down the silos and truly work together.
If these articles tap a nerve for the challenges you're facing to transition your current sales model to a more agile and resilient team-selling model, then please sign up to receive our latest updates as we continue to share the latest on sales transformation and our upcoming 2021 Sales GPS Conference, Nov. 1-3, in Chicago.  
Sign up to accelerate your sales transformation:
We can help you grow your business exponentially by effectively running your sales team and increasing profits with our winning strategies. Sign up for our emails today!
By completing this registration form, you are agreeing that we may share contact you regarding our Sales GPS event and related sales transformation content. We do not permit use of your personal information without your permission for any purpose.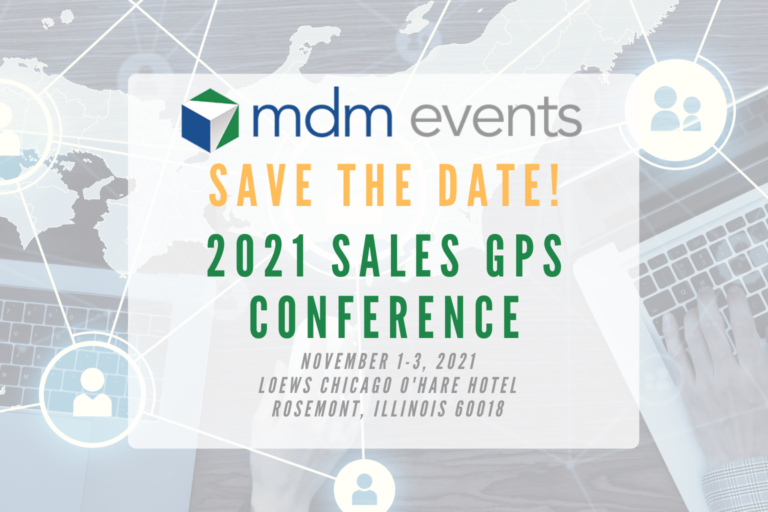 The MDM Sales GPS Network Mission
We're intensifying our efforts in 2021 to support each distributor's unique sales transformation journey in light of 2020's deeper disruptions to the traditional outside sales model. Watch for our rollout of research and reporting on the successful ways distributors are building more effective, integrated sales teams. Since 2017, we've helped our members rethink and improve the sales process: 
Stay tuned as we develop our 2021 research plan and annual Sales GPS Conference agenda.