Sales Transformation Bootcamp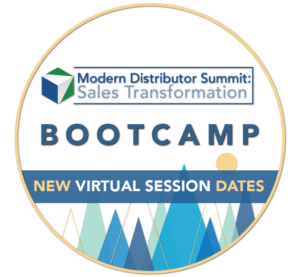 In 2022, sales transformation has become an essential change management effort that many leaders have put off for other priorities. Don't neglect it any longer. The bottom line is that there are new, proven business models that are reducing sales costs and driving revenue growth much more efficiently.
At Bootcamp, we focus on:
Competitive advantage – realize lower costs and higher margins


Growth – transformation positions you to grow at a multiple of your current industry growth factor


Customer satisfaction and retention – meet customers where they want to buy


Higher profit

– gain price and cost advantages
Geared towards leaders and teams looking to accelerate their sales transformation journeys with greater team buy-in and awareness, this course is designed as a standalone intensive program.  Don't know where to start? Overwhelmed? This Bootcamp will walk you through a proven process with experts in the field to help you navigate and plan next steps. 
Set yourself, and your team, up for success when you learn the science and data behind proven sales growth models.
Session One: May 26th, 2:00 – 4:00pm ET (NOW AVAILABLE ON-DEMAND!)
Session Two: June 16th, 2:00 – 4:00pm ET
Session Three: June 23rd, 2:00 – 4:00pm ET
*All sessions will be virtual and recorded.
Who should attend?
Bootcamp is designed for all levels of your organization that need to understand the concept of, and reasoning behind, transforming your business to meet the demands of today's buyer. Those who benefit include:
C-Suite Level (CEO, CSO, CMO, CFO, President)
Sales Leadership (VP, Director, Manager)
Sales Teams
Money Back Guarantee:
If you don't find Session One valuable for your business, we offer free cancellation prior to Session 2. Cancellation requests prior to June 15, 2022 will be eligible for a full refund.
Session 1: Benchmark your current sales model
We start with a guided benchmarking process to determine your current status, examine research on customer buying behaviors and proven digital-first sales methodologies, and introduce performance data that you can use to create an analytical approach to roadmap your next steps. 
Live Case Study: Earnest Machine
Kirk Zehnder, CEO, shares their journey. Earnest Machine is a Master distributor and manufacturer of industrial fasteners in the $25-$50M size category. 
Session 2: Redesign the sales model
Now we get down to the nitty gritty. How do I rebuild and redesign my sales model and use data to back up my plan? This session will identify what role your sales field reps should be playing, how inside sales and customer service support them and how to integrate digital into the mix. Utilize analytics to help minimize cost served, maximize customer retention and maximize share of wallet. Time to get everyone excited about what this transformation can mean to them and the company.
Live Case Study: Gustave A. Larson
Matt Wisniewski, VP Sales & Marketing shares their journey. Gustave A. Larson is an HVACR distributor in the $100-$500M size category.
Session 3: How to manage and execute change
Don't let the painful process of change keep you from transforming your business. As part of next steps, you will strategically walk through how to get from point A to point B. Learn how to get your leadership team onboard, navigate resistance, communicate the benefits of change to the team and initiate pilot programs that propel you one step at a time through your journey.
Live Cast Study: $500M+ Change Management Panel
Hear how several large distributors have navigated the change and participate in live Q&A. 
Session 4 (onsite): Network, learn, lead
Meet and network with your peers and the Ambassadors that have been working and advising companies on sales transformation. This is your opportunity to ask all those burning follow up questions. Session four brings together all 2022 Bootcamp attendees, in-person, along with attendees from past Bootcamps who are further along their Sales Transformation journey, to network and create a supportive cohort moving into the full Summit events on 6/14 – 6/15.