Account & market potential tools for industrial product marketers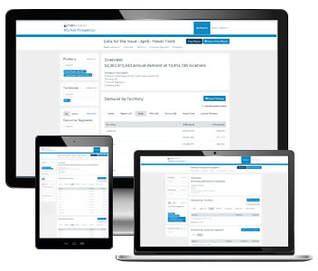 Analyze Market Potential
Identify market penetration and untapped potential by territory, customer segment and product category with a market model proven over 30 years.
Profile Your
Customers
Data cleansing is good. Data enhancement is even better. Leverage your customer file with our data services to drive both wallet and market share gains.
Target Prospects Smarter
As a D&B value-added reseller, we help you target high-potential prospects so you can deploy sales resources more effectively.
Market analysis customized to your world
MDM Market Prospector is a web-based software app that segments industrial product market demand and targets high-potential prospect accounts from a database of 20 million business locations in North America. Strengthen your market analytics core with this on-demand tool to map market opportunity by your product categories and territories – even to a postal code level.
​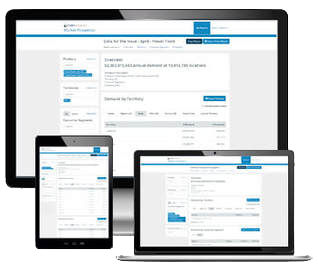 An MDM Market Profile is a snapshot of your market based on territory, product(s) and industry segment(s). Our market profiles include general prospect information sorted by demand. Data breakouts are available by:

Geography including region, state, MSA, county and postal code

Customer type including multiple classification (SIC/NAICS) breakouts

Product group: over 200 product profiles available
Reports are delivered via email within 1-2 business days in .xlsx format. The above pricing is based on the quantity of postal codes included in your report.
For pricing options, please call 888-742-5060 or email analytics@mdm.com.
New! Market Forecast Profile
An MDM Market Forecast Profile is a snapshot of your market based on territory, product(s) and industry segment(s). Our market profiles include general prospect information sorted by demand, and projected forecast of 2022.
Prospect Lists
As an add-on to the MDM Market Profile report, you may purchase targeted lists of prospects. These prospect lists include qualified contact information ranked by demand of consumption. Prospect lists are delivered via email within 1-2 business days in .xlsx format.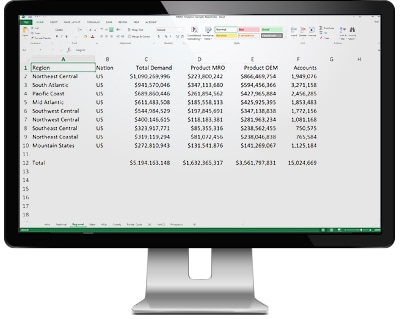 Customer File Matching
Qualify your internal customer lists with industry identifiers – either 4 digit SIC and 6 digit NAICS codes. Customer file matching lists are delivered via email within 2-5 business days in .xlsx format.
Customer Demand Append
We can provide estimated demand potentials for your customers so you can better understand opportunities, and have a benchmark to compare against your current sales and marketing efforts. This can uncover current opportunities, help re-align sales activity, and/or help build more efficient strategies to target your customers. After providing us with a customer list and interested product classes, we can identify estimated consumption levels for each of your customers.
To see our list of current OEM and MRO products we estimate, click here.
​A target prospect list ranked by demand can help you focus your limited sales resources on the highest potential accounts and territories. By profiling your customers, you can better analyze customers to build a better marketing and sales strategy. We can help you find and identify prospects that look like your best customers.
MDM Market Prospector is a web-based tool that provides 24/7 access to the MDM Analytics' database of more than 200 MRO/OEM industrial product classes in North America. MDM Market Prospector is accessible on your desktop or tablet with an annual subscription.
​Use MDM Market Prospector to generate Market Profile reports and prospect lists. Market Prospector can help map demand by product category at a county, metro, state and national levels so you can uncover opportunities and target accounts smarter. Market Prospector can help your company optimize sales and marketing efforts by the following:
Identify current market penetration & untapped potential
Target the highest potential geographic regions, customer segments & product categories
Assess individual customer & prospect potential
More effectively deploy sales/ marketing/ branch resources
​Build market plans strategically on a foundation of market data
MDM Market Prospector gives you the ability to:
Access 

market data 24/7

Filter your data by product, territory or customer segment
Download a prospect list for your sales team to best target sales resources
Export your data in .xlsx format for closer analysis and easy sharing
Contact Experts to understand your report better and provide support services for your team 
Call us at 888-742-5060 or email us to learn more about MDM Market Prospector.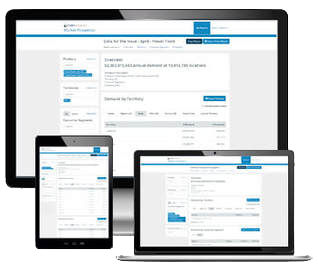 MDM Market Prospector Allows You to Define Your Reports By:
Product Classes
Choose one or more of the 200+ MRO and OEM product classes, including industrial, safety, janitorial, electrical, construction products and more. MDM Market Prospector's user-friendly interface allows you to easily add or remove product classes from your reports.
We know your business is unique. We can customize your access to hone in on just the products that apply to your business. Or we can build custom product classes that align with your sales channels.
Territories
MDM Market Prospector allows you to filter your results from the national down to the MSA and county levels in the United States. View Canadian data down to the province level.
We can customize your access specific to your sales territories. Access can be specific to each user in your company.
Customer Segments
Dive deeper into the data with a view at how customer end-markets consume the products you are profiling. MDM Market Prospector allows you to view consumption estimates by SIC or NAICS designations.
Prospects
Each standard report includes product market data by territories, customer segments and prospects. Additionally, you can request a complete prospect report from MDM Analytics, allowing you to view a full record – a powerful sales tool.
Today MDM Analytics provides data by applying statistical methodology to determine market size and definition at a product category level. This model is continuously refined and validated to reflect the most up-to-date trends and data. This proprietary model patterns industrial product demand for specific types of businesses.
​
Using ratio marketing analysis, MDM Analytics provides information on the potential demand for a wide range of industrial goods across hundreds of industries encompassed by the North American Industry Classification System (NAICS) and/or Standard Industrial Classification (SIC) codes. Market potential can be estimated by modeling the types of end-market industries and their size in a given territory. As a result, this can provide the "DNA" of a territory and its estimated consumption patterns for defined industrial product categories to be modeled

MDM Analytics provides actionable data that will help you move the needle and expand into markets, understand your market share, maximize your sales effort, and much more. Our market analysis can provide answers to key marketing questions, such as: 
What is your Market Share? 

Are you maximizing the sales effort? 

Are your sales territories balanced in size and coverage? 

Which sales territory is doing the best, and which ones need help? 

Are there other industries of significant size you're overlooking? 

Which customers are you missing or not penetrating? 
"Our partnership with MDM Analytics has truly equipped Flexco with an internal analytical capability to ensure we are proactively selecting the right global geographies, markets and target customers within those markets that is connected to our long-term growth strategy. We are no longer reacting to market and economic swings but rather anticipating them so we can align our investment where there is opportunity."
For more than 25 years, MDM Analytics has increased top line revenues, lowered cost of customer acquisition and shortened the selling cycling for industrial product marketers. Here are their stories:
A regional fluid power distributor uncovered $6 million in revenue in a single county using MDM Analytics product-specific demand profiles where its sales started below $1 million. Using MDM Analytics' demand-appended prospect lists, the company grew to more than $4 million in annual revenue over three years.
A national distributor integrated MDM Analytics' database into its call center system providing CSR's with on-screen add-on product recommendations based on MDM Analytics- developed industry segment demand profiles.
A two-state distributor used MDM Analytics' segmented demand reports and demand-appended prospect lists to prioritize limited sales resources. Result: a 5 percent "new" revenue lift year-to-year attributable to this effort without additional sales expense.
Frequently Asked Questions
Distributor's Guide to Analytics
Product Details
Analytics has evolved rapidly in wholesale distribution channels, fueled in part by the explosion of technology innovation over the past several years but also because of the industry's natural lifecycle. Companies that establish and build analytic capability are staying ahead of the recent waves of disruption.
No matter where your company is on the spectrum of analytics adoption and thinking, the Distributor's Guide to Analytics will improve your decision making – and  your bottom line.
This collection provides insight from some of the leading analytic thinkers for distribution. They have applied analytics to solve business problems, identify opportunities and improve performance for thousands of distributors globally.
This guide will help you think differently and more analytically about transforming your company into a higher-performance one. It includes chapters on:
Profit Analytics
Market Analytics
Market Access Analytics
Marketing Analytics
Sales Analytics
Pricing Analytics
Inventory Management Analytics
Table of Contents
About the Editors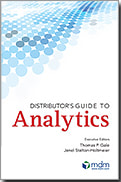 Analytics is rapidly transforming the wholesale distribution industry. This timely collection of best practices is a practical roadmap to help distributors build stronger analytics capabilities. Share this book with your team to jumpstart data-analytic thinking in your business.
​- Julia H. Klein, Chairwoman and CEO, C.H. Briggs Co., Reading, PA
Distributor's Guide to Analytics
Book
Our Price: $59.95
Free shipping to the U.S. Low international rates.
Bulk Orders: Order additional copies for managers, customers or other groups and save! Order under "Other Options" on the right.
Distributor's Guide to Analytics
eBook for Kindle
Our Price: $59.95
For Kindle users: Please order directly from Amazon.