All your exclusive premium content in one location.
Amazon Business' scale and capabilities are intimidating. But as Benj Cohen advises here, distributors can fight fire with fire.
Read Frymire details how the ability to understand, manage and interpret numbers is a critical soft skill that enables distribution leaders to speak the language, make managerial decisions and understand the implications of financial data.
Mike Hockett takes a deep dive into the new normal of different working environments in distribution and recaps a lively B2BOnline debate session on this topic.
Distributors and their suppliers say they continue to see strong demand for industrial and commercial products, with no real slowdown in sight.
Acquisitions and technology investments remain viable ways for distributors to bet on themselves to outperform competitors, but they aren't the only options available. Here, Mike Hockett outlines those and other investments worth particular consideration ahead of a forecasted economic slowdown.
Nichole Gunn dives into the ways distributors and manufacturers can access and wield incentive program reporting and data to elevate sales and marketing strategies.
The end customer increasingly desires to buy from you like they do in their everyday personal life. If you aren't rewriting your strategy to meet the needs of the self-service customer, you are in danger of falling behind.
Does the messaging in your hiring materials and practices reflect what it's really like to work at your company? Mike Hockett recaps an ISSA Show session that dove into the nuances of being transparent in all phases of the recruitment and onboarding process.
The quarterly Baird-MDM industrial distribution survey gauged distributors' confidence heading into 2023. Here's what they had to say about pricing expectations.
Mike Hockett breaks down the latest figures showing distributors' expectations for 2023 and beyond, as well as data that illustrates why distributors are still struggling with staffing despite a growing labor pool.
Mike Hockett analyzes the noticeably different levels of optimism in the commentary given by industrial distributors Fastenal and Motion in their third-quarter earnings calls.
We share new comments from distributors regarding whether they plan to use new or unique strategies to recruit and retain employees. It illustrates that some are faring much better than others.
Lincoln Smith advises on refocusing an incentive program in times of market correction in the face of supply chain snarls, high inflation and overall economic precarity.
Get a recap of NetPlus' 10th annual meeting, held Oct. 2-4 in Las Vegas, where the group shared updated stats on its impressive five-year growth and where it's headed.
We chat with pricing expert Lee Nyari on the various factors distributors are working into their strategy — and how they are navigating the many pitfalls along the way.
Mike Hockett shares takeaways from an MDM SHIFT keynote session that addressed the burnout that is hindering distribution sales organizations — and what they can do about it.
Distribution leaders, consultants and service providers convened Sept. 25-27 in Colorado to learn and share change management best practices during MDM's SHIFT Conference.
MDM's Brad Star recaps Jason Hein's SHIFT conference session about how distributors must first assess their culture before jumping into adding digital tools.
Mike Hockett breaks down the opening keynote presentation at MDM's SHIFT Conference, which featured plenty of new market data from McKinsey & Company.
Too often, distributors get to the edge of the diving board with analytics development and suddenly realize they can't jump. Here's why.
When it comes to technology, what's considered business as usual won't cut it any longer. It needs to be invested in and updated.
Investment Banking Directory
The MDM Investment Banks in Distribution directory is a listing of firms with expertise in the wholesale distribution industry.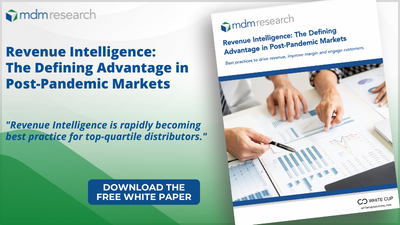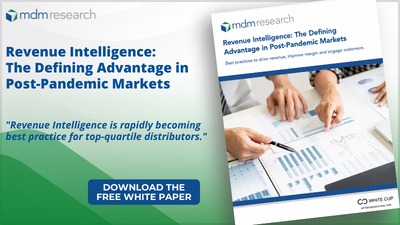 Revenue Intelligence: The Defining Advantage in Post-Pandemic Markets
Since the onset of the pandemic, Modern Distribution Management has identified key differentiators between…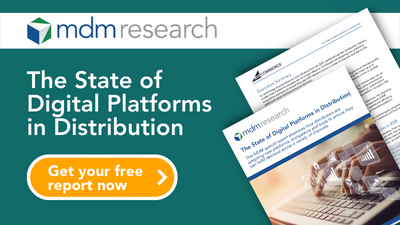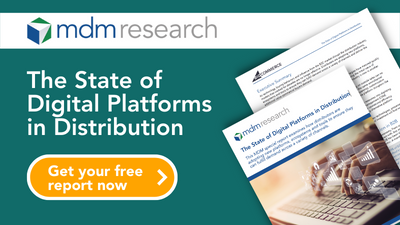 The State of Digital Platforms in Distribution
This MDM special report examines how distributors are adopting new platforms, ecosystems and tools…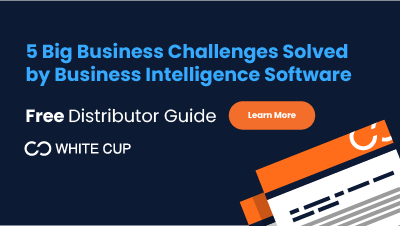 5 Big Business Challenges Solved by Business Intelligence Software
Distributors find their most significant business challenges are typically centered in five areas. In…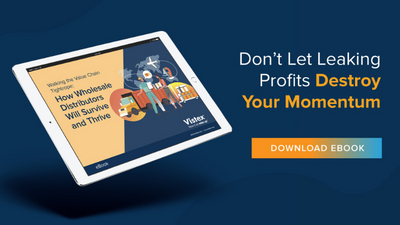 Walking the Value Chain Tightrope: How Wholesale Distributors Will Survive and Thrive
Wholesale distributor margins will always be dependent upon striking the right balance. Distributors are…

Build strategic sales plans.

Determine market and demand.

Create smart prospect lists. 
Turn your sales data into actionable data with Market Prospector.  A web-based SAAS tool that gives you insight into your market, your territories, your customers and new prospects too. 
Sign Up for the MDM Update Newsletter
Our daily newsletter is your best source for news and trends in the wholesale distribution industry.