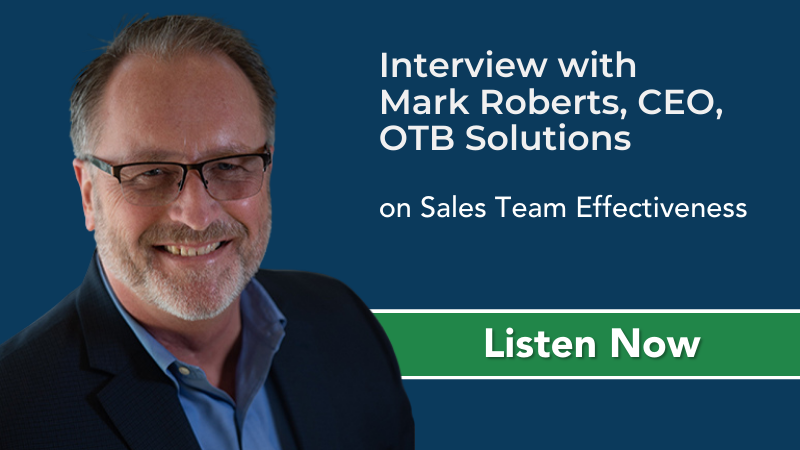 Summary
Distribution sales strategist Mark Roberts has one question for you: Do you really need more sales people? Perhaps the real question should be: How can I make the most out of my existing sales team? Roberts breaks down the latest thinking on distribution sales team effectiveness, including how to determine who might be better placed in another position.
Transcript
MDM: Hello and welcome to the MDM podcast. I'm Editor in Chief Elizabeth Galentine and joining me today is Mark Roberts. We're going to explore the critical question: Are you sure you need more salespeople? Mark is a senior-level sales and marketing leader with more than 35 years' experienced driving profitable sales growth in market-leading organizations. He has led sales and training at companies like Timken, BMI, Gardner Denver, MobilityWorks and Frito-Lay. He is the founder and president of OTB Sales, where he helps clients diagnose and improve sales effectiveness, and hire and develop their sales talent to improve sales results. Alright, welcome, Mark.
Roberts: Thanks, Elizabeth. Appreciate you inviting me.
MDM: So, as I said at the top there, we're going to start off with this question for distributors. Are you sure you need more salespeople? Now, why start with that, is that the automatic assumption that when there's a sales slump, or you're looking for a lift, you need more people to make it happen?
Roberts: That seems to be the go-to, and that makes me very nervous. And I want to share why. Quite a few of the accounts that I work with, whether they're manufacturers or distributors, are having a really successful year this year, when many are suffering. And there's, CEOs are coming to me saying, 'Mark, I need to hire another hunter.' 'Mark, I need to hire a couple farmers.' 
And my first question is always, 'Are you sure?' Because when I look at the data when I assess their teams, typically in a distributor, anywhere from 15 to 30% of the people in a sales role shouldn't be in a sales role today, based on how they answered the questions in the assessment. So, you're really not getting the ROI from the current headcount that you have. 
So, my challenge is, do you really need to hire more people? Or do you need to improve the effectiveness of the people that you have, and possibly move a lot of these people that are in a quota-carrying role today into other roles, like customer service, the warehouse. They have a really strong commitment and loyalty to your company. But they shouldn't be in a sales role.
MDM: Yeah, so let's talk about it. You know, when you're aiming for that holy grail of the right salespeople, the right roles, the right skills for today, what do distributors need to do? Where should they start?
Roberts: Well, I like looking at different data sets. The first thing I do is I do a sales assessment of the team. And we typically can get that done in about 10 days. And we talk about where you're strong, and where there's some gaps that might be preventing you from hitting, you know, the growth objectives that the company has. 
The second data set that most people skip is talking to your customers. It's such an important step that my service now has a voice of customer research arm, where we'll call your customers. We'll call your prospects and find out what's important to them today. Emphasis on the word today. 
It's just like the report that your team just published about e-commerce. Look at the shift that we've seen in e-commerce. I think your report goes on to say that it used to be, let's say, 10% of distributor sales. And now people are saying it's as high as 30%. Well, that's all in response to the pandemic. 
So, what else has changed? One of the things I ask distributors quite often when we're talking about this subject is, how much has your business changed in the last 12 to 18 months? And they go into how they've changed, how they've restructured. I think McKinsey said 60, 60 to 69% of CEOs have restructured since the pandemic. 
But then I asked the question that usually provides crickets, right? 'Well, how has your customers' business changed?' And it's quiet, it's silent. What we really need to understand is how are people buying? Why are they buying? Why do they buy from you? And more importantly, what do they buy from somebody else they should be buying from you? And once we understand how your customers buy, how they want to buy, then we can really use those insights as we work on your structure. And your go-to-market strategy.
MDM: Yeah, that's interesting. You know, it seems like a two-part process where you're making sure you're getting that voice of the customer — doing exactly what you just said about wanting, knowing looking at things from their perspective — but how do you make sure that when you have that information, you bring those buyers' wants and needs into your own planning process for how you're going to develop your sales team and select for those skills that they have?
Roberts: Yes, a lot of people, when they when they do research, they engage with somebody that basically gives them a very large Excel file, which I'll give you. It's not that exciting. And you better, you know, have a couple of cups of coffee before you engage. But what I also do is in addition to the research, we have an executive debrief on key insights brought out by your customers in these interviews. And you'd be surprised how often price comes up. And it's very rarely what sales has been telling the owners. So, we look at these insights, we try to create maybe three to five actionable pillars from the insights. And then, together we collaboratively design, you know, what's our plan to close some of these gaps?
MDM: And what would be an example of — give one pillar example of that, that you kind of come across often?
Roberts: Well, the one I just finished, it was a distributor that has valves and fittings, and there was a really, let's just say, highly technical fitting that they were promoting. And we asked their customers about it in a very specific application. And prior to that, sales had told the owner that, 'You know, look, we're 20 to 30% too expensive. We need to lower our prices. We need to lower our margins.'
They were seeing some markdowns off of their suggested selling price in their system. Overrides I think were over 58%. But when we asked the customers, the customer said the most important thing with that particular fitting — I'm sorry, valve — was the lifetime value. So really, what we found was, sales was talking about a transaction, to close a transaction. Buyers were talking about the lifetime value of replacing that equipment, and how they would actually prefer a replacement product that would last let's say, 20 to 30 years, as opposed to whatever was the cheapest today. So, you can see the pretty big disconnect there.
MDM: Yeah, I mean, that seems like a clue that you'd want to really hone-in on some of those more consultative selling skills.
Roberts: Yeah. And the shame is, about 50% of salespeople today that are carrying a quota have never been trained in formal sales skills. As you mentioned in the, in the beginning, I was really blessed. My first job out of college was Frito-Lay. And they trained us for, I was trained for six years. It was just expected that you would receive training before you even meet a customer. And then throughout your career. 
And, unfortunately, what I'm finding is about 50% of people have never been trained. And then, we have this new constraint, right? The pandemic hits us. And we had really strong what I would call face-to-face salespeople who kind of grew up in their industry, they really have great knowledge, insights, but they've never been trained on how to sell. So, all of a sudden overnight, they're being asked to have Zoom calls and phone calls. They were never trained to start these conversations that lead to revenue. So that's what's been keeping me very busy is helping once face-to-face salespeople be able to adapt to virtual selling.
MDM: Yeah, I can definitely imagine how that's been over the last 18 months. So, you know, let's talk about some of the best ways — beyond just looking at sales numbers — to identify top performers. Because you know, there is that temptation to just say, you know, everyone who's selling below this point is quote, unquote, a bad salesperson. But, you know, how do you identify those people on your current team who have the potential to become top performers and maybe not be in that category? And as well as the other side of the coin, you know, those who should possibly move on to a non-selling role?
Roberts: Now you bring up a great point, because almost every CEO I engage with, I say, 'Talk to me about your top performers.' And they know them by name. 'I wish I had more Mikes. I wish I had more Barbs. Boy, they just bring in the revenue.' But then as we go a little bit deeper, I ask the question, 'If you were to open a new market, a new region, would you send Barb?' And it's very quiet. 
'No. I don't think so. I'd send Jason.' OK, what just happened? Well, Barb or Mike might have the largest revenue today. But a lot of the revenue that they're managing, they didn't bring in. They're managing a current customer base, but somebody else on the team has much stronger selling skills. They, maybe they've opened new, more, more new business, they've grown current customers. 
So again, that's why I, I lean on the assessments. The assessments look at 21 competencies, and very quickly, we'll see who the strongest person is in the form of competencies, beliefs and motivations. And then typically there's a pretty strong correlation to sales growth with those individuals.
MDM: So is that an argument for kind of breaking up that, that historic 'territory' model that people are so comfortable with?
Roberts: I think it's going to happen on its own, to some degree. I was just asked to participate in a CEO forum, I was actually facilitating it. And they asked me to do some research for it. And what everybody wanted to know was, what will the future of sales look like? And I boldly came out and said, 'I believe it's gonna be a hybrid model.' 
The data that we see from McKinsey is 70% — a little bit over 70% of buyers have grown accustomed to virtual selling, and they like buying virtually. And over 80% of them said they expect it to stay. So, as companies look at things like the cost of sale — this was also in that recent report you guys released on e-commerce — you know, some of the big focused items is cost of sale. And as long as you're getting an ROI for that cost of sale, by all means, keep doing it. But I think we're gonna see distributors change and reshape how they go to market. 
Are they always going to have face-to-face salespeople? Or could that account be better served with a virtual person, e-commerce, EDI orders? Something. There's a lot of different ways to serve people. So again, I think we're gonna see a pretty strong shake up in the months to come.
MDM: Yeah, you know, what's your perspective on that serving people virtually? I mean, there's kind of the school of just, well, 'We're gonna have the same conversation over Zoom that we would have had in person, you know, minus the, the handshaking and the donuts.' Or you or another perspective of, you really have to think about the personality of the person you're engaging with, and you know, how, how forthcoming they're going to be over video. And you know, how has that been, from your perspective?
Roberts: Well, what's interesting is, again, I'm a numbers guy. And actually, one of my, my counterparts who also does training quite often, we do training together, and he teases me, you know, I'm the data guy. The data says about 60% of one's face-to-face salespeople are struggling to sell virtually. And it goes back to not having training. 
If they were face to face and they walked into an industrial plant, or they were dealing with a customer on a job site, they would see opportunities that maybe the customer didn't even realize. The challenge today with virtual is, we need to teach them how to ask really good questions, so they can hear what they used to be able to see. And that is trainable. But again, it's not trainable for about anywhere from 15 to 30% of those people on the team that shouldn't even be in sales. Because what we also find is they're not coachable. What they are is transactional. And what we're going to find as more businesses, particularly distributors, try to remove costs that aren't adding value, is those transactional-type people are going to be moved into different roles.
MDM: I really love what you said that, there a minute ago when you said, you know, 'Hear what you used to be able to see.' That's such a good point.
Roberts: Well again, it's teachable. You know, I'm a big advocate of having a formal sales process. Because with a formal sales process, typically we see a lift in revenue of anywhere from 10 to 15%. As long as salespeople follow it. Once we have a process, we can monitor it. Where, where does a sale stall? 'Oh, interesting. We're having a lot of activity, but very few meetings.' 'Oh, interesting. We're having a lot of meetings, but they're not turning into quotes.' Or, 'Hey, our close rate on quotes is only 15%. Why is that?' 
Once we have that process, and people follow it, it actually improves your close rates. But if they don't follow it, and they skip steps like having really good discovery questions, and qualifying questions, it makes virtual selling almost impossible.
MDM: Yeah, I mean, let's touch back on that point that you made a second ago about, you know, it does so much come down to training and being teachable. And some people just are not teachable or not coachable, like you said. How soon do you realize that these people have that limit? And then how do you get them out of there?
Roberts: Well, again, I'm a big data person. So, we can probably — well, everything that we look at in the assessment tool is observable. Often when I do an assessment for a sales team, one of the largest teams had over 300 field salespeople. And when I reported back the CEO kind of smiled on the Zoom call, and he's like, 'You know, I don't like hearing what you said, but it kind of validates what I believe anyway. We need to make a decision.' 
Like one of my distributors actually said, 'You know what? What you said about this particular person doesn't shock me, but he's been loyal. He's been with my company 30 years. And what I'm going to do is just change his role. His role is now going to be taking care of those accounts that he's always done. And he's going to be with us another five years until he retires.' 
That's a business decision you're making. As opposed to just hoping, and assuming, you know, that individual is out prospecting every day. Because that particular person wasn't. They boldly even said in the assessment they don't plan to. So, it's about making sure people are in the right roles with the right skills. And sometimes it's about having the right tools. 
And that's what's another powerful output from the assessment that we do is we take a look at your systems and your tools, and make sure that your team has the right mindset. Where, two areas where a lot of distributor salespeople struggle is talking about money. And as the zeros on the PO keep escalating, so do the discounts. So we need to get them over that and help them understand to sell based on value. And then the other one, of course, is the need to be liked. If they have a high need to be liked, they're not going to ask really good questions that are going to give you an unfair advantage to close the business.
MDM: Oh, interesting. That's because they don't want to create conflict or …?
Roberts: Yeah, they don't want to, they don't want to worry about hurting the relationship. And the shame is, once they've been taught on how to ask those questions, it actually improves the relationship because now you're not sounding like a rep. You're sounding like a trusted adviser, somebody that has market insights, and somebody that could really add a tremendous amount of value to the customer.
MDM: Yeah, let's go back to a point that came into my head when you're talking about, you know, the person who is going to retire in five years and kind of transitioning him to a different mindset, type position. I mean, I imagine that's increasingly happening, you know, as, as the industry ages and, you know, people get toward those last few years of their career, they've got a different, you know, mindset, than those hungry, early years. How do you build that connection between the people who are starting out and have that drive, and then those who are transitioning out?
Roberts: Now the good news is, again, we assess everybody, everybody goes through the same tool. How they answer the questions is different, but we make sure that they at least have the skills in the current role that they're in. If we find a few gaps, we can close those typically in two to three months. What we try to do is, we identify the ones that will have the biggest impact on ROI. You'd be surprised how many distributors' salespeople struggle with closing, literally just asking for the order. They've done all the heavy lifting, but they struggle with closing or negotiating, right? 
So, with those individuals, let's say we have somebody, they're about to exit in the next six years. We do an assessment, we find out, you know what, they're awesome at building relationships. They actually understand how to sell based on value, but they struggle with closing. What we're going to do is very quickly put them in a training program that helps them understand how to close, how to improve their discovery questions, their qualifying questions, not spend time on accounts that perhaps they'll never close. 
But then also, you know, like one of my distributors, I want to say it was over, over 50% 57% of their current sales team is going to retire in the next six years. What makes me nervous there is there's a tremendous amount of value in the minds of those individuals that aren't written anywhere. So, what we started doing was creating these peer-to-peer learning experiences, and we record them. So that as we onboard new people, maybe that person has retired, but we have their digital knowledge forever.
MDM: Oh, as a journalist, I like to hear that. It's like a little, you know, series of interviews.
Roberts: Because if you ask one of them, you know, 'How do you do what you do?' They can't tell you. I mean, some might try to, but when you interview them, and you ask them very specific questions, 'Hey, the customer said, this is the reason.' 'Oh, well, OK, when they say that, here's what you need to say, or here's the best sales tool to overcome that, or here's what I would recommend you do.' It's so powerful. It's so rich, and it's usually so simple. 
But we need to be start, start to capture those right now, before they leave, because there is a major exodus coming. And all that knowledge is going to be leaving your organization if you don't capture it. So that's why a lot of what, you know, the way I help teach and train is, obviously we do some slides because a lot of it's virtual right now, but we require them to do application exercises and share their work. We actually create drives and it's amazing some of the very powerful sales tools that come out of it from some of your most senior people.
MDM: Yeah, that must be the critical step. Because you know, it's one thing to gather the information, and it's a whole 'nother thing to do something with it.
Roberts: That's the struggle, right? That's why a lot of times, when we do training, there's coaching that comes along with it. Because like with any other change, you're requiring them to do some new behavior. If you don't provide coaching along the way, they're going to go back to what they've been doing, where they feel safe, even if it wasn't working.
MDM: So what about when it comes to, you know, kind of standard sales team plateaus or, you know, you might use the word 'excuses' for reasons why, you know, you mentioned pricing and things like that. What, what are those biggest pain points that you hear from distributors, and how they've been able to overcome them?
Roberts: Well, right now, we're hearing a lot of pain, right? With supply chain. You know, my kids are showing me the Google Earth, right? I've been doing this a long time. So that new, that's a new tool to me, but you can see the amount of ships in harbors, right, that have yet to be unloaded. And I hear the pain from distributors saying, 'Look, you know, I just had one of my largest accounts, and I had to tell them, you know, the lead time that used to be six weeks is now 16 weeks.' 
What we need to do is help distributor salespeople understand how to maybe walk through some of those supply chain challenges. You know, what else could we do? Is there anything else that could be a temporary fix? Is there anything else that maybe we could assemble to solve this customer's problem on those urgent, large customer, you know, issues? 
The other thing is I, I call it, again — my stuff is very basic — you know, do your salespeople understand their ABCs? And what I'm talking about there is, you know, who are your A accounts, B accounts and C accounts? 
I usually get pushback from sales, because, 'Everybody should be treated the same. Whether you buy $1,000, from me, or you buy a million dollars from me.' But that just can't be today. So, we need to strategically look at who are we going to really take care of? Who's critical to the future of our business? And who are those little accounts that buy every once in a while — and oh, by the way, they're the least margin sale that we make every year. Make some key decisions, because every part that goes to those people, you're probably bleeding profits. 
At one of your conferences, I want to say it was Denver, there was an amazing presentation on what's called the whale curve. And I highly recommend every distributor, run your ERP data through the whale curve adding the cost of sale, because it'll quickly show you about 20% of the people you're shipping right now, you lose money on. So why not redirect sales efforts and those very hard-to-get parts to people that are actually profitable?
MDM: Right, yeah, it makes sense to me. So, you know, you talked about this a little bit earlier today, it's important to emphasize the point that if we don't understand the customer, how they buy today, the criteria that they need, that even the best sales processes will fail. So, do you want to just touch on that? Just to kind of recap what we've been discussing today?
Roberts: Yeah, it's all about being much more buyer-centric. Understanding, like, you know, has their criteria changed? For example, one of my clients is a manufacturer of bolts and fasteners. And what they're starting to see through their distributors is the RFQs are now asking, 'Is this a, is the point of origin the United States?' That was not a question 18 months ago. 
So, as you can imagine, that question is coming up. 'We can boldly now share, yes, our parts are made in Ohio.' You know, 'Domestic manufacturer, 100%. We're in control of our production.' Other things that are coming up, you know, is some of the distributors are really focused on inventory. You know, as you can imagine, cash is king. So, we actually adapted — based on interviewing a lot of this particular manufacturer's distributors — and adapted our minimum requirements. Again, we're just adapting to what the market's requiring.
MDM: Yeah, it seems like that's the most important thing people can do these days.
Roberts: But the biggest pushback is often somebody in the room that says, 'Well, that's not how we do business. We've always done it this way. My grandfather did it this way.' Well, your grandfather didn't even have a cell phone. I mean, times have changed. Obviously, if there's a practice that your grandfather did, that your customers still value, by all means, keep doing it. But we need to measure almost everything we're doing and make sure we're getting an ROI from it. 
And you'd be shocked when we do these voice of customer calls. We, one of the questions we ask is, 'Is there anything this person should stop doing?' And there are things that distributors are spending money on, services that really aren't required anymore, but the customer is not going to tell you to stop doing them, right? Unless you try to do a price increase.
MDM: So like, what would be an example of that?
Roberts: Oh, for example, in one instance, we had a distributor that had, I can't say out loud, but it's just let's just say a lot of invoices for one customer. And basically, what the customer was doing was having the distributor stage the orders. Well, every transaction, every invoice had a cost. And, when we did the analysis on their profitability, it was a real shock to the team that this very large customer was really low in an overall margin when you take into effect all the different costs of sale. 
So, we quickly engaged with the customer. We gave them options, you know, there's like four or five ways to improve the margin on account. And one of those ways is larger orders per transaction, like they originally did. But they drifted away from that vision that maybe they had five, 10, 15 years ago. And they were doing whatever it takes, right, to keep the guy happy. But to keep the guy happy, he wasn't willing to pay for whatever it takes. 
So, we went back and shared, 'Look, you know, if we continue this, which we will, your price is going to need to go up this much.' 'Well, no, I can't accept that. What do I need to do?' 'Well, actually start buying like you used to.' And it just prompts really good business conversations. They don't need to be adversarial. That person's in business as well. And they often understand some of the challenges you're facing. And if you work collaboratively, it's actually an opportunity to improve your relationship.
MDM: Yeah, I mean, I imagine a lot of this coordinates with incentive and compensation changes on the salesperson side, too.
Roberts: Oh, definitely. I mean, one of the things that just makes me cringe is when I see salespeople only compensated based on revenue. One of the first things I try to do with the teams that I engage with is make that compensation based on profitability.
MDM: How do you even begin to — are there small steps to take to sort of make that tweak from revenue to profitability?
Roberts: Yeah, you have to, I mean, like any other change management exercise, you have to map it out. You have to get, you know, stakeholders to buy in. You might have, for example, the VP of sales being your biggest, you know, person that you need to win. Maybe it's not. Often the CFO is, is like leading the charge, as well as the CEO. 
But you know, there's gonna be people that argue that, you know, you're wrong. You just got to map it out and do it strategically, communicate it. I had one client, overnight, try to do open-book management. And it was it was a train wreck, right? I mean, we never really taught — before they engaged with me — we never taught their salespeople anything about business acumen. How the business runs, what margins we need to make, what's the cost of overhead, things like that. 
So, when we did open book, the salespeople were like, 'Wow, I didn't realize we were making so much money. I need to do discounts. I need more money.' I mean, it was a train wreck. So, make sure if you're going to have any change management exercise, training goes along with it. 
MDM: Yeah, that's a really good point. All right. Any final thoughts on, on the topic of, you know, overall sales development and changes, Mark? 
Roberts: Yeah, I have people all the time saying, 'Well, Mark, this just seems like an awful lot of work. And my team is really busy.' Well, I want to make sure that the busyness that you're feeling now is not a post-pandemic bubble. Because when it pops — and it will, it's just a matter of when everybody gets caught up — where will that leave your team? 
And please, don't be making any investments or growing your team until you know that the reason you're growing is because of the effectiveness of your team, systems and processes. And not just because your competitors couldn't ship.
MDM: That's a great point. Thanks so much for joining us today, Mark.
Roberts: Well, thanks for having me. And again, I love your content. And I just downloaded your recent paper on e-commerce. I mean, very powerful stuff. I appreciate all you guys do. 
MDM: Well, that's great to hear.