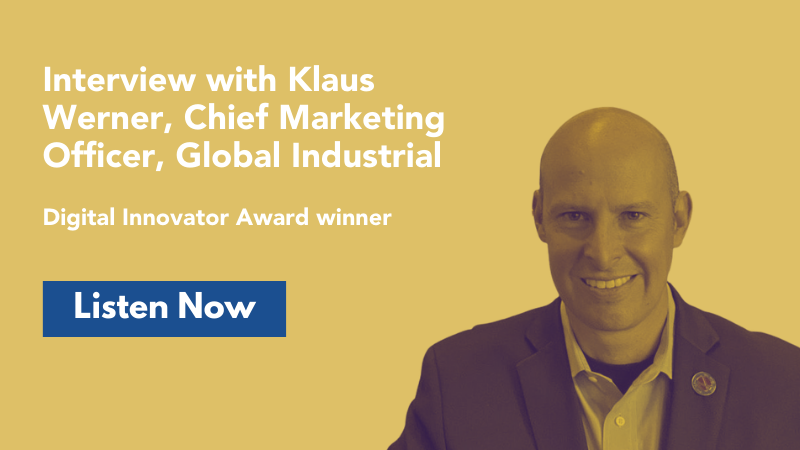 Summary
Klaus Werner, the chief marketing officer at Global Industrial Co., was named one of MDM's Digital Innovator Award winners because of the numerous initiatives he has helped drive at the industrial distributor in this last pandemic-plagued year. In addition to leading the company's rebranding efforts, including a website redesign, Werner oversaw the creation of a Knowledge Center that provides customers with expert advice and product info. He also managed a new social media campaign that saw Global Industrial venturing into the unlikeliest of channels for a distributor — TikTok. In this edition of the MDM Podcast, Senior Editor Eric Smith speaks with Werner about the busy year for him and his team, and how their initiatives resulted in measurable improvement for Global Industrial's bottom line.
Transcript
MDM: This edition of the MDM podcast is brought to you by Magnitude. Any company selling products today needs to win at delivering the right content, in the right context, at the right time to an always-connected customer. Get a leg up on your competition with a simple to use, full-featured product information management solution. Agility PIM from Magnitude makes it easy to support commerce across digital and traditional channels. Curious if PIM is right for you? Take the three-minute PIM readiness assessment at agilitymultichannel.com.
Now, please enjoy this episode.
MDM: Hello, everyone. Welcome to the MDM podcast. My name is Eric Smith, I'm senior editor with Modern Distribution Management. And today on the podcast, I'm joined by Klaus Warner, who is the chief marketing officer for Global Industrial Company. Welcome, Klaus.
Werner: Thank you so much for having me, Eric. It's a pleasure.
MDM: Well, hey, you know, I wanted to start out with just a quick background history, tell me a little bit about how you got into the field of marketing, as well as how you got into distribution, and how long you've been with Global Industrial?
Werner: Absolutely. So, I've been with Global Industrial for about a year and a half. And I've been in distribution in one way or another, probably about 20 years. Because I've been with companies such as retailers and other industrial distributors in the past, where I've intersected with distribution in one way or another.
In terms of me going into marketing, I took a role back in the '90s with a phone company, where I started in a very junior marketing manager role that evolved into an e-commerce role. And so, my journey into marketing was a little different in that I started doing a little bit of marketing, communications, started doing a lot of e-commerce and web work. And then the relationship between the web and marketing kind of came together. And I grew as a marketer like that. So, it was a little bit of a different path. But, you know, you can get to the destination a variety of different ways.
MDM: Yeah, I've certainly found in this industry that people end up in distribution, from all different industries, they come in many different ways. And your story certainly speaks to that.
I wanted to talk a little bit about what innovation means to you, and why it's important to be leading the charge for innovation at Global Industrial.
In your nomination form for MDM's Digital Innovator award, Ryan Golden outlined some of the ways that you've really helped bring innovation to Global Industrial. Maybe take me through some of the things that you've been focused on, especially over the last year. This has been an unprecedented time for all of us with the pandemic, and you guys have undergone a lot of changes. Take me through some of the highlights of the past year, and really where your focus has been, Klaus.
Werner: Yeah, so maybe what I'll do is talk a little bit — the last year, I think we all know, was a very unique year that we all had to pretty much dig deep into our bag of tricks and into the things that we've learned through the last 20 or 30 years of leadership. This is the opportunity for us to sink or swim, right? And really focus on fundamentals, focus on really listening to the customer, observing what's happening with the market and looking at what your competition is doing. And then, going out there and taking some risks to be able to, at the end of the day, provide to the customers that we have the solutions and the things they were looking for.
In terms of innovation, to me, innovation is really critical for a business of our size, because if we don't innovate, or stand out, we're going to be stuck in the middle. We won't differentiate. And if you don't innovate, you just won't succeed. So, it starts from how does our brand differ from everybody else's? What are the things that we need to do so that when somebody looks at us, they immediately recognize us and know what we stand for?
So, we went through a very robust rebranding in really modernizing the brand, look and feel, making it a lot more contemporary, but also the brand voice, and the colors, and the bold capitalization. Once you see an ad from Global Industrial, you will never forget it. Once you hear our tongue-in-cheek language, you will never forget us.
And in fact, a lot of our ads, people look forward to them. It's like, you know, we had an ad for steel lockers. You know, not what I would call one of the most exciting categories, but people need them, right? And how do you differentiate? You have a headline that reads something along the lines of — it was something about 'Our Lockers Rock' — that we were not like a 'heavy metal brand' or something like that: Our Lockers Rock, or something like that.
So, to me, it's all about, how can you have some fun in this business? Right? Differentiate yourself but do it in a way that people are gonna take it seriously. It's like, 'Wow, these guys are — they know the business, they understand it. They're keeping me engaged, I want to get to know them better.'
MDM: I want to talk a little bit more about the rebrand. Obviously, the company used to be called Systemax and rebranded to Global Industrial Company, or just Global Industrial. Do you think, Klaus, that that speaks more directly to the customers that you serve, and the markets that you serve? And, to your point, at the same time, industrial is not known as the sexiest of industries, industrial distribution, but you guys are able to keep that name and still have a little fun with some of the advertising and branding that you're doing.
Werner: Yes. So, you know, just to give you a little background, what happened was, is that Global Industrial has been the name of the company for about 70 years, or some form of that. And as the company grew, there was the parent company name called Systemax that merged. And, Global Industrial was a subsidiary of Systemax. As our business evolved, we ended up having two companies, Systemax and Global Industrial. Systemax, the parent; Global Industrial, the child. And it was confusing our customers, our investors, our stakeholders. So, what we decided to do was basically to sunset the Systemax brand, and just focus on Global Industrial.
MDM: How has it worked so far? I mean, what's been the response from customers? And maybe there's not much of a difference in terms of, you know, how people react to the company, knowing that it's Global Industrial, as opposed to Global Industrial, which is part of Systemax.
Werner: Correct. Well, it only has been three days since we officially changed the name on the New York Stock Exchange. So far, the response has been very positive. For the most part, very few people were impacted. Our customers always knew us as Global Industrial. So, it was no change for them. Our employees, you give them a little clarity. The majority of our employees are Global Industrial employees, there were only about 20 Systemax employees. So for me, my paycheck looks different, has a different name. But aside from that, it is the same company and nothing other than that has changed. It's a little clearer, particularly for the investor community, it avoids confusion. When we're recruiting for new employees, it also avoids confusion and things like that. It's a lot clearer message, it's a lot clearer go-to-market strategy.
MDM: Well, and I will say that, from a media perspective, I think it's helpful, too, because now when we cover your earnings reports, we can just say Global Industrial, and it keeps it simple. And people know who we're talking about. So that's another that's another field where I think, certainly, there's some clarity around there.
I wanted to talk, Klaus, about some of the innovations over the past year and a half. And really what were some of the challenges faced, whether they were internal, whether they were external. Was it difficult getting some of these innovations off the ground and implemented?
Werner: You know, I'm very fortunate because the leadership team, my peers, the board, the CEO of the company, have really empowered me to lead this change, and given me the carte blanche to move forward, take some risks and allow me to fail — fail fast and fail forward, right?
In my opinion, failure is good, because that means you're taking risks, and you're pushing the envelope. So, what we've really tried to do is say, 'Listen to the customer. What are you guys interested in? Listen to them, listen to the complaints, listen to ideas and suggestions, and act on them.' That was the most important thing.
Our customers want more solutions, rather than us talking to them about the individual products: 'How can you solve my problem?' 'There's a pandemic, how can you help me solve this problem?' 'I don't know what to do.'
So, what are the solutions for room by room? How do you keep a safe workplace? How do you keep a safe break room? How do you keep safe lobbies and conference rooms and things like that?
That was our thing around pandemic management. And we focused on reopening.
And the future of the company is highly predicated on us continuing to focus on solutions that we will communicate via our knowledge center that we launched about 45 days ago or so. It's all about providing customers information so that they can solve their problems: 'I need to clean 800,000 square feet of warehouse.' 'This is the right scrubber for you.' 'I need to clean a grocery store.' 'This is the right scrubber for you.'
So to me, it's being able to provide customers with an education as to, using the scrubber example, there are dozens of scrubbers you can choose from. What is the right solution for you based on your application? Based on how frequently you need to do this?
Same thing applies to things like pallet jacks, right? Somebody needs a pallet jack, they need to understand, depending on where your product is in its life cycle, you need a different product.
Let's talk about a chocolate chip cookie. When it gets manufactured and it gets put on a pallet, you need forklifts to move them around. As you start breaking them down and shipping them in cases, maybe all you need is you just need a pallet jack to move it around because you may be moving four or five cases. Then finally, when the cookie makes it to the grocery store, you move it in a small kind of volley type thing. And then you put it on the shelf.
Same thing applies, the shelving that you need to store big pallets, it needs to be a lot more rugged in the DC. And when it makes it to the grocery store, you need something that lends itself for display.
So, to me, it's all about storytelling, right? How do you do that? And that's the innovative way of communicating with our customers and giving them the information they need so they can make the right decisions.
MDM: I'm glad you brought up storytelling because one of the things that I wanted to talk to you about was social media. Distribution is not a space that's necessarily known for its creativity with social media. And for its humor and for its engagement. A lot of people in this space don't even have a social media presence. Or maybe they've got a LinkedIn company page. And that's about it. I don't know if you could take me through how Global Industrial views social media as a channel for reaching more potential customers and more existing customers as well. And, what we might see from say, Global Industrial on TikTok.
Werner: Yep, so we are on TikTok. I don't know if you knew that. And we actually have some really interesting and fun videos. And from my perspective, when I think of content, I think of — I will call it the trifecta.
So, the first thing that you need to do is create some quick and engaging videos to pique the customer's interest. Something, again, somewhat fun, easy to watch, but also provide some robust information and say, 'Wow, this is really interesting. This has piqued my interest. So let me click through to the knowledge center to read an article about this topic.' Right?
So that TikTok video leads you to an educational article, and then you say, 'Wow, now that I understand the right way to set up a warehouse, now, let me do a deep dive on pallet trucks,' for example. 'Let me go into a buying guide.' The buying guide, that completes the trifecta.
So, you have something to pique your interest, something to educate you, and then something to help you do your purchase decision. These buying guides can be very robust. They can have graphs, they can have calculators, you know: 'Help me calculate how many feet of this do I need in order to put up some shelving' or whatever the case may be.
The more we can give tools to the customer, the better. Right? If they see us as a trusted source of information and research, that's what drives loyalty. That's what drives repeat purchase.
MDM: Yeah, that's really interesting. And you know, throughout the conversation today, Klaus, you've talked about Global Industrial's leadership, board of directors. And you've also talked about the importance of storytelling. Wondering if you could take us through what it's been like in terms of getting some of these ideas in front of the senior leadership team? You're obviously a part of the senior leadership team, but in front of the board of directors, and making sure that the other people in the C suite at Global Industrial are buying into some of these ideas you've got around storytelling, around rebranding, around giving Global Industrial more of a personality. Has it been a hard sell for you? Or have they been engaged in saying, 'Klaus, this all sounds great. Go for it and get this stuff going?'
Werner: It's been a little bit of both, right? Clearly, you know, when you're making substantial investments, they're just not going to hand me the money. So, all of this needs to be based on a thoughtful and disciplined approach, thoughtful and disciplined business case. And data driven.
As I told you earlier, I do have responsibility for all of the data and analytics. We don't do anything unless there's data to prove it. Right? You should — that's my philosophy of marketing. If you can't measure it, don't do it.
But I've had to be an evangelist. Go out there and do some education. There's a lot of technical things that we needed to do and are still doing in order for us to drive this transformation and this innovation. What is our underlying data structure? How are — is the taxonomy of our products intuitive?
Our taxonomy had evolved, which is our product hierarchy, had evolved into a little bit of a way that was making it really difficult for people to find stuff. So, we completely redid the entire taxonomy of a site — 1.5 million products.
So, that was really important for us to do that. Because if you don't have your products organized in a way that it's intuitive, it drives to search fatigue. And when you get tired, and you can't find what you're looking for, you're gonna leave and go somewhere else.
So, I've had to be an evangelist: 'We need to invest in taxonomy; we need to invest in UX, UI; we need the site to be faster; we need to focus on conversion and friction in the sales funnel.' And all, every single one of those things, comes with an investment opportunity. So, you got to evangelize, you need to educate, you need to be able to put in a robust and disciplined business case. And when you do all of the above and start delivering results, you'll continue to get the funding in order to continue to do the things that are going to help grow your business.
MDM: Well, speaking of growing the business, I did want to mention here that, based on MDM reporting from back in February, Systemax's (as it was known at the time) Systemax sales improved almost 9% in 2020. And you guys had a really solid first quarter as well — sales grew 10.5%. And, you know, I bring these up, Klaus, because you mentioned, 'measurable.' And, you know, there certainly been some measurable improvements that you guys have seen in the top line.
Wondering if you could share what some of the measurable improvements that you're able to show with some of the marketing and rebranding efforts that you guys have done? I mean, are you able to show, you know, what the customer conversion has been, for example, or what the engagements have been on social media, just bringing more people into the Global Industrial universe?
Werner: Yep. So, well, I'll tell you a couple things. We have a ways to go on a variety of different things. Right. So, we rebranded January 11. When we rebranded, which is when we redid our logo, our brand voice, our bold colors, and tongue-in-cheek language, it's a slow-moving river. You don't rebrand and people recognize that the next day. We're actually about to field — we did a baseline study on brand recognition. And we are re-fielding that study in the next 30 days. That's going to give us an opportunity to see how well the brand is doing and how people feel about it. Is it working? Is it not working? That kind of thing.
We've been doing a lot of things around, like I said, removing friction in the funnel, and making it easier for people to get through checkout, find product. And all of that stuff, all of that has had an impact on conversion. Given we're publicly traded, we don't share specific numbers. But what I can tell you is, we wouldn't be continuing to do this if we were not getting the results that we desired. And, and I'm really pleased with it.
But I'll also tell you, there's no such thing as, you give me a million dollars and the conversion is going to double in 30 days. All of this takes time. There's a lot of data, there's a lot of tweaking, there's a lot of you know, a lot of these engines have artificial intelligence, it takes a while for these engines to learn and get better. But, you see, in the investments that we've done, we're seeing an acceleration and growth in the key performance indicators that we're looking at.
MDM: I wanted to come back at this point, Klaus, and bring up a word that you mentioned earlier in the conversation, which is 'differentiation.' Do you feel like Global Industrial is really differentiating within your markets and with your competitors because of some of these moves that you've been a big part of? And, you know, is this an area where a distributor, and industrial distributor in particular, really can find some whitespace? Because, you know, there's not there's not a lot of companies doing some of these innovative, unique creative things. Do you feel like there's a real opportunity to build on what you guys have been doing over the last year-plus, and ramp that up and take it into even new directions for the rest of 2021 and beyond?
Werner: Absolutely. So, you know, in order to differentiate, the differentiation is not a 'once and done.' Your competition's not standing still; the customer's not standing still. And the market is not standing still. Particularly in this kind of what I refer to as post-pandemic world, all the rules have changed. Everything from customer expectations to employee expectations to the way people are behaving is changing. So, we can't stand still. This rebrand process is a multi-year project.
There's a rebrand 2.0, to be announced. We have some really cool things that we're thinking about how we're going to continue to evolve the brands and differentiate. I think we've differentiated. But at the end of the day, what I think doesn't really matter. What really matters is what our customer thinks, right? And that's why we're doing this study, voice of the customer study, to see how is our brand awareness and brand perception changed in the last six months compared to what it was prior to the rebrand? So, I'm really excited to see what our customers have to say. Because did we get everything right? Absolutely not, nobody does. But as long as we don't sit still, we listen to the customer and continue to evolve, I think that we're gonna continue to differentiate in this very, very crowded marketplace.
MDM: Well, whenever Global Industrial is ready to unveil what the rebrand 2.0 looks like, I hope that you'll share that with us. And we can share that with our audience, so that our readers can see what the company is doing. And I'm sure that a lot of businesses are gonna take some of these things to heart and maybe even implement some of them themselves. And, you know, we're elevating the entire space here is certainly our goal.
Klaus, is there anything else that you think is important to talk about? Whether it's your role, whether it's the company in general, you know, whether it's what you're doing with marketing, or some of these innovations at a Global Industrial, anything else that you want to share with our audience before we let you go?
Werner: I think the most important thing is that I represent a team of many marketing professionals that are making this happen. So, this is not Klaus doing it; I try to set the North Star. But I really want to take a minute to recognize all of the marketing and e-commerce and analytics and creative associates that have really been able to bring this to life, have been able to drive the innovation, the improvements in our web presence and everything that we're investing in. It's because of them that I can represent Global Industrial and say that we're an innovative company. And again, I just wanted to recognize the team of associates that are making this happen every day.
MDM: Well, Klaus, thank you so much for your time today. Really appreciate you sharing some thoughts with us. T
Werner: Thank you, Eric. It's always a pleasure.
MDM: And again, that was Klaus Werner, chief marketing officer for Global Industrial, joining us today on the MDM podcast.