On April 18, the Industrial Supply Association announced that Craig Vogel is the recipient of the 2023 John J. Buckley Lifetime Achievement Award, the highest honor bestowed by ISA to an individual in the MROP channel for their longstanding service in the industrial supply industry, according to a news release.
"Craig Vogel is the embodiment of what this award stands for," said ISA President Brendan Breen. "During his time as Chairman of the ISA Board, he selflessly helped the organization navigate challenges and opportunities with vision and purpose. He stands as a role model and a true servant-leader for all ISA volunteers to follow."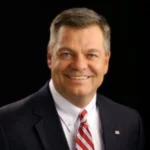 Vogel has spent more than three decades serving the industrial industry, most recently as Vice President of Industrial Sales for Stanley Black & Decker. He has also demonstrated his passion for supporting military service personnel and veterans pursuing careers in manufacturing through his support and advocacy for Workshops for Warriors, ISA said.
"In addition to Craig's customer advocacy, you would be hard-pressed to find an employee in these companies who Craig did not impact. He is an incredible leader who always put his team and employees first from the plant floor at East Long Meadow all the way through the executive teams," said Maria Ford, President of North America Industrial/Commercial Sales & Marketing at Stanley Black & Decker, Inc. To this day, Craig is still passionate about giving back through his work with the ISA convention and beyond. Craig has instilled, in all of us, a passion for this industry and his career and connectivity is truly one to emulate. His contributions to the industrial supply industry have been immeasurable, and his passion for serving others is an inspiration to us all."
Photo caption: Craig Vogel delivers his acceptance speech after receiving ISA's John J. Buckley Lifetime Achievement Award on April 18 at ISA23 in Phoenix.