On March 14, Charlotte, North Carolina-based industrial manufacturing conglomerate Honeywell announced that Vimal Kapur, President and Chief Operating Officer, will succeed Darius Adamczyk as CEO on June 1.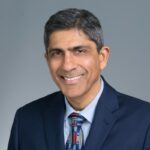 Adamczyk, who became Chief Operating Officer in 2016, CEO in 2017 and Chairman in 2018, will continue to serve as Executive Chairman of Honeywell, the company said. Kapur was also appointed to the company's board of directors effective March 13.
"Vimal is absolutely the right person to lead our company to the next level of growth and stellar performance," Adamczyk said. "Vimal brings 34 years of deep knowledge about our businesses, end markets and customer needs. His ability to drive our key sustainability and digitalization strategic initiatives, along with his advancement of our world class operating system — Honeywell Accelerator — throughout the organization, gives him an outstanding platform to drive continued outperformance for our shareowners. Honeywell's next operational evolution, under Vimal's leadership, will be the incorporation of Accelerator and standardization of global business models to enable maximal performance in each business segment."
Kapur was named President and Chief Operating Officer in July of 2022. Since then, Honeywell said he has "led the creation of new solutions to help customers drive their sustainability transformations and accelerate their digital transformation journeys."
Kapur has also overseen the continued integration of Honeywell Accelerator across the organization and furthering its adoption as an operational system, the company said. Prior to his role as COO, Vimal served as President and CEO of PMT, an $11 billion global leader in the development of high-performance products and solutions including low global warming refrigerants, specialty films for healthcare and photovoltaic applications, leading technologies for the global refining and petrochemicals industry, and process solutions.