On Aug. 22, Athol, Massachusetts-based L.S. Starrett Company — a manufacturer of precision measuring tools, metrology systems and saw products — announced it has appointed Seth Downing as its new strategic accounts manager North America industrial products.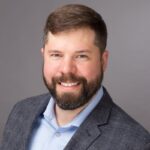 The role was previously held by Michael Connor, who was recently promoted to Sales and Marketing Director, North America, for Starrett industrial products.
According to a company news release, Downing has more than 10 years of experience in tool manufacturing focusing on the industrial, retail and automotive channels.