Last week, 3M announced the appointment of Bryan C. Hanson as CEO of 3M's Health Care Business Group, when the independent health care company when it is spun off from 3M.
Hanson will join 3M on Sept. 1. He comes to 3M from Zimmer Biomet, a global MedTech innovator with annual revenue of more than $7 billion. Hanson has served as President and CEO since 2017 and Chairman since 2021.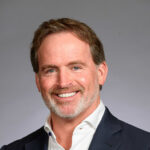 "We are pleased to have Bryan join us to successfully complete the spin off of our Health Care business and build a leading independent medical technology innovation company," said Mike Roman, 3M Chairman and CEO. "His industry expertise, ability to drive growth, and track record of building a strong culture and teams will make an immediate impact."
3M's Health Care Business Group reported $8.4 billion in sales in 2022.
"I am honored and excited to join 3M's Health Care Business Group at such an important time in its evolution," said Hanson. "I have a deep respect and admiration for what 3M has built in health care — strong brands, quality products, commercial excellence, and customer-driven innovation. I look forward to working with the team to more deeply understand and realize the potential of our business as we accelerate our path forward, and build on a legacy of trusted leadership and medical innovation."
The company also announced that Carrie Cox will serve as the Chairman of the Board of Directors of the independent Health Care company. Cox currently serves as the Chairman of the Board of Organon, and on the Boards of Directors of Cardinal Health, Selecta BioSciences, and Texas Instruments.
Monish Patolawala also is being appointed 3M President and Chief Financial Officer, effective Sept. 1. He will is expected to be responsible for executing country prioritization and country governance to his current responsibilities which include leadership of finance, information technology, office for separation management for the upcoming spin off of Health Care, office for project management as the company executes on announced actions, enterprise strategy, and 3M's global service centers.
The appointments were announced about a week before 3M agreed to pay $6 billion to resolve lawsuits filed by U.S. service members who said their earplugs caused them hearing loss or other injuries.