On April 24, home improvement retailer Lowe's on announced it is introducing a suite of mobile tools that will drive efficiency and help its Pro Rewards Members stay closer to their job sites.
Lowe's said its MVPs Business Tools are available to download via Lowes.com and the Lowe's mobile app. The company said Pros can use the Lowe's MVPs Business Tools to "simplify their resupply process with easy order placement and tracking."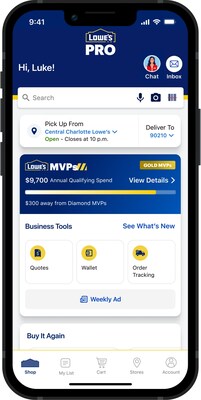 According to Lowe's the app and website features include:
Online quoting: Instead of visiting a store or calling to get a quote, Pros will be able tp build and update online order quotes within minutes. Pros can also complete purchases online at the quoted rate, with pricing guaranteed for 7 days, Lowe's said.
Volume Savings Program: Silver-Tier MVPs Pro Rewards members and above can also unlock savings on eligible orders of $1,500 or more.
Buy It Again: Pros can reorder frequently purchased items via the "Buy it Again" prompt, which can be sorted by frequency, recency and price of purchase.
Order Tracking: Pros can easily view purchases and track deliveries from a centralized page, Lowe's said.
"We know that for Pros, time is money. As demands on their time increase, new technologies like the MVPs Business Tools help Pros be more efficient and stay focused on their business," said Tony Hurst, Senior Vice President, Pro and Services. "These enhanced digital features replicate our fast and simple in-store shopping experience so Pros can manage their orders from anywhere – whether that's on the jobsite, at home or out of town."
The app news follows two other recent announcements from Lowe's. The company announced on April 19 details of rooftop solar panel installations at 174 store and distribution center locations nationwide, including 20 sites currently in operation. On March 6, Lowe's said it had asked entrepreneurs and businesses to apply for its "Into the Blue: Lowe's Product Pitch Event," the company's second-ever live product sourcing event scheduled for June 13.