Inflation data released by the Bureau of Labor Statistics this week was even higher than many analysts anticipated, with pricing rising 6.2% in October compared to last year. It's the largest annual increase in nearly three decades. Distributors have been feeling the pinch of inflationary pressures throughout the pandemic and expect pricing pressures to remain high. In the October monthly industry forecast produced exclusively for MDM by the University of Colorado Boulder Leeds School of Business, data reinforced the months-long inflation spike that's been occurring since the spring.
Discussions out of the Federal Reserve still frame the high inflation as temporary while supply chain disruptions work through the economy and bottlenecks eventually ease, according to Brian Lewandowski, executive director, business research division at Leeds. Still, he adds, "There's a lot of concern about these prices remaining high into the medium term and what sort of slowing effect that could have on the economy."
Inflation trends can be seen in the chart below. Note that 'core inflation' excludes transitory price changes that are frequently subject to volatile price changes, such as seen in the food and energy sectors.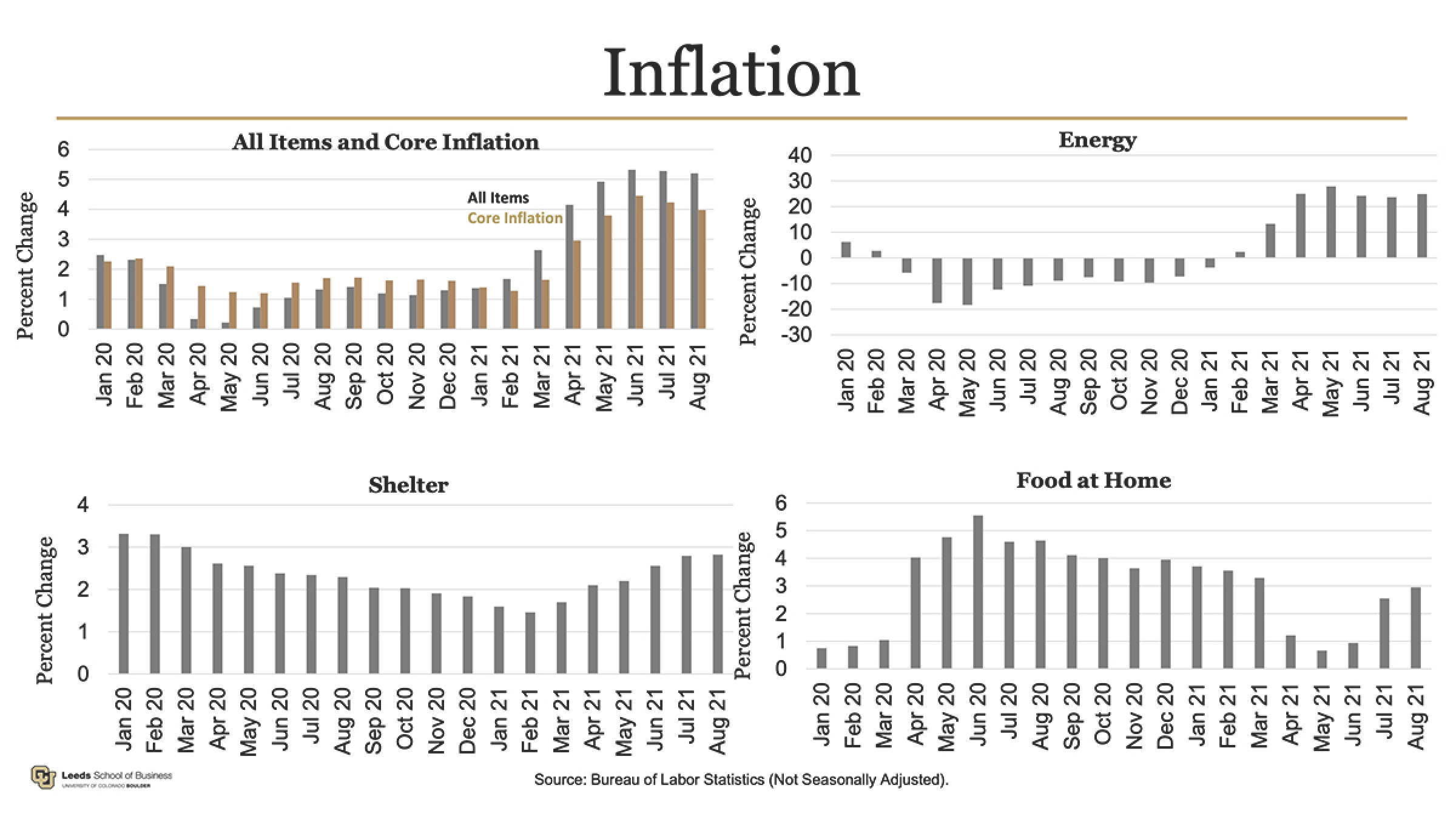 These inflation concerns intersect with other issues distributors are facing, namely labor shortages and supply chain constraints. As employers pay more for labor, the floor for pricing goods rises. And as shipping containers pile up at U.S. ports, there aren't enough dock workers to unload them, Lewandowski points out. These issues are "not fixed yet," he adds. "So, I don't think we should expect these prices to come back down in the next couple of months."
Growth forecast
As of early October, the industry growth forecast was 21% growth for 2021. Looking ahead into 2022 and beyond, Lewandowski still expects strong growth by historical standards, but at a slower rate. "We're looking at 6.6% growth [in 2022], and then go out a little bit further to 2023 and we're looking at 3% growth."
However, he adds, expect the ongoing inflation and supply chain issues to potentially impact those projections. It's important to note that the forecast is in current dollars, not in inflation-adjusted dollars.
"There's a lot of questions about how the supply chain disruptions and inflation and worker shortages will even impact the rest of 2021 when we're taking a look at the forecast for GDP," says Lewandowski. "Expectations have been coming down. They're still strong, but expectations are getting a little bit lower."
A generally good sign is that inventories are building in wholesale and manufacturing. It may be a sign that the industry is starting to work through the supply chain issues, Lewandowski says.
But even if a manufacturer has some of the parts it needs to build a product, it may not have all of them. With that in mind, "even though we're seeing an increase in inventories, I don't think that's a clear-cut signal that the inventory constraints are easing," he says. "But I still think it's generally a positive indicator that the concerns are better than they were a few months ago."