U.S. nonresidential construction spending increased 0.3% in January, according to an Associated Builders and Contractors analysis of data published by the U.S. Census Bureau.
Nonresidential spending totaled $968.7 billion for the month on a seasonally adjusted annualized basis, ABC said.
ABC said spending was down on a monthly basis in seven of the 16 nonresidential subcategories. Private nonresidential spending was up 0.9%, and public nonresidential construction spending was down 0.6%, according to the analysis.
"Nonresidential construction spending inched higher to start the year and is just below the all-time high established in November," said ABC Chief Economist Anirban Basu. "On a year-over-year basis, spending in the nonresidential sector continues to outpace inflation. That's largely attributable to strength in the industrial segment; manufacturing-related construction spending surged 5.9% in January and is up by an astonishing 53.6% since January 2022. With the CHIPS and Science Act directing $280 billion into semiconductor manufacturing and an ongoing desire to reshore manufacturing capacity, the segment should continue to thrive."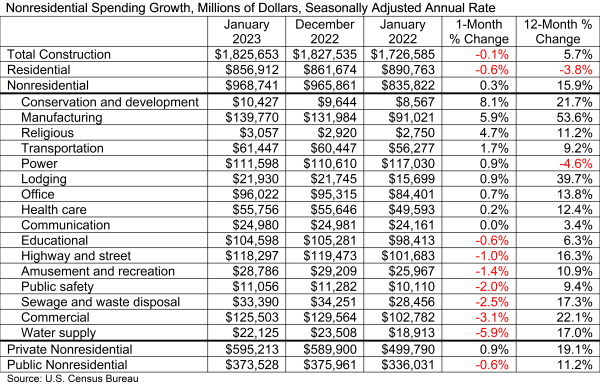 Basu added: "Excluding manufacturing-related construction, nonresidential spending actually declined in January. A combination of headwinds, including severely elevated borrowing costs, ongoing labor shortages and still-high input costs are likely to blame. Despite these factors and a gloomy economic outlook, a majority of contractors continue to expect their sales to increase over the next six months, according to ABC's Construction Confidence Index."