Lowe's Companies, Inc. (NYSE: LOW) of Mooresville, North Carolina, has named Brandon Sink its new executive vice president and chief financial officer.
Sink is expected to assume his new role April 30.
Sink, the current Lowe's SVP of retail finance, will succeed Dave Denton, who is stepping down as EVP/CFO to "pursue another opportunity at a publicly traded company outside the industry," Lowe's said. Denton will work closely with Sink and the Lowe's leadership team to "ensure a seamless transition," the company said.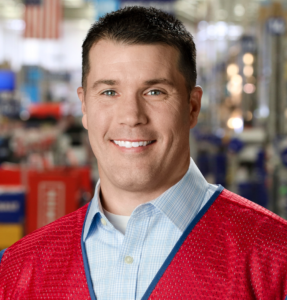 Sink joined Lowe's in 2010 and has held roles across the organization, including in finance, strategy and accounting.
"Brandon is a highly accomplished executive, and we are excited for him to take on the role of CFO," said Marvin R. Ellison, Lowe's chairman, president and CEO. "During his nearly 12-year career at Lowe's, Brandon has worked closely with our executive leadership team and has demonstrated a deep understanding across all facets of our business. His appointment reflects our succession planning process and the talent across our company. He is a proven leader with strong financial and operational acumen, and I look forward to working together as we execute our strategy and continue to grow our market share, expand operating margins and deliver meaningful shareholder value."