Global Industrial has been on a repositioning journey over the past five-plus years. It divested international technology distribution operations to focus on its North American industrial business, rebranded under the Global Industrial name, and has driven a hybrid sales model of direct sales supported by a digital and multi-platform marketing platform.
So it was good timing with the release of its 2021 financial results in February to catch up with Global Industrial CEO Barry Litwin. In our podcast discussion, he discussed how Global Industrial is investing in key strategic initiatives in 2022 — in sales, marketing, private brand, digital transformation and distribution — to drive sales.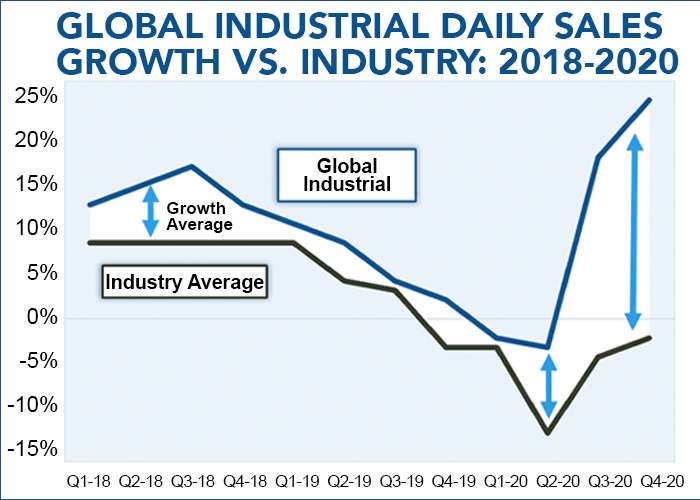 Global Industrial reported consolidated sales in the fourth quarter of 2021 decreased 4.3% to $262 million compared to 2020, but overall annual sales increased 3.3% to $1.06 billion.
The 4Q of 2021 had 61 selling days, five fewer days than the same quarter in 2020. Sales increased 3.5% on an average daily sales basis. Consolidated operating income grew 23.7% to $26.1 million compared to $21.1 million in 2020, the company said.
With a positive economic outlook for U.S. markets, the company is planning to add to its sales team. While that may seem counter to the company's historic e-commerce platforms, Litwin sees growth opportunity in Global's markets: "Given that we're all in somewhat of a fragmented market condition, it's a good opportunity for us to add strength to our sales organization, both in terms of sales, resources, management, technology and everything in between."
One of the sales model transformational pieces Litwin outlined in more detail was Global's deeper integration of marketing into the sales process, specifically with the rollout of new customer relationship management (CRM). "Our marketing organization is taking a bigger piece of that role to introduce new categories through CRM technology using personalization and trigger campaigns that allow us to present new categories and new items," he says, "to customers based on their past purchase experience, and based on what they're talking to with our reps to actually help do some of the selling for our salespeople.
"So they can spend more time working with customers on solutions and closing deals. And the marketing organization becomes much more intimately involved with the customer and communicating the right types of products and services that might be of interest to that customer to expand share of wallet."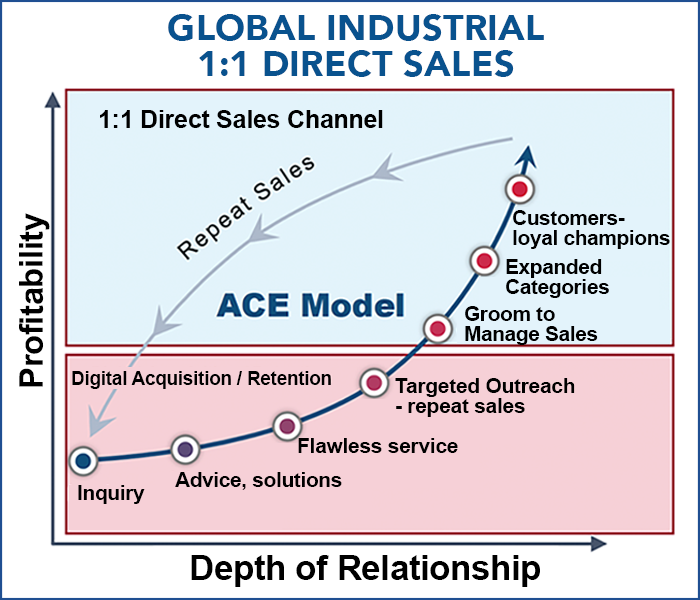 At the core of Global's strategy has been its ACE Model (Accelerating the Customer Experience) to build a customer-focused culture. "It hits so many different areas of business," Litwin says, "but it is a very integrated approach to reaching the market. Digital is kind of the red thread that runs through not just the e-commerce and mobile side, but really it impacts the ERP system, impacts the service side of the organization, and impacts the supply chain and things we do there relative to automation.
"So it's (ACE) fairly ubiquitous in terms of its impact to the total business. I think that's what keeps us relevant. That's what I think keeps our service experience and our selling experience really good. And we continue to just follow the strategy that we've been on for the last several years, which we're really confident in. And we're excited about where it could take this year in 2022."