With an ERP system serving as essentially the backbone of most distributors' operations, we cover it as a topic at MDM thoroughly — providing thought leadership and best practices regarding maximizing usage, integration, migration to the cloud, upgrades, syncing it with eCommerce and a lot more.
It's a huge content topic, and a lot of the content we publish about it is contributed from ERP experts. But while a lot of that content is comprised of do's-and-don'ts kind of thought leadership, there's not a whole lot out there that shows input from actual distributors. Sure, there are ERP case studies, but not much in the means of distributors' concerns, challenges and preferences when it comes to choosing an ERP vendor and software product.
We here at MDM do our best to make sure we're not telling distributors what to do. Instead, we want to be a resource that tells distributors what they can do, and how. Research reporting is a great way to do that, and Epicor has just provided an excellent new report packed full of distribution-specific findings about their ERP journey.
Earlier this year, Epicor surveyed nearly 250 distribution sector decision makers about their current ERP, across all deployment types. They were asked about their ERP journey, how satisfied they were with their system and what they wanted to see for the future. The results were shared in Epicor's new 2022 Distribution Industry Insights Report, the results of which were the centerpiece of our latest webcast, "Distributors Speak: What We Need From an ERP/Cloud Partner," which aired Aug. 25 and is now available on-demand.
The event featured Meredith McCusker, senior principal product manager for Prophet 21 at Epicor, who walked the audience through the survey results in that report, accompanied by insights from myself along the way.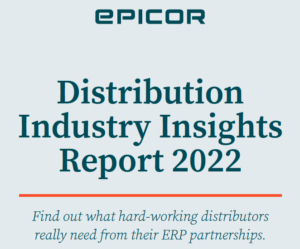 Here's a quick recap of just some of the report's interesting findings:
83% of respondents said their ERP solution is in some form of hybrid between on-premise and SaaS/Cloud, with only 60% indicating at least half of their ERP is cloud-based, while only 6% said it's either entirely on-premise or hosted off-site.

44% of respondents said they are actively looking to change ERP solutions every one to three years — either via an upgrade or a different vendor's solution — and 42% said they are at least thinking about looking in that same timeframe. This contrasts with the 89% of distributors that said they at least somewhat agree that they are loyal to their current ERP vendor. It perhaps illustrates that, while the vast majority of distributors feel loyal to their vendor, it only goes so far.

20% of respondents said they are actively looking to change ERP solutions every year.

"Integration with new technologies" (33%) was picked as the top trigger for re-evaluating an ERP solution, ahead of "Noticed better solution from another provider" (29%) and "Better functionality from another provider" (29%). Integration indeed is often voiced as the top concern or challenge from distributors when it comes to ERP solutions, as potential business interruption is a top fear for all.

Asked to choose their top attributes needed from an ERP vendor, distributors' selections were all closely ranked, with the top eight all within 5 percentage points of each other. "Interoperability with other business systems" and "Specific features relevant to my business" narrowly led the pack at 32% each.

Similarly, distributors' top 10 concerns for migrating to the cloud were tightly packed, all chosen between 36-38% of the respondent field. "Pricing structures," "Integration with other applications" and "Training staff in new systems" each tied at the top with 38%. Migration was the umbrella concern, as "Data loss," "Time to implement/migrate" and "Security in transfer" were also top choices.
The webcast explored many more data points than these.
The biggest takeaway I had from the report — and what McCusker presented in the webcast — is that there isn't one particular concern or challenge that distributors voiced that was far above others. The survey findings suggest that distributor concerns are pretty evenly spread, which tells me ERP vendors need to be excellent service providers across-the-board. With so many distributors looking to upgrade or switch to a different vendor's solution, it may not take much of a lapse in any one support area to make a distributor jump ship. Just as distributors are challenged with keeping staff in-house amid competitors eager to poach talent, it appears ERP vendors must be just as vigilant to keep their distribution clients happy.