On Sept. 19, Utah-based Industrial Supply Company announced that Jessica Yurgaitis has started her role as the company's new CEO.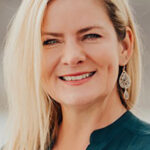 Yurgaitis, a long-time member of Industrial Supply's Executive Team, replaces Chris Bateman, who retired this summer. The company announced June 28 that Yurgaitis would become its new chief executive.
Yurgaitis serves as the Vice Chair of the Industrial & Safety–U.S. Division of Affiliated Distributors, and is a former Board Member of the Industrial Supply Association.
"Not only does Jessica have an intimate knowledge of our business model, but she also is deeply committed to personalized customer service and strong vendor relationships, both of which set us apart from other suppliers," said Randy Evans, Co-Chairman of Industrial Supply's Board of Directors.
Yurgaitis is the great-granddaughter of Industrial Supply's founder, Rudy Orlob, and she is part of the fourth generation of company leadership.