The Institute for Supply Management (ISM) released its monthly Manufacturing ISM Report on Business on Aug. 1, and the well-regarded industrial economic barometer showed a modest month-to-month improvement while remaining in contraction territory.
ISM's July Producer Manufacturing Index (PMI) showed a reading of 46.4%, which was a 0.4 percentage point improvement from June. It was the ninth straight month that the PMI was in contraction (anything below 50.0%), following a 28-month streak of expansion.
MDM'S SHIFT Conference, held Sept. 18-20 in Denver, brings together distribution leaders to learn and network across topics of sales & marketing, digital transformation, data analytics and talent management. Find more info here.
Of the five subindexes that directly factor into the PMI, none were in growth territory in July. Most of the July PMI highlights were negative:
Of the six biggest manufacturing industries factored in, only one — petroleum & coal products — registered July growth 

The New Orders index logged an 11th-straight month of contraction

For a second straight month, none of the 10 total subindexes were above 50%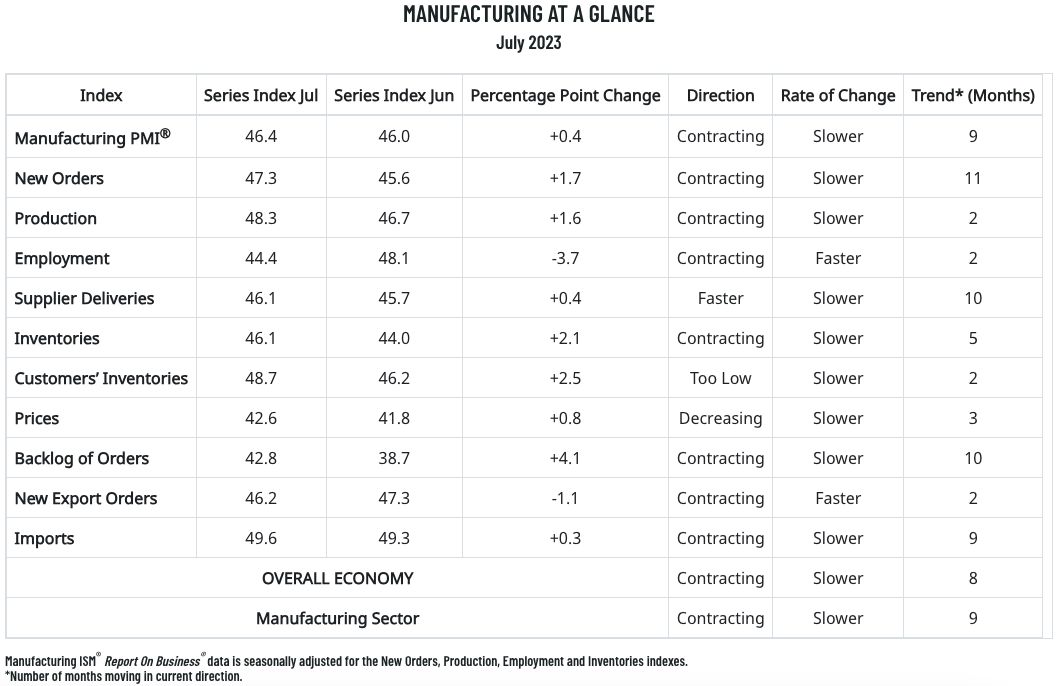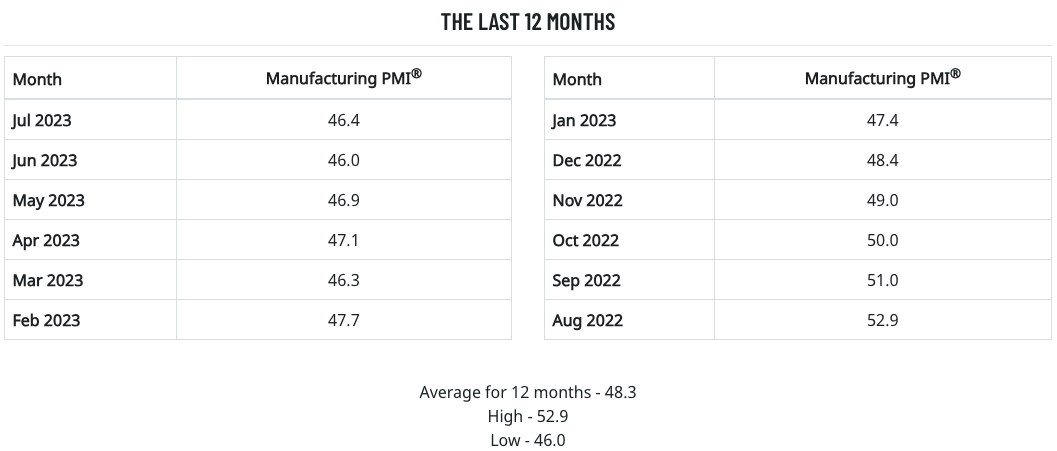 Here is a sample of ISM manufacturing PMI survey respondent commentary for July:
"Current U.S. market conditions of inflationary and recessionary tactics affecting overall business. Customers are reducing or not placing orders as forecast, (putting) internal focus on reducing financial liabilities and overhead costs." [Computer & Electronic Products]

"Sales in our industry are extremely slow entering into the second half of the year, and no upturn is expected until at least the fourth quarter." [Chemical Products]

"Demand is softening. Some pricing starting to decrease. Back orders mostly resolved." [Transportation Equipment]

"Stable demand for the next four to six months, but longer-term uncertainty. While customer growth is projected, we cannot point to fundamentals that sustain it. Supply conditions are similar to pre-pandemic, except for energy and raw input costs. Logistics costs have settled, transit times continue to shorten and capacities at most suppliers are sufficient." [Fabricated Metal Products]

"We are still in our slow season but will soon ramp up production to prepare for our busy season in late fall. Inventories aren't changed much now but will be increasing soon. The reports on cooling inflation and consumer confidence are driving expectations of a very strong back half (of the year)." [Food, Beverage & Tobacco Products]

"Suppliers are starting to reach out looking for new business. Softening is occurring in the China markets." [Machinery]

"Sales remain higher than forecast. Supplier capacity issues remain an issue." [Miscellaneous Manufacturing]

"Semiconductor trade restrictions against China have negatively impacted our industrial business in North America." [Electrical Equipment, Appliances & Components]

"June was a strong month, but July has been way off for construction." [Nonmetallic Mineral Products]

"Order book continues to be strong. Working overtime to complete orders. Labor availability is still the number one constraint impacting production. Cannot find qualified salaried or skilled trades people to hire. Hourly temporary employees are of poor quality and walk off after taking the job." [Primary Metals]