The advent of eCommerce has sparked a revolutionary shift in the distribution sector, completely transforming how businesses go to market. With the advent of online platforms and digital marketplaces, companies now have unprecedented opportunities to reach a global audience and streamline their supply chains.
This digital revolution provides convenience to buyers and empowered businesses to expand their reach and enhance operational efficiency, paving the way for a new era of commerce. Research from McKinsey shows that 94% of B2B decision makers view today's B2B omnichannel reality — where customers buy face-to-face, remotely, and online — as effective or more effective than before the onset of the COVID-19 pandemic.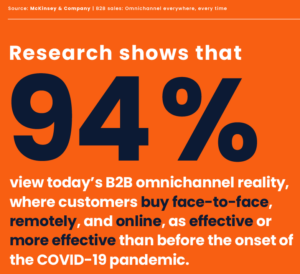 While large national distributors have wholeheartedly embraced eCommerce and are reaping its numerous benefits, the rest of the distribution sector finds itself in a more intricate and nuanced relationship with this digital phenomenon. As the industry continues to evolve, smaller distributors and regional players often struggle to navigate eCommerce challenges and opportunities, seeking guidance on how best to adapt and thrive in this increasingly digital-first landscape.
Read on to delve deeper into the profound impact of eCommerce on the distribution sector. Discover valuable insights on how distributors can effectively navigate this ever-evolving landscape and stay competitive in the face of technological advancements and changing customer preferences.
Understanding Distributors' eCommerce Challenges
But why do so many distributors struggle with eCommerce? A significant issue that distributors face is a lack of visibility into their customers' browsing behavior. They can see website traffic, but not the granular insights on what products are viewed and why.
As a result, they cannot drive sales because many are using the eCommerce platform simply as an "eCatalog." Dealers and other customers use it to search for products rather than to actually transact business online. This makes it difficult for distributors to justify spending more on their eCommerce strategy when they aren't seeing the promised return on investment.
Additionally, eCommerce initiatives aren't cheap, and distributors often lack the time, money, and tech resources to manage a successful eCommerce platform.
But distributors that focus on rolling up their sleeves and getting deeper into their data, can reap additional rewards from their eCommerce presence. They can use this data to understand what products their customers are searching for and how frequently. Distributors can then use this data to pass along to their sales representatives for follow-up, which will help them build stronger relationships with their customers.
Building Trust with Customers and Employees
Regardless of size, distributors need time to accept doing business online as the new reality. They have always relied on sales based on relationships, and eCommerce is a new way of working that requires building trust. Therefore, distributors must take the time to build a relationship of trust with their customers, which can be accomplished by leveraging eCommerce technologies.
eCommerce is here to stay, and distributors must embrace it. The comfort level of doing business online is rising. Industry data shows that 77% of B2B buyers are willing to spend $50,000 or more doing business online, and 35% are willing to spend $500,000 or more.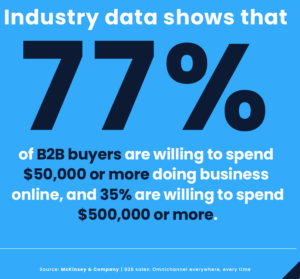 Distributors must recognize that eCommerce is about providing a seamless customer experience that builds trust. When distributors start to work with their eCommerce channel and not around it, they can find ways to be successful in the new sales landscape that increasingly is leaning into digital channels.
Once some baseline ROI is established, distributors can then move more confidently forward in adding to and building out their eCommerce stack, building trust within their organizations in working in this new manner.
How to Embrace eCommerce with the Power of Data
Distributors should embrace the hybrid online/offline engagement approach to maximize their sales opportunities by leveraging the power of data to their advantage. Distributors must embrace eCommerce analytics tools to better understand customer behavior and identify trends that can help them make more informed decisions. With the right data, they can better understand the needs of their customers, customize the customer experience and successfully drive sales.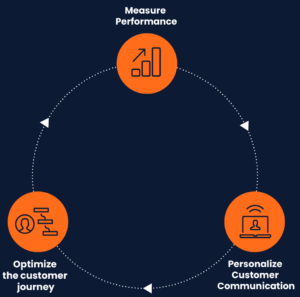 By leveraging eCommerce insights and data-driven analytics tools, distributors can empower their sales representatives to make smarter decisions. Data-driven insights can help distributors personalize customer communication and create targeted marketing campaigns. Additionally, they can use analytics tools to measure the performance of their eCommerce strategies, optimize the customer journey and ensure they deliver the best possible customer experience.
Ultimately, distributors must understand that eCommerce isn't just about selling products online. By embracing the power of eCommerce analytics, they can ensure that they stay ahead of the competition and remain relevant in the ever-evolving digital landscape.
Rise Up and Be a Part of the Revolution
The rise of eCommerce is revolutionizing the distribution sector, disrupting traditional models and reshaping how goods are bought and sold.
Embracing eCommerce is essential for the long-term survival of distributors. It is not just about having an online presence but also about using digital channels to maximize sales on existing inventory and to offer up alternatives for product stock-outs. Distributors can improve the ROI of their eCommerce presence and increase sales conversions by adopting a "work with what you got" philosophy.
Ultimately, distributors should consider conducting a thorough analysis of their eCommerce presence and identifying areas for improvement. They should also invest in employee training and development to stay up-to-date with the latest digital marketing strategies and technologies. With these steps, distributors can position themselves for success and thrive in today's ever-evolving marketplace.
Want to learn how White Cup can help you maximize your existing eCommerce investment to sell smarter? Connect with us today to see how White Cup can help you discover new opportunities, close deals faster and increase revenue!