In every industry, sales team communication can be a culture boon if done right, and a source of constant frustration if done wrong.
This is certainly apparent in distribution and manufacturing sales, where digital communication tools have rapidly burst onto the scene and are now an essential part of the hour-to-hour workday.
I can distinctly remember an interview I had in late 2017 with then-Lawson Products CEO Michael DeCata about how the company's sales teams had been seeing major efficiency increases once it started using Microsoft Teams as a group chat tool in the spring of that year. This was still when that tool and Slack were just catching on at organizations.
Fast-forward almost six years, and these chat tools are everywhere at B2B selling organizations. It's amazing how much that has changed in less than six years. 
If distributors weren't using it pre-pandemic, they almost certainly began using it once their office staff was forced to go remote or hybrid during the height of COVID-19 safety precautions, and I have to think that the vast majority of businesses that adopted such communication tools during then haven't looked back. They're here to stay as an integral part of the office communication process.
Group chat tools were a major step up from relying on email for all B2B sales digital communications, but there's certainly more tech involved today. Shared document folders have worked wonders to help democratize file-sharing.
But that doesn't mean sales team communication is without faults. I recently interviewed vSimple Technology Sales Specialist Katie Duvall on this topic, and she told me that these newer tools can — at times — also be a cause of communication frustration.
Louisville, Kentucky-based vSimple is a workflow-as-a-service provider that aims to streamline the communication and file-sharing processes for organizations. 
Duvall's career path started in the hospitality world, during which a catering run led her to a sales position at fans maker Big Ass Fans in 2014, which resulted in six years of experience in direct sales.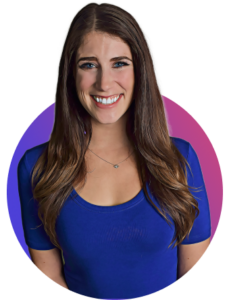 "There was no middleman. We had a building for sales, accounting and engineers, an R&D lab, and then across the street was our manufacturing plant," she recounted. "So it was pretty unique to sell a product that was literally being manufactured and assembled within walking distance. To this day, I have memories of running across the street in the rain to make a custom change request before it got on the assembly line. Or I could have a guy grab something off a truck before it shipped out. Not many companies have that capability."
Rounding out her industrial sales experience, Duvall joined electrical supplies distribution giant Wesco in January of 2020, just before the COVID-19 pandemic disrupted supply chains, workflows and working environments into disarray. 
"Not only was I trying to learn the ins and outs of the distribution world, I was trying to create new business outside of our existing contracts," she told me. "And this proved super difficult with lead times for everything going up. Gloves, disinfectants and masks were almost impossible to find. I had no idea what I was in for. This time, I was the middleman. I had no control over manufacturing or inventory delivery times. The whole experience of calling suppliers became harder and pricing got more competitive."
Two years later, Duvall's Big Ass Fans connections led her to a position at a software startup in vSimple, which involved another learning curve, but allowed her to leverage her insights into both the manufacturing and distribution sales workflow pain points.
Q&A
I asked Duvall to compare the workflow between those two sides, outline their pain points and touch on the low-hanging fruit that B2B firms can pick to make improvements.
Check out the rest of our conversation below:
Mike Hockett, MDM: I figure your background has enabled you to have a holistic perspective of the manufacturer-distributor sales relationship and what's involved in the workflow process for both sides. What would you say the biggest differences are between the two?
Duvall: On the manufacturing side, I took part in the recommendation on size and design and provided education on the production of the product, like fan placement and the most efficient ways to use it. I had a unique role there, but it felt more personal. People shared their home layouts and professional spaces to someone like me over the phone, and they trusted my recommendations. People also loved the fact we were made right across the street in the USA, so that fact alone won us a lot of business. 
While on the distributor sales side, I was essentially the customer expert. Westco developed solutions to satisfy the complex challenges customers face every day. My role was mainly on the MRO side. I would research. find and order the correct part for an immediate need and preventative maintenance plans. These parts ranged from a 75-year-old heating element for a unit in a power plant in the middle of Kentucky to more generic like slings and casters. 
Regarding workflow, I would work to ensure that the products and services were available when and where they're needed and that they met the customer's expectations. So manufacturing or distribution, I enjoyed learning both sides. And I believe that it's more important to look at how all the parts work together, because now I have a better understanding now more than ever of how it all happens.
Hockett: We don't want to bad-mouth either side, but what would you say are the top 1 or 2 things that manufacturers or distribution sales reps consider the worst or most annoying part of their workflow or internal communications process?
Duvall: I think it always comes down to the communication between departments. In my experience with manufacturing sales, the biggest challenge was the communication between accounting and sales, not knowing that a customer is on credit hold for two months, so their P.O. never gets processed. Or maybe it was between the manufacturing line and the warehouse and sales. Perhaps I made a promise that we couldn't keep to a customer, like offering a delivery date for a product that wasn't ready to ship on time. It's hard to take those calls for someone who's been waiting and prepping months for their item, but maybe we ran out of a certain part and that had not been communicated to the sales staff. I despise letting people down, especially after a positive sales order experience.
On the distributor sales side, it was almost more challenging because we were purchasing from a supplier for a customer, so there are a lot of hands involved. Sometimes things would get delivered direct. However, the majority of the time it would come to our warehouse. Communication between the warehouse and sales was not always at its best. Things would get delivered and sit in a warehouse for weeks and sales had no idea until the disgruntled customer calls looking for it, and we would go searching. 
I think it really comes down to technology, because if the right systems are in place for accurate stock management and picked items and communication with delivery, it would be a lot simpler.
Hockett: Manufacturers and distributors are always looking for ways to improve their sales processes and make life easier for their sales managers and representatives. In a general sense, what do you see as some of the low-hanging fruit in terms of how these companies can improve their workflow?
Duvall: I didn't even realize until I started at vSimple that most companies are using email as their operating system. I was just so used to using it that way, and it was the main form of communication between departments. Now, I talk to companies every day that are struggling because of essentially a black hole that's created in email with a Reply All button, and spreadsheets and shared folders being passed around them. Before you know it, you're lost, and you have no idea whose ball is in what court. 
You also have programs like Teams and Slack that are great for instant messaging someone, but also just another way to get lost in the cross-collaboration between departments. It's all private, it creates a pretty dramatic lack of transparency, and at the end of the day, the goal is to optimize and improve and automate. And when I say automate, I'm not saying hire robots. I'm suggesting you consider a workflow management tool in which a project or order whatever the workflow is lives in from start to finish. Some people do, but you don't have to hire a consultant to understand that there are too many softwares and programs that your employees are living in every single day. I say, keep email for customer communication and those wonderful "cookies are in the break room" notifications from HR.
Hockett: Most of our MDM audience is comprised of small-to-midsized companies that don't have the staffing resources of large nationals. But in terms of sales workflow, can that be an advantage in terms of flexibility and ability to act on these workflow improvements faster than at large companies?
Duvall: Yeah, absolutely. Some of these larger companies have been developing their own in-house software for decades. Believe me, I talked to them all the time. Most of them are not willing or ready to give up the time and progress they've created over the years, and less interested in picking up and learning something new. I'm not saying large corporations don't invest, but it really ends up just falling on the shoulders of the leadership team. If they have 10,000 employees and their focus is more on big-picture items, maybe they're not going to fully understand the gaps within day-to-day communication in their company. So those small-to-midsize companies, perhaps the atmosphere is more personal and they offer a more informal environment. Leadership is more likely to work alongside their sales and admin staff, which leads to a greater knowledge of the pain points within a group. Not to mention, everyone is more open to hearing new ideas and involved in the company's success.