In his 2022 letter to shareholders released last week, Amazon CEO Andy Jassy said that Amazon Business "today drives roughly $35 billion in annualized gross sales." To clarify, that represents the total volume of revenue flowing through the marketplace website, as opposed to Amazon's revenue generated from its own sales, commissions and fees charged to third-party sellers. The standard metric used to describe the size of marketplaces like Amazon or eBay is Gross Merchandise Value (GMV) or Gross Merchandise Volume — the total volume of revenue generated across a given time period.
Since launching in 2015, the company has selectively released GMV figures, the last time in 2021 when it pegged its worldwide GMV at $25 billion for 2020.
The Seattle-based company, which launched in 2015 after rebranding from Amazon Supply, also said it now has "six million active customers, including 96 of the global Fortune 100 companies." Based on these announced numbers, the company over the past two years has grown its GMV by 40% and its global customer base by 20%, up from five million customers in 2022.
In the past three years, Amazon Business has focused on growing its national account and a vertical sector strategy with an expanding suite of eProcurement tools for Fortune 500 accounts, as well as targeting the education, government and healthcare industry verticals.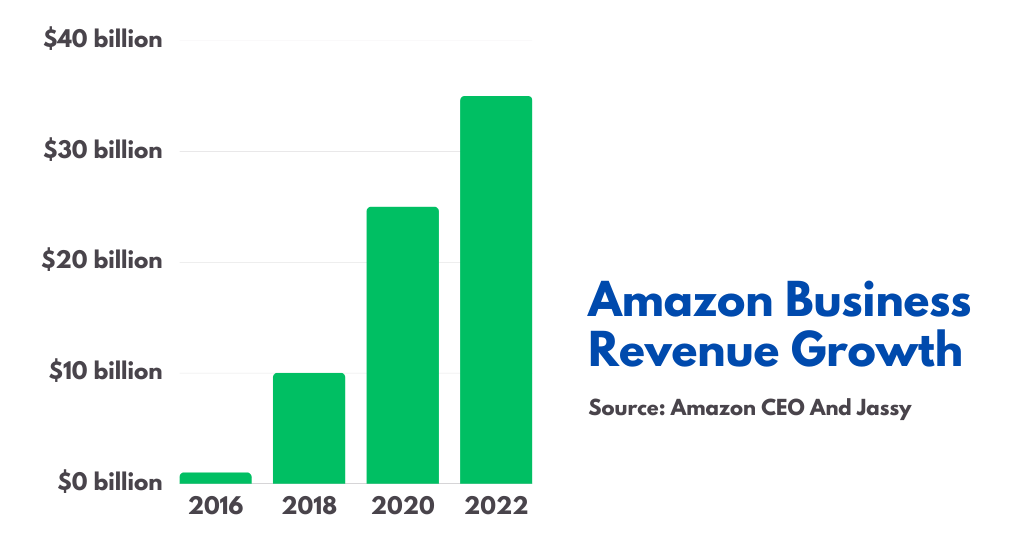 Amazon Business, Smoke, Mirrors & Expansion
Amazon Business has been consistently opaque in the past about its financials and operations. It has disclosed annualized revenues on a roughly two-year cycle since 2016, when it announced hitting the $1-billion revenue mark. As extensively covered by MDM, Amazon launched Amazon Supply in 2012 on the backbone of a fastener distributor it had purchased a few years before.
Three years later it rebranded Amazon Supply as Amazon Business, and with it the third-party seller marketplace. It took off from there. In recent years, the company has said that third-party seller revenues account for more than half of Amazon Business revenues and increasing.
In his 2022 letter to shareholders, Jassy also outlined an expansion of its marketing services to merchants outside of its marketplace, rolling out a "Buy with Prime" program fully at the beginning of 2023. Third-party brands can use a Buy with Prime option and functionality on their own direct-to-consumer sites, and tap into the range of benefits Amazon offers its marketplace merchants – free Prime shipping, checkout, Amazon Pay and Fulfillment by Amazon functionality.