Successful distributors differentiate commercial service levels (CSLs) based on customer need and value. In this series that explores the inputs required to define and differentiate service levels, part one covered inputs — gathering opportunity data, voice of customer and other information required to build CSLs.
Here in part two, we examine capabilities and responsiveness — differentiating product and service offerings, response time, solution customization and lead times.
Capability service levels focus on the product and service offerings provided to different customer segments. Differentiating offerings allows for cost management and ensures that top customers have access to value-added services or product customization. The capability group includes the following service levels:
Product access: Customer value dictates what types of products a distributor may offer. This service level component outlines the parts that our customer groups can access. For example, a distributor could offer standard parts to a majority of their customer groups. For their strategic customers, however, they may source and offer non-standard, engineered or custom products.
Sampling: A sampling service level defines the distributor's willingness to provide samples to their different customer groups. For lower-value customers, that may mean that a distributor offers samples for a charge and with a minimum quantity expectation.
Labeling: A distributor may offer custom packaging or labeling for their strategic customers. This can differentiate a distributor from their competition and truly enhance the customer experience.
Kitting: A distributor may provide inventory kitting services to strategic customers by creating a unique kit with all components required for their specific application.
Value-added services: This component may include additional services like managed inventory, design services, consulting services and safety or risk management services.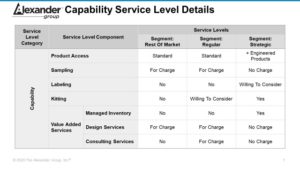 Also see: "Why You Should Consider Differentiated Service Levels to Grow Margins."
The Next Step
Responsiveness service levels focus on lead times and types of responses for different stages along the customer engagement process. By differentiating responsiveness throughout the process, it allows sales and other functions such as customer support and supply chain, to prioritize their work around the top customers.
Request for quotation: Differentiating response time to RFQs allows distributors to ensure that the teams involved in putting together pricing and specs can focus on providing the timeliest response to their top customers. A distributor may also further differentiate this service level based on whether the RFQ is for standard or custom parts.
Order shipment: Differentiating lead times for order shipment is especially valuable for functions that are involved in fulfilling and shipping orders. It is important that those functions be involved in the design of the service levels to ensure the capabilities exist to deliver those terms.
Change orders: This service level component outlines how we will respond to a customer asking to change ship date or other order details. In some cases, a distributor may be willing to honor all change orders but with differentiated lead times. More often, this service level outlines whether a distributor is willing to accept change orders or not. For their strategic customers, they may be willing to adjust orders or even cancel orders if it was for the greater good of the customer relationship.
Responsiveness to customer-specific inquiry: A distributor wants to ensure all customers have a positive experience but not the same experience. For this component, a distributor can differentiate how quickly they respond to inquiries from customers. Large customers would expect to hear back from their distributor certainly within 24 hours.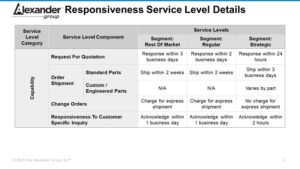 To identify the service level components to include in service levels, successful distributors gather inputs from stakeholders across different functions. This will ensure that the distributor designs service levels for areas that would benefit from differentiation and formal documentation.
Next up in our series: Support — differentiating access to the resources, technology and tools that span the customer journey.
Andrew Horvath is a principal at the Alexander Group, a management consulting firm specializing in revenue growth. He leads the distribution practice, monitoring trends and creating strategies to help growth-focused organizations stay on top of a rapidly changing market. 
Ann Marie Verhamme is a manager at the Alexander Group. She works with clients across multiple industries, including manufacturing and distribution. Her expertise in customer segmentation and go-to-customer strategy helps clients optimize complex sales models. For more information, visit alexandergoup.com.