Markets are transforming. Cultures are transforming. And business models must transform to keep pace. Whenever market conditions change, it creates gaps and opportunities to build competitive advantage. We will look back on the first half of this decade as a before-and-after time, when fundamental shifts took place in distribution businesses to change, stay relevant and grow profitably.
It's been a wild mix of disruptors and stressors. But as our team has documented the past two years, a lot of positive change and value has been created by so many distributors; it's important to recognize and acknowledge that.
As we get a little more distance between us and the shock of the pandemic onset and more comfortable in hybrid-as-usual mode, it's more clear that converging trends fueling the most successful distributors over the past decade — digital, data analytics, sales effectiveness, talent development — were exponentially accelerated by the pandemic.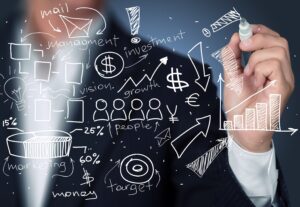 This industry is in the early stages of transition to digital-first distribution. An outside salesforce will still be a critical piece of go-to-market strategy for distributors of every size, but sales processes have to advance to keep pace with customer expectations and margin pressure. There's been a corresponding maturity in both digital and data analytics adoption as the race shifted to capture customer attention, regardless of how and where they want to engage. Sales and marketing functions, by necessity, have had to embrace a more data-driven mindset to compete effectively.
But the way in which distribution companies responded has been all over the map. Some companies pivoted quickly, while others struggled to get their teams re-aligned and re-connected with customers. Thus, the gap and opportunity remains to take share in your markets.
Since 2016, we at MDM have produced conferences focused on sales and digital transformation, analytics, the Amazon threat, M&A and the future of distribution in the wake of the pandemic. As we prepared for our sixth annual conference this year on sales transformation, I experienced a blinding flash of the obvious: This is bigger than addressing just sales process and structure; it's a deeper business model transformation.
The sales model is the core, the engine room, and I'd argue the top priority to update, adjust and indeed transform in light of where we are today. But real transformation work can't be done in silos. You can advance competitive capabilities to serve customers better, to sell better by leveraging digital, analytics and other operational parts of the business in innovative ways, but true transformation requires a team effort.
I wanted to share that train of thought for a few reasons. It's why we renamed our sales transformation conference series from Sales GPS to SHIFT | The Future of Distribution (Sept. 25-27 in Broomfield, Colorado). Of any conference we've produced over the past five years, this offers the best opportunity to help you achieve the transformation that's right for your team, your culture and your unique go-to-market strategy. In addition to our continued focus on the latest innovations in sales strategy, we've added dedicated tracks on digital transformation and data analytics.

We've also set the registration pricing to encourage bringing team members — it's so much easier to build momentum for positive change when you have the shared experience of the ideas, passion and possibility for the future that is going to be in that room. (We won't lack for energy and passion! We have Dirk Beveridge in the room, for goodness sake!!!)
I'm truly honored and humbled by the depth and generosity of thought leadership that's going to be there, not just in our listed speakers and panelists, but those who have attended in the past and are multiple years into their unique transformation journeys — it's an incredible network.
We'll be sharing more insights from our speakers as we get closer. And as in past years, our conferences are critically valuable to our team to focus our content and industry coverage going forward to bring you the insights and innovative ideas that can inform your day-to-day decision-making, strategy and our core goal of helping you build a stronger distribution business.
Markets inevitably compress as they mature; the patterns of disruptors in the past two years have challenged traditional go-to-market strategies in a blink. Five years from now, what will be the North Star that emerged for you and your leadership team to guide and build your competitive advantage for the future?
Here's more information on SHIFT | The Future of Distribution.