When Dickson Amoah joined Parts Town as safety and training manager in June 2019, he saw an opportunity to set the tone from the get-go. One of his first initiatives was hammering out a new business continuity plan to ensure Parts Town continued shipping products efficiently during an emergency.
He didn't anticipate his plan would be put to the test just months later.
Like all businesses, the Chicago-area food equipment parts distributor was forced to act fast at the onset of the COVID-19 pandemic. As more cases spread in late February 2020, the company quickly assembled a COVID-19 task force that included Amoah and other senior staff. Keeping the distribution center safe was their top priority. In early March, office staff were sent home to work remotely, enhancing social distancing measures and ensuring distribution team members weren't at further risk.
"The idea was protecting the distribution center first," Amoah says. "If we couldn't protect the distribution center, this company wouldn't be able to function. We wouldn't be able to ship orders, and our business would've suffered."
Since 2013, Parts Town saw consistent growth as the leading distributor of food equipment parts in the restaurant and foodservice industries. Part of that growth included a new distribution center in 2017. The roughly 150,000-square-foot space accommodates a wide selection of parts and is equipped with a highly sophisticated logistics process. That includes AutoStore, a tote-based goods-to-person system designed to pick fastest-moving items.
While even the slightest changes can disrupt the flow of inbound and outbound orders, implementing major safety protocols can have a large impact. Parts Town's distribution center saw significant shifts in layout, procedures and scheduling, but its core values and processes remained intact.
Rolling Out & Adjusting Protocols
In the early stages of the pandemic, there wasn't much information or resources available for handling the virus. The task force could only listen to health experts and read up on the latest safety trends. "At that time, we didn't even know what the disease was capable of doing," Amoah says. "We were getting guidance from the CDC, WHO and local officials, but the only thing we really knew about was washing hands and social distancing."
Troy Appel, vice president of Logistics and Distribution at Parts Town, was part of the task force with Amoah and recalls that the early days of the pandemic primarily focused on cleaning and sanitizing. "By the time we realized how dire the situation was, we had a hard time getting the cleaning chemicals. None of us were experts on what you use to kill viruses, so we were on a mad scramble to find the right cleaning chemicals and figure out what the procedures should be," he says.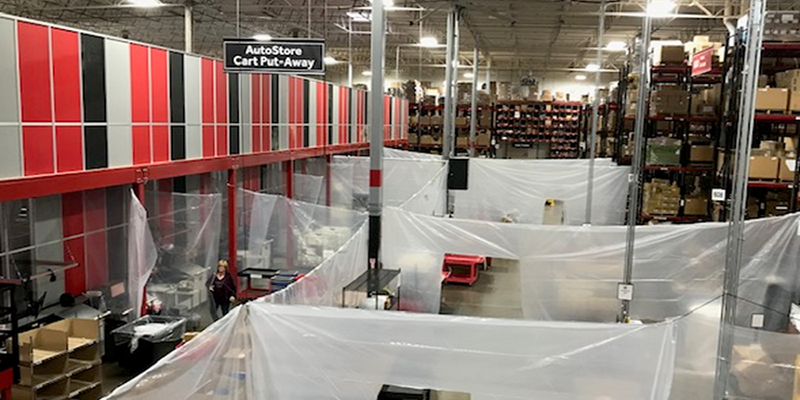 One of the first measures was spacing and adding makeshift partitions to encourage social distancing. Appel says the team strung plastic sheets on cables, hanging them from column to column. Wash stations were added to the middle of the distribution center, and shifts for the inbound and outbound teams were changed to limit the amount of overlap throughout the workday. A screening process was included to take employees' temperatures and check for symptoms. Those cleared to work were issued a wristband before starting their day.
"It was around that time we also looked at semi-permanent solutions to promote social distancing," Amoah says. "We added a lot of signage and indicators on the floor to keep everyone spaced."
Amoah also ran a mock drill to see how quickly they could get the distribution center up and running following a potential outbreak. The goal was to get the area functioning in 12 hours or less after the space and cafeteria were cleaned and sanitized. The drill showed that it could be done in under five hours. "It was so awesome that the company allowed me to do that," Amoah says. "If it was any other place, I would've had to go through a lot of red tape."
Also see: "Parts Town Grows Digital Tech with App Acquisition."
As more information about the virus came to light, Parts Town adapted some of its measures. That included deep cleaning procedures. In the first couple of months of the pandemic, the entire distribution center was sanitized in the middle of the day and at night. However, Amoah says Parts Town received information from the state and federal government in May 2020 that showed the virus had an extremely low chance of spreading through surface contact. While the nighttime sanitation still remains, the midday procedure was eliminated shortly after.
Also, once it was clear that distancing and limiting contact to respiratory droplets was crucial in stopping spread, the team switched from the makeshift partitions to installing permanent plastic barriers around the distribution center's workstations.
Capitalizing on Downtime
Innovation is one of the key pillars in Parts Town's distribution center. While stringent procedures and safety regulations could delay certain goals and opportunities, the company took advantage of downtime to continue improving its space beyond COVID-19.
With the near-universal lockdowns that deeply impacted the foodservice industry, the demand for equipment repair parts also fell steeply, causing an overall slowdown in the Parts Town distribution center. When there was a low volume of orders, Appel and his team tweaked logistics in a couple of ways. They revamped the packing process by removing non-value-added scans and developed print-and-apply, which is an automated shipping function that eliminates a box going through multiple scans to get to the packing list and shipping label.
Appel says that implementing these changes in a normal setting would've been challenging, especially as they received a high volume of items following the acquisition of Heritage Parts in fall 2019. "Pre-COVID, we would not have had any excess time to do process improvement," he says. "[The slow period] gave us time to improve the internal systems."
The company also accelerated its timeline to complete two major projects to the layout of the distribution center. The first was constructing a 20,000 -square-foot raised platform, which goes over the pedestrian pick area. The other was adding new narrow-aisle storage space.
Both projects had major safety implications as well, according to Amoah. "The platform increased space and created clear aisles," he says. "It also made a shelter-in-place spot for tornado warnings, which we used in October."
Commitment to Transparency
The company's COVID-19 task force knew that transparency was key from the get-go. As safety measures and changes to the distribution center took shape, the staff was notified promptly and with proper explanation.
When positive COVID-19 tests popped up over the last year, Parts Town also made sure to implement proper contact tracing methods and to notify the distribution center team when there were cases. Both Appel and Amoah say that mistakes other major companies made helped mold the company's decision to be open and honest.
Also see: "Parts Town Announces HVAC Partnership with YORK."
"We learned a lot from others in the industry who got hit before we did," Appel says. "We decided early on that we were going to be very transparent with our workforce. There were times our teams had open meetings on the floor. Without identifying anyone by name, we'd let people know if there was a positive case or if anyone was quarantined after being exposed to someone with COVID-19."
Amoah says the transparency was well received from those in the distribution center.
"They appreciated it," he says. "We had furloughed team members who went to other businesses and experienced exposures [to COVID-19] but weren't told what was going on. We wanted to give them the exact truth and give them all the facts as much as possible. That way, they can make an educated decision about what they needed to do to protect themselves and others in the business."
Appel echoes that sentiment, saying that setting expectations and explaining CDC guidance ultimately earned the team's trust. "We stay away from issuing commands and edicts because you have to tell people why you want them to do something different," he says. "When they understand, they're much more willing to comply."
A good example of this happened when there was a spike in positive cases in the Chicago area through January 2021. The company decided to offer onsite testing, but there was some hesitancy among the team. To encourage most of the team to get tested, Parts Town explained why it was important and what the benefits were for keeping each team member safe.
"We had only two or three percent opt out of testing," Appel says. "Most people were happy to sign up. I think when we had an all-hands meeting explaining why we were testing, it helped."
What the Future Holds
As more team members get vaccinated, certain protocols could naturally relax. However, Amoah says that some safety measures could remain even well after the pandemic is over.
For starters, hand-washing stations could stay to continue encouraging hand hygiene. Access is also currently limited from certain doors to prevent access for non-distribution staff. Amoah says that could stay as well to control the flow of traffic and keep office employees from entering the space, especially with more layout changes planned in the near future.
Perhaps the biggest change that could come post-pandemic is encouraging team members to stay home when they're sick.
"Even before the pandemic, I didn't like people coming into work with the flu," Amoah says. "That is one thing I'm going to push for. If you get a cold or flu, don't even come to work or work from home if you can. I think this pandemic showed that the work will be waiting for you when you come back, so go ahead and get better."
Matt Gentile is manager of SEO Content at Parts Town, a market-leading distributor of genuine OEM food equipment parts. Find more of his articles about restaurant and foodservice trends, equipment upkeep and parts distribution by visiting the Parts Town Blog.