Foodservice packaging, printing papers and JanSan supplies distributor Imperial Dade made a pair of announcements on Nov. 1 in the form of a new operations leader and an acquisition.
The company said that it has appointed former Fastenal COO Terry Owen to the same role, where he brings over 20 years in distribution leadership. Owen was with Fastenal for the past 28 years, working his way up from an entry-level position on the distribution team throughout the leadership ranks. Most recently, he served as Fastenal's COO from May to October of this year.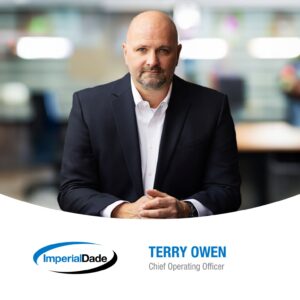 Imperial Dade (Jersey City, New Jersey) said that in the newly-created role, Owen will be responsible for overseeing the distributor's safety, supply chain and logistics, warehouse operations and fleet, and commercial analytics. He will collaborate with cross-functional teams and implement strategies to elevate Imperial Dade's operations and demonstrate the company's commitment to customer service. He will focus on accelerating Imperial Dade's investments in the company's digital transformation, enhance its Victoria Bay branded product offering, and partner with vendors to introduce innovative, environmentally sustainable products for customers.
"I am honored to join Imperial Dade at this critical moment and am eager to begin contributing to the company's future growth and success," Owen said in a news release. "I look forward to working with the teams across North American to enhance operations, streamline processes, and create an even better experience for our customers."
"Given Imperial Dade's tremendous growth, it is the right time to bring a world-class operations leader on board to drive the execution of our business strategy and goals," added company CEO Jason Tillis. "We are thrilled to have Terry join our leadership team, as he will play a pivotal role in helping us further differentiate ourselves in the market through strategic investments aimed at improving the customer experience. We believe his decades of expertise in global distribution, including eCommerce, will be an immediate value-add for our customers, and he'll be a great partner as we continue to grow and lead our industry."
Acquisition of Advance Shipping Supplies
Imperial Dade — which had nearly $5 billion in 2022 sales — also announced the acquisition of Mississauga, Ontario-based Advance Shipping Supplies Inc., which has been a distributor of industrial supplies, packaging materials and JanSan products since 1985, serving the Ontario market.
It represents the 75th acquisition for Imperial Dade under the leadership of Chairman Robert Tillis and CEO Jason Tillis.
Financial terms of the deal were not disclosed.
"Advance has a loyal customer base and a laser-focused commitment to providing an unparalleled customer experience, making the business a great addition to our growing North American platform," Jason Tillis said in a news release.