U.S. cutting tool consumption totaled $225.6 million in March, an 18.1% increase compared to the same time period in 2022, according to the U.S. Cutting Tool Institute and The Association For Manufacturing Technology.
The figure was up 14.6% from February's $196.9 million and up 14.9% when compared with the $196.4 million reported for March 2022. The totals represent the majority of the U.S. market for cutting tools, according to the AMT and USCTI.
"While the March data was impressive and most shops remain busy, early indications are showing that Q2 will not continue to perform at this level," said Jack Burley, Chairman of AMT's Cutting Tool Product Group and Committee. "The anticipated reduction in demand we thought would not happen until Q3 appears to be sooner than expected. On a positive note, it was good for cutting tool producers to have a great first quarter to build upon."
Chris Chidzik, Principal Economist at AMT, echoed that positive outlook.
"Cutting tool sales in March 2023 were astronomical, contributing to the best first quarter since 2019," said Chidzik. "Machinery orders have surged in the past two years, but sales of cutting tools had struggled to return to pre-COVID levels. The March 2023 numbers show that machines are starting to hit shop floors, demand for parts remains strong, and materials are available to make them."
The graph below includes the 12-month moving average for the durable goods shipments and cutting tool orders. These values are calculated by taking the average of the most recent 12 months and plotting them over time, according to the AMT and USCTI.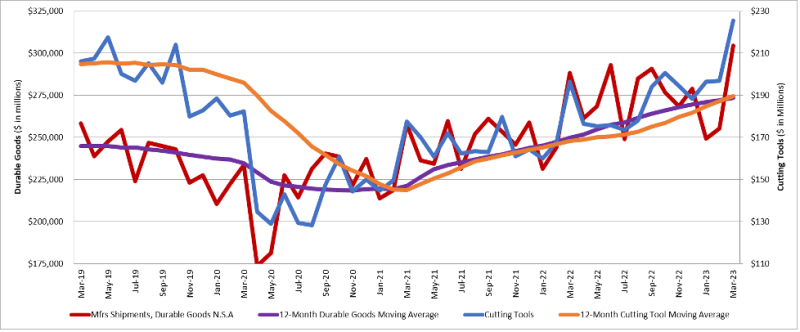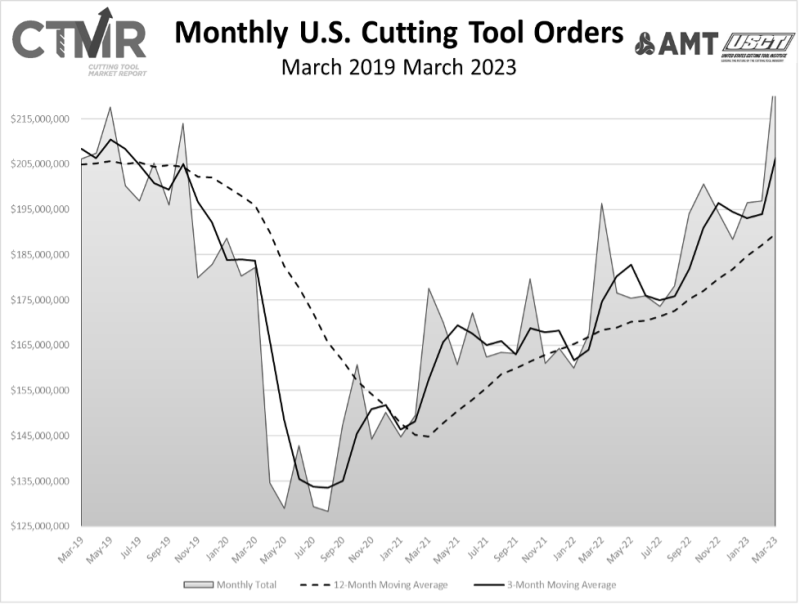 Image credit: U.S. Cutting Tool Institute and The Association For Manufacturing Technology