U.S. nonresidential construction spending increased 0.4% during February, according to an Associated Builders and Contractors analysis of data published April 3 by the U.S. Census Bureau.
On a seasonally adjusted annualized basis, nonresidential spending totaled $982.2 billion for the month, according to the data.
Spending declined on a monthly basis in 9 of the 16 nonresidential subcategories. Private nonresidential spending was up 0.7%, while public nonresidential construction spending was down 0.2% in February, ABC's analysis said.
Nonresidential construction spending increased 0.3% in January.
"Nonresidential construction spending increased for the eighth time in the past nine months in February," said ABC Chief Economist Anirban Basu. "Importantly, almost all of the nonresidential sector's momentum is attributable to manufacturing-related construction, which accounted for nearly 35% of the year-over-year growth in spending. Excluding the manufacturing segment, spending in the other 15 nonresidential segments collectively declined in February."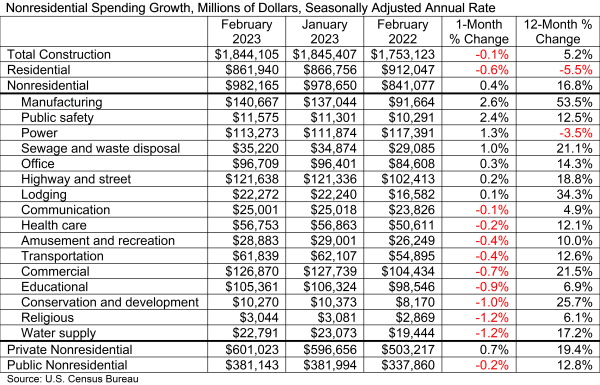 "While the manufacturing segment should continue to see elevated levels of investment, tightening credit conditions will likely hinder nonresidential construction momentum in the near term," Basu added. "Contractors maintain a healthy level of backlog, according to ABC's Construction Backlog Indicator, but a gloomy economic outlook and difficulty securing financing are potential headwinds for the industry for the rest of 2023."